Pending free agents:
Top 10 2015 cap hits:
Notable coaching changes:
Draft:
Other:
Overview:
The Bills made strides in 2014, amassing their first nine-win output in a decade, but they extended their playoff drought to an NFL-worst 15 years and went another season with a subpar offense and no solution at quarterback.
Buffalo finished above .500 and placed second in the AFC East almost solely on the strength of its defense, which led the league in sacks (54) and was top five in turnovers, points allowed and yardage surrendered. That helped lead to a second overall mark in Football Outsiders' DVOA rankings.
Conversely, the Bills' offense ended up toward the bottom half of the league in points (18th), yards (26th) and DVOA (26th). The unit was neither strong through the air nor on the ground, with journeyman quarterback Kyle Orton and a cadre of running backs producing to underwhelming degrees behind a porous line.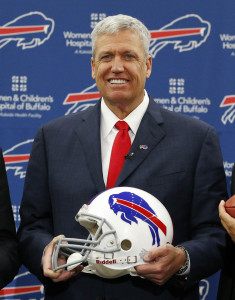 Coaching Changes:
The Bills' offseason began in entropic fashion with the abrupt departure of head coach Doug Marrone, who went 15-17 in Buffalo in his two years there and then took advantage of a $4 million opt-out clause in his contract. That forced the Bills, led by new owners Terry and Kim Pegula, along with general manager Doug Whaley, to undertake their sixth head coaching search since 2000. After an arduous interview process, the Bills hired Rex Ryan, who coached the division-rival Jets from 2009-14 and went 46-50 with two playoff appearances.
Ryan's first order of business was to replace Marrone's much-maligned offensive coordinator, Nathaniel Hackett. Ryan opted for Greg Roman, who held the same position with the 49ers from 2011-14. He then appointed Dennis Thurman to take over a defense that Jim Schwartz ran with great effectiveness last year. Thurman was on Ryan's staff in New York during Ryan's entire tenure with the Jets, and Thurman held the D-coordinator position there the previous two campaigns.
The defensive-minded Ryan and his cohort Thurman should acquit themselves well atop one of the league's most talented stop units. Roman, however, will have his work cut out for him to improve an offense that has been mostly woeful the last decade and a half, and was the primary reason the Bills missed the postseason in 2014.
Positions Of Need:
Not surprisingly, the Bills' biggest weaknesses lie on offense. Their main source of trouble is under center. Orton unexpectedly retired after the season, which means two-year veteran E.J. Manuel is currently the Bills' No. 1 QB by default. Manuel, whom the Bills chose 16th overall in the 2013 draft, has disappointed so far and the team is expected to at least seek competition for him this offseason. The problem is that capable competition could be difficult to find.
Mark Sanchez is the preeminent free agent QB available, and he was Ryan's starter in New York throughout the majority of the duo's time there. However, the ex-USC star's half-decade with the Jets was riddled with ignominy. The 28-year-old experienced mild success with the Eagles last season as Nick Foles' backup, but Sanchez's history suggests he's a poor starter. He and Ryan still have an amicable relationship, though, and when you combine that with the Bills' dire QB situation, there's a chance the two could reunite. Furthering the possibility is that the rest of the free agent class is even less appealing than Sanchez (Brian Hoyer, Jake Locker and Josh McCown lead the way), the Bills don't have a first-round pick to find another signal-caller, and the trade market isn't expected to bear much fruit.
Regardless of the path the Bills take at QB, it's imperative they ameliorate an offensive line that was near the bottom last season. Pro Football Focus ranked the Bills' O-line 30th overall in 2014, with particularly lousy grades going to right side starters Erik Pears (guard) and Seantrel Henderson (tackle). Left tackle Cordy Glenn and center Eric Wood will keep their jobs, and the newly-signed, controversial Richie Incognito is expected to take the reins at one of the guard spots adjacent to Wood. That still leaves two areas of clear concern (LG or RG and RT). The 49ers' Mike Iupati will be the premier free agent guard available, and he's surely familiar with Roman from the pair's time in San Francisco. It would make sense for the Bills to court Iupati (or Orlando Franklin or Clint Boling, to name a couple more) and one of the right tackle upgrades set to hit the market, including Bryan Bulaga, Doug Free and Joe Barksdale.
Fixing the holes along the line will help Buffalo's rushing attack, which finished 25th in the league in yardage last year, but there's a chance that next season's starting running back isn't even on the roster. Although Fred Jackson has been a reliable producer for the Bills since 2007, he's coming off the worst rushing season of his eight-year career and will turn 34 later this month. Jackson is the oldest back in the league and probably shouldn't be viewed as any kind of a solution at this point. The same lack of confidence is applicable to teammates Anthony Dixon, who's a short-yardage specialist and an adept special teamer, and Bryce Brown, who failed to impress in his first season with the Bills after they acquired him from the Eagles.
Whether the Bills go with some combination of Jackson, Dixon and Brown in 2015, try to re-sign free agent-to-be C.J. Spiller (who, like Jackson, is coming off his worst season) or bring in an outsider, they're going to have to establish a running game. That's something Ryan's Jets and Roman's 49ers did throughout their respective tenures, and, given the Bills' imperfect QB situation, it's something they'll have to achieve again for Buffalo to have a playoff shot next season.
Defensively, the Bills' needs are much less serious, although their No. 1 free agent – end Jerry Hughes – resides on that side of the ball. Hughes has accumulated 19.5 sacks during his two years as a Bill and has been an excellent complement to his fellow starting linemen, Pro Bowlers Mario Williams, Kyle Williams and Marcell Dareus. Whaley has expressed interest in re-signing Hughes, according to the team's official website, but there's a chance Buffalo is averse to breaking the bank on him when it already has three outstanding D-linemen and various other positions to address. What's more, the price to franchise tag Hughes will be steep (upward of $14MM, perhaps), and our own Luke Adams doesn't expect the Bills to apply the tag to Hughes
If the Bills do sign a noteworthy defender and it's not Hughes, two of Ryan's ex-players are obvious candidates.
The first is Patriots cornerback Darrelle Revis. The 29-year-old spent four seasons under Ryan as a Jet, and ESPN's Adam Schefter tweeted earlier this month that Ryan will try to lure Revis to Buffalo if he hits free agency. However, the Bills already have three able corners in Stephon Gilmore, Leodis McKelvin and Corey Graham. That trio helped the Bills' defense finish last season ranked third overall in passing yardage allowed and sixth in interceptions. Revis is on another level than Gilmore, McKelvin and Graham, to be sure. Nevertheless, one has to wonder if he's worth a mega-deal to a team that's already sturdy against the pass – especially a team with so many offensive issues in need of attention.
The Bills could also explore signing linebacker David Harris, an eight-year Jet whom Ryan called "the most underrated player in the league" last June. Harris then proceeded to play a staggering 99% of defensive snaps for Ryan a season ago. With Ryan being a 3-4-oriented coach, the Bills will need another LB to join entrenched starters Kiko Alonso, Preston Brown and Nigel Bradham. It's feasible, therefore, to imagine Ryan and Harris transferring their partnership from New York to Buffalo.
Key Free Agents:
The Bills are likely to lose some parts of last year's defense to free agency. Hughes and two other starters (middle linebacker Brandon Spikes and strong safety Da'Norris Searcy) could end up on the market.
Spikes is known as a gifted run stopper who has difficulty against the pass, which explains why he played just 46.4% of Buffalo's defensive snaps last season. Whether Spikes returns to Buffalo may depend on whether Ryan wants him to. Signing Harris would seal Spikes' fate with the Bills and send him looking for work elsewhere.
Searcy had a respectable '14, playing nearly 60% of snaps with 13 starts, 65 tackles and three interceptions. However, the Bills might view Searcy as expendable and save cap space by letting him walk and plugging in Duke Williams, who played almost half the team's defensive snaps as a second-year man.
Offensively, aside from the aforementioned Spiller, the Bills aren't in danger of losing anyone that recognizable. The team will surely move on from Pears after his dreadful season. Of more importance is the future of wide receiver Marcus Easley, a standout special teamer who helped the Bills finish top five in both kickoff and punt return yardage allowed last year. Easley's play earned him a place on Pro Football Focus' 2014 All-Pro special teams unit.
Possible Cap Casualties:
If the Bills cut guard Kraig Urbik, they'll save $2.35MM on next season's cap. That could happen, ESPN's Mike Rodak tweeted recently. Another potential cap casualty is linebacker Keith Rivers, who played just 17.1% of defensive snaps last season. Releasing him by June 1 would give the Bills an extra $1.7MM of cap room.
Extension Candidates/Contract Decisions:
The Bills are conceivably a year from losing Dareus to free agency. The 331-pounder has emerged as a top-tier D-lineman since the Bills drafted him third overall in 2011. Over the last two years, Dareus has accrued 17.5 total sacks (including a career-best 10 last season), a pair of Pro Bowl bids and a First-Team All-Pro selection. He'll make just over $8MM in the final year of his contract, and to retain him beyond then will cost the Bills a lot more. Dareus could be in line for a contract similar to the one the Buccaneers gave Gerald McCoy last October. McCoy signed a seven-year, $98MM pact with over $51MM in guarantees, the richest ever awarded to a D-tackle. When he signed, McCoy was a 26-year-old with two Pro Bowl nods and two All-Pro selections to his name. Dareus is of similar age (25 next month) and, like McCoy, highly accomplished.
Unfortunately for the Bills, Dareus isn't their only impact lineman whose team-controlled status is nearing an end. Glenn, perhaps Buffalo's foremost O-lineman, is also a season from free agency. Glenn was a bright spot on an abysmal line last season, according to Pro Football Focus – which gave him a positive rating – and has been both good and durable during his three-year career. The 25-year-old has appeared in 45 of a possible 48 regular-season games and started in all 45 of those contests. Glenn is not on Dareus' level as a player and won't be as expensive to retain, but the Bills aren't in any position to let their young, effective left tackle depart anytime soon.
Along with Dareus and Glenn, Bradham is another up-and-comer on the Bills who's closing in on free agency. Bradham is fresh off a breakout 2014 effort that saw him eclipse the 100-tackle plateau (104, to be exact) to go with 2.5 sacks, two forced fumbles and an interception. As a result, Pro Football Focus named the ex-Florida State Seminole a reserve on its Pro Bowl team. Although Bradham, 25, is likely to be the least costly of the trio he makes up with Dareus and Glenn, he's still a meaningful piece and his departure would hurt the Bills.
Less pressing than the statuses of Dareus, Glenn and Bradham is that of Gilmore. The Bills will have to decide by this May whether to pick up his fifth-year option for 2016. That option is the value of the highest-paid 25 players at the cornerback position, excluding the top three players. Barring something unforeseen, the team will likely exercise Gilmore's option and keep its top corner in the fold for at least two more seasons.
Overall Outlook:
The bad news for Buffalo is that it's unlikely to find anything resembling an answer at quarterback this offseason. That means a position that has vexed the Bills since Hall of Famer Jim Kelly retired in 1996 is likely to continue tormenting them in 2015. The good news is that the Bills are an above-average team with an above-average amount of cap room. If the Bills use that cap room shrewdly to augment the talent around their flawed QB (be it Manuel or someone else), and if Ryan and his staff prove superior to their predecessors, they could push for a playoff spot in 2015.
Information from Over The Cap was used in the creation of this post. Photo courtesy of USA Today Sports Images.
Follow @PFRumors