Pending free agents:
Top 10 2015 cap hits:
Notable coaching changes:
Draft:
No. 7 overall pick
Owe fifth-round pick to Broncos in deal for Brock Vereen.
Other:
Overview
After firing head coach Lovie Smith and replacing him with Marc Trestman heading into the 2013 season, the Bears actually regressed record-wise, falling from 10 wins in 2012 to eight in 2013. But win-loss record aside, things were looking up in Chicago, as Trestman seemingly molded an offense that played to the strengths of quarterback Jay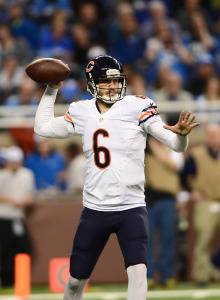 Cutler and his primary receivers, Brandon Marshall and Alshon Jeffery. The Bears finished second in scoring and eighth in yards, good for a No. 6 rating in Football Outsiders' DVOA.
But with a postseason berth looming as realistic goal for the 2014 season, the offense cratered amid reports of discord in the locker room, as Cutler threw a league-leading 18 interceptions and was thrown under the bus by offensive coordinator Aaron Kromer. The entire unit struggled, falling to 23rd in scoring, 21st in yards, and 14th in DVOA. The defense, which general manager Phil Emery augmented with free agent additions like Lamarr Houston and Jared Allen, was also lackluster, finishing 31st in points allowed and 30th in yards allowed (but surprisingly 14th in DVOA). Entering the year with high expectations, Chicago ultimately limped to a 5-11 record, good for last in the NFC South.
Coaching/Front Office Changes
From the outset, Trestman was an unconventional hire — he'd been out the NFL for nearly a decade when he was given the Bears HC job, and had been coaching in the CFL for the prior five seasons. Insiders worried at the time of the hire that Trestman might lack the skills required to command an NFL locker room, and while confirmation bias could definitely be at playe here, it's fair to wonder if Trestman's personality played a role in the team's downfall. Issues such as these are tough to judge from an outsider's perspective, and regardless, it's safe to say Chicago's on-the-field performance was sufficiently poor enough to warrant Trestman's dismissal.
It's a little easier to judge the performance of Emery, as many of the moves he made to supplement a decent Bears core simply didn't work out, especially on the defensive side of the ball. Signed to a five-year, $35MM contract, Houston was mostly ineffective before tearing his ACL in October after celebrating a sack while Chicago was losing by 25 points. Allen, meanwhile, was handed $32MM over four years, and while he was more of a contributor than Houston, $32MM (including $15.5MM guaranteed) is a lot of money for a player who turns 33 in April. But the move that probably sealed Emery's fate was the seven-year extension handed to Cutler, which we'll delve into below.
Following the firing of Trestman and Emery in late December, the Bears settled on former Saints executive Ryan Pace as their new GM after a search that saw Chicago meet with Chris Ballard of the Chiefs, Brian Gaine of the Dolphins, and Lake Dawson of the Titans. At 37, Pace becomes the youngest general manager in the league. It's fair to wonder if Pace will employ the same sort of contract structures in Chicago that often led the Saints to having little or no cap space, but given that Pace's title was player personnel director, he probably doesn't deserve blame for New Orleans' cap woes.
Aside from the Broncos, the Bears interviewed the fewest candidates of any club searching for a new head coach. Chicago was one of only two teams who were replacing its general manager in addition to its HC, so it's possible they wanted to have Pace in place before getting too deep into its coaching hunt. But it's also conceivable the Bears simply got lucky, as just four days after Denver parted ways with John Fox, Chicago scooped him up, signing the 60-year-old to a four-year contract. Fox, entering his 14th season as an NFL head coach, will bring Adam Gase with him from Denver to head up the offense, while adding former 49ers DC Vic Fangio to lead the defense (and shift to a 3-4 scheme).
Quarterback Situation
"What do we do about Jay?" is the key question surely on the mind of Pace, Fox, and every fan in the Windy City. After Cutler was benched for the penultimate game of the 2014 season, many figured his tenure in Chicago was all but over; he eventually started the season finale after backup Jimmy Clausen suffered a concussion, but after a season in which the 31-year-old Cutler rated as the league's No. 32 QB per Pro Football Focus (subscription required), it was assumed that the club was ready to move on.
But it's possible (and even likely) that Cutler's seven-year, $126.7MM extension that runs through 2020 won't allow the Bears to throw in the towel just yet. Cutler's deal contains a fully guaranteed $38MM, which includes his 2015 salary of $15.5MM. That figure, along with the prorated portions of his signing bonus, would leave Chicago with $19.5MM in dead money if it chose to release its quarterback — keeping Cutler on the roster, however, would cost just $16.5MM. Designating Cutler as a post-June 1 cut would leave his 2015 cap hit at $16.5MM, so the Bears would again realize no cap relief.
Realistically, Chicago can't release Cutler this year, as the cap hit would simply be too high for a player not on the roster. The only alternative, then, would be to trade Cutler, which would reduce his 2015 dead money to just $4MM, saving the Bears $12.5MM in '15 cap space. Cutler would presumably be in high demand given the paucity of available QBs, as the Buccaneers, Browns, Titans, Bills, and Jets are among the clubs that could have interest (and the cap space required) to acquire the veteran signal-caller.
The central argument against trading Cutler is simply the scarcity of competent starting quarterbacks. The free agent QB market doesn't offer many inspiring options, as the likes of Mark Sanchez, Brian Hoyer, and Josh McCown (who the Bears met with yesterday) aren't improvements over Cutler. Similarly, the draft lacks quarterback depth, and as holders of the seventh overall pick, the Bears probably won't get a shot at Jameis Winston or Marcus Mariota without trading up. So without a viable alternative, Chicago's best course of action might be to ride out 2015 with Cutler, hope for the best, and re-evaluate the situation next offseason.
While Cutler's future is mostly conjecture for now, neither Pace nor Fox sound too enthused about committing to Cutler for the foreseeable future. Speaking at the combine yesterday, Pace refused to call Cutler the Bears' starting QB, and said the club would take its time with its evaluations. Fox, meanwhile, was also non-committal, telling reporters, "We're not up against a deadline…We'll keep you posted." The head coach later added: "I don't think there's any question there's ability and talent there but there's a lot more that goes into it."
Key Free Agents
While Cutler figures to be the main offseason storyline in Chicago, the Bears do have several players who will hit the open market next month unless new contracts are worked out. From a sentimental standpoint, the most important pending free agents are longtime Bears Lance Briggs and Charles Tillman. Briggs, 34, played in only eight games last season but was the Bears' third-best defender per PFF, while Tillman, who turns 34 on Monday, appeared in just two games before injuring his triceps. Neither should be priorities as Chicago looks to remake its defense, and I wouldn't expect either to return in 2015, although Briggs would make more sense, if only on a one-year deal.
The Bears' most important FA will be defensive tackle Stephen Paea, who if re-signed, would probably need to shift to defensive end in Fangio's 3-4 look — at 6'1″ and 300 pounds, he has the size to do so. The 26-year-old graded as the No. 11 DT in the league according to PFF, although his sub-par run grade is a bit concerning, given that 3-4 ends' primary responsibility is to defend the run. The interior defensive line market is flush with options, so Paea could face some competition, but he could command a salary of around $5MM. At that price, Chicago might instead opt to consider players who have more experience in the 3-4.
Safety Chris Conte, who like Tillman has a birthday on Monday (but is eight years younger) is also a free agent. He offers youth (he's entering his age-26 season) and experience (more than 600 snaps in each of his first three seasons), but he's dealt with shoulder injuries throughout his career and has produced at merely an average level. In 2014, Conte graded as the No. 63 safety among 87 qualifiers per PFF. He'd been better than that in the two seasons prior, but he's always been in the middle of the pack relative to his peers. He could make sense as a reserve (especially given the weak safety market), but the Bears should look to upgrade.
Only four more Bears free agents saw more than 200 snaps in 2014. Linebacker D.J. Williams, receiver Josh Morgan, and tight end Dante Rosario were all ineffective last year, and Chicago will probably move on from that trio. But offensive lineman Brian De La Puente had a very successful season in '14 during which he saw 501 snaps, mostly while filling in at center for Roberto Garza during the early portion of the year. De La Puente is only 28 years old and had to surprisingly accept a one-year deal for the minimum salary benefit last offseason. The Bears extended Garza through 2015, so it's possible that De La Puente will look for a starting job elsewhere. Otherwise, he'd offer valuable depth along Chicago's offensive line.
Possible Cap Casualties
With more than $26MM of cap space to work with, the Bears don't have to make any drastic moves to create more financial flexibility. Chicago's only pressing issue will be deciding the fate of receiver Brandon Marshall, who is due a 2015 base salary of $7.5MM and scheduled to count $9.575MM against the cap. Releasing him now would give the Bears $3.95MM worth of cap space, while designating him as a post-June 1 cut would create $7.7MM in savings. The 30-year-old Marshall was among the NFL's best receivers as recently as 2013, but last season saw him catch just 61 passes for 721 yards, and he missed the final three games with broken ribs.
Marshall's 2015 salary becomes guaranteed on the third day of the 2015 league year, so the Bears need to make a decision on his future before then. The club could conceivably ask him to take a pay cut, but I'd guess that Marshall would prefer to hit the open market rather than accept a salary decrease. If Chicago doesn't want to retain Marshall, it could opt to explore a trade, which would create the same amount of cap space as a release.
The only other conceivable cut would be guard Matt Slauson, who played well in 2013, but struggled in 2014 before tearing his pectoral in October. He'll only count about $3.3MM in 2015, however, so I'm guessing the Bears will retain him and hope for a bounce-back season.
Positions Of Need
Nearly every position on the Bears' defense could use a talent infusion, and given that Fangio will install a new scheme, adding new players is doubly important. The defensive line will need to be revamped, and even if Paea is re-signed, Chicago will need to find nose tackle to anchor the middle of the line. Fox knows Terrance Knighton from their days in Denver, but as the top NT available, Pot Roast will garner a hefty sum. Cheaper options include Dan Williams and B.J. Raji, each of whom is on the right side of 30 and has experience in the 3-4. Raji, in particular, will probably command only a modest salary on a one-year deal after missing the entire 2014 season.
Linebacker could also afford an upgrade, starting with the inside. If the Bears are looking for an early-down run stuffer, there are several options available, including Rey Maualuga, Brandon Spikes, and again playing to the Fox/Broncos connection, Nate Irving. David Harris is also a free agent, but most expect him to stay with the Jets or follow Rex Ryan to the Bills. The edge rushing market is more robust, as while top FA Justin Houston is unlikely to hit free agency, players like Jerry Hughes, Brian Orakpo, and Pernell McPhee are. Someone like Orakpo or Jabaal Sheard could be an interesting add on a short-term deal, as could Akeem Ayers if he doesn't re-up with the Patriots. Additionally, if the 49ers cut any of Patrick Willis, NaVorro Bowman, or Ahmad Brooks, I'd expect Fangio to push for the Bears to sign them.
Pickings are slim at safety, but the Bears desperately need someone to play alongside Ryan Mundy. Like most of the league, Chicago would love to bring in Devin McCourty, but he's expected to see the franchise tag in New England. Former Bronco Rahim Moore would make sense, while veteran Antrel Rolle would be a stabilizing presence in the back end. Da'Norris Searcy is said to be looking for larger role than the Bills have given him, and he'd be a smart sign for the Bears, as would Mike Adams or Dawan Landry, each of whom rated among PFF's top-10 safeties. If the Buccaneers are still trying to trade Dashon Goldson, he could be an option for Chicago given his history with Fangio.
At corner, the Bears are set with Kyle Fuller at one spot and veteran Tim Jennings in the slot, but they could use one more pass defender to play opposite Fuller. Adding veteran Tramon Williams on a short-term pact could be worthwhile, while fellow Packer Davon House could offer some untapped upside and youth (he's entering his age-25 season). Both Perrish Cox and Chris Culliver have familiarity with Fangio's scheme, and given the relative lack of draftable corner options, I'd expect the Bears to add at least one CB in free agency.
Needs on the offense aren't as numerous, but small upgrades could be made here and there. Right tackle Jordan Mills struggled in 2014, but given that he'll be entering only his third season in the NFL, I'd wager the Bears will give him another opportunity at starting. But depth along the line could be augmented, as rookie Michael Ola was unspectacular in filling in at numerous positions. Reserve options could be added at quarterback, running back, and receiver, but I'd expect the Bears to target these positions in the draft, where the OL and WR positions in particular are said to be deep.
Extension Candidate/Contract Decisions
As a 2012 draft pick, Jeffery is now eligible for an extension; because he wasn't drafted in the first round, however, Jeffery isn't attached to a fifth-year option, so his contract ends after 2015. The Bears could use the franchise tag on him, but a long-term deal could be best for both sides, especially if the club moves on from Marshall. Having average 87 receptions, 1,277 yards, and eight touchdowns over the past two years, the 25-year-old Jeffery should be in for a large raise. Any extensions inked by Demaryius Thomas or Dez Bryant in the coming months should set a ceiling for Jeffery, but he could probably command close to $12MM annually.
Running back Matt Forte is also entering the final year of his contract which has paid him an AAV of $7.6MM. Forte has been both productive and remarkably consistent during his NFL career, and is among the best pass-catching backs in the league. But he'll be 30 years old entering next offseason, and there could be some concern about the tread on his tires. Still, given that he's scheduled to count $8.2MM against the cap in '15, the Bears could offer him a short-term extension in the hopes of creating some immediate financial wiggle room.
The Bears do have a fifth-year option on Shea McClellin, but there's almost no chance it gets exercised. McClellin has struggled to find a position on defense in his three years in the league, and hasn't been effective in any role.
Overall Outlook
The Bears have a lot of work to do this offseason, and with a new GM, head coach, and coordinators in place, this club could look a lot different (particularly on defense) come the regular season. But until the club definitively decides what to do with Cutler, little else will make headlines in Chicago. If they do trade Cutler, the Bears could be looking at a full-scale rebuild until they find a new starting quarterback. If they keep Cutler around, they'll need to add several pieces to their defense and hope that an infusion of talent will lead to better results. Either way, it could be a tough road to relevancy in an NFC North that features two playoff teams in the Packers and Lions, as well as the Vikings, who look to be on the rise themselves.
Information from Over The Cap was used in the creation of this post. Photo courtesy of USA Today Sports Images.
Follow @PFRumors