Pending free agents:
Top 10 2015 cap hits:
Notable coaching changes:
Draft:
No. 29 overall pick
Acquired sixth-round pick from Seahawks in deal for Marcus Burley.
Acquired seventh-round pick from Cowboys in deal for Caesar Rayford.
Owe seventh-round pick to 49ers for Cam Johnson.
Other:
Overview
Year three of the Andrew Luck era was another successful one for the Colts, whose 11-5 record was enough to earn them a second straight AFC South crown and a third consecutive playoff berth. The Colts also scored a pair of postseason victories, including a road upset over old friend Peyton Manning and the Broncos, before bowing out at the hands of the Super Bowl-winning Patriots in the conference championship.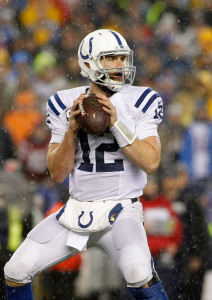 Indianapolis has improved by one playoff round per season under Luck and head coach Chuck Pagano, going from a wild-card loss to a divisional defeat to an AFC title game exit. The next logical step is the Super Bowl. In order to get there, though, the Colts will need a highly productive offseason – one which sees general manager Ryan Grigson fortify the roster around his 25-year-old franchise quarterback.
Positions Of Need
The Colts ranked first in the NFL in passing, third in total yardage and sixth in points per game in 2014. Those numbers would indicate that their offense isn't in need of much help. However, they were a pedestrian 17th in Football Outsiders' offensive efficiency ratings, their rushing attack ranked 22nd in yardage, and two of their established wide receivers are without contracts. Thus, there's clearly work to be done.
Running back is a position the Colts are sure to address in the coming months. That could simply mean re-signing free agent-to-be Ahmad Bradshaw, though the eight-year veteran has dealt with major injury issues as a Colt and appeared in just 13 of a possible 32 regular-season games. To his credit, the 28-year-old racked up impressive numbers (725 total yards and eight touchdowns) prior to breaking his fibula last November. After Bradshaw got hurt, Dan Herron emerged as Indy's most effective back. Herron averaged a terrific 4.5 yards per rush, but it was only over 78 attempts and his career sample size of 87 carries in three years is minuscule.
If the Colts don't believe Bradshaw or Herron is the solution to their backfield woes, they might think differently of 10-year veteran Frank Gore. Multiple sources have linked Indianapolis to the career 49er, who the Sacramento Bee's Matt Barrow wrote in January was "curious" about joining the Luck-led Colts. More recently, Bleacher Report's Matt Miller said last week (video link) that Gore to Indianapolis was a "shoo-in." The bruising Gore would make sense as a stopgap, considering Colts O-coordinator Pep Hamilton is a proponent of a power running game.
The Colts also have uncertainty at receiver, where their only signed, viable options after T.Y. Hilton are Donte Moncrief and ex-CFL star Duron Carter. All three are 25 or younger, a far cry from Reggie Wayne – the Colts' biggest free agent in terms of name recognition. The 36-year-old, who has played all 14 of his pro seasons with the Colts and caught over 1,000 passes, hasn't yet informed the team if he plans on returning in 2015. Stephen Holder of the Indianapolis Star wrote last week that the Colts are "noncommittal" about Wayne, who has battled injuries and dips in production the last two years.
In the event the Colts part ways with Wayne and enable fellow free agent Hakeem Nicks to walk, they could turn to the open market to find a complement to Hilton. There are several accomplished receivers who are expected to test the market. One option is four-year Raven Torrey Smith. The 6-foot, 205-pounder has been both effective (213 receptions, 16.9 YPC, 30 TDs) and durable, having played in all 64 of Baltimore's regular-season games during his career, and would give Luck a proven wideout to team with Hilton. It may work in the Colts' favor that their new receivers coach, Jim Hostler, held the same position in Baltimore from 2011-13 and tutored Smith for three years. Signing Smith would take a sizable chunk out of the Colts' $39MM-plus in cap space. Jason LaCanfora of CBSSports.com tweeted earlier this month that Smith rejected a five-year, $35MM offer ($19MM in guarantees) from the Ravens prior to last season.
Obviously, in order to get the most out of their backs and receivers (whomever they may be), the Colts will need a dependable offensive line. They have a strong twosome in stellar left tackle Anthony Castonzo and guard Jack Mewhort, but the rest of the group is less capable. Even though right tackle Gosder Cherilus had a miserable, injury-plagued 2014, the seven-year veteran is expected to stay in place because he's been good in the past and cutting him would cost the Colts more than keeping him. That leaves center and guard as areas Grigson may try to upgrade.
Indy started a slew of different centers last season and, according to Pro Football Focus (subscription required), A.Q. Shipley was the strongest of the group. However, the restricted free agent is on the outs, Holder wrote last week. Further, according to Holder, Grigson won't use more than a late-round pick on a center. He could go the free agency route for the Chiefs' Rodney Hudson or the Raiders' Stefen Wisniewski. Either would be probable upgrades over the Colts' in-house options (Khaled Holmes and Jonotthan Harrison). Joel Corry, a cap expert and former agent, believes Hudson will end up with a deal upward of $5MM per year, according to the Kansas City Star's Terez A. Paylor. Wisniewski is seeking money in the realm of an average starting center, ESPN's Michael Wagaman has reported.
As for the guard position, the 49ers' Mike Iupati heads the free agent class and, as an elite-level run blocker, would seem to be an excellent fit for a Colts team that needs to fix its ground game. The three-time Pro Bowler is going to cost a lot, without question, and landing him would likely mean moving Mewhort from left to right guard – where the soon-to-be second-year man played occasionally at Ohio State. Regardless, with Mewhort and Iupati, Indy would have a top-end guard tandem on paper.
On the other side of the ball, the Colts' defensive line has already begun undergoing changes. The team made a newsworthy move Monday in releasing tackle Ricky Jean-Francois, who was due $5.5MM next season. In the wake of the Jean-Francois news, Holder speculated that the Colts could pursue the likes of Nick Fairley (Detroit) and Terrance Knighton (Denver) on the open market. Adding Fairley or Knighton would be auspicious for the Colts, who finished last season an unspectacular 18th in conventional run defense and 19th in Football Outsiders' version. The Colts' kryptonite, the Patriots, exploited that area of Indy's defense in both teams' matchups last season: LeGarrette Blount rushed for 148 yards in New England's 45-7 AFC championship drubbing. Two months prior, the previously unknown Jonas Gray famously eclipsed the 200-yard mark in a 42-20 Pats victory.
Besides stopping the run, the other key function of the front seven is generating a pass rush. Despite the fact that the Colts finished 2014 with the ninth-most sacks in the league (41), Grigson still wants more rushers, Mike Chappell of RTV6 tweeted last week.
Eleven-year Colts veteran Robert Mathis paced the league in sacks two years ago (19.5) before missing all of last season, but Indy wouldn't be wise to think his return will cure its ills. Mathis sat out 2014 because of a PED suspension and, worse, a torn Achilles. Moreover, he's on the wrong end of the aging curve at 34. ESPN's Mike Wells reported Monday that the Colts are "likely" to draft a rusher to complement Mathis and Jonathan Newsome, also noting that they'll keep an eye on free agency. Wells specifically mentioned the Chiefs' Justin Houston, who led the league in sacks last season (22), and the Giants' Jason Pierre-Paul, on whom New York is expected to place the franchise tag.
The prime area of concern on the back end of the Colts' defense is safety, where they're especially fallow. They already cut one starter from last season in strong safety LaRon Landry, while the other (free safety Mike Adams) is presently unsigned. So is main reserve Sergio Brown. There does seem to be optimism about the return of Adams, whom Grigson said the team would "love" to keep. At 33, Adams had a career year in 2014 with five interceptions and earned his first career Pro Bowl trip.
Regardless of whether Adams re-signs, the position will still need attention, which Pagano acknowledged. "There's a bunch of guys out there in free agency we could take a look at," Pagano said, according to Holder. "There's a bunch of guys here at the draft we'll evaluate." 
The premier free agent is expected to be the Patriots' Devin McCourty. Signing him would greatly aid the Colts while simultaneously dealing a tremendous blow to rival New England. Draft-wise, former Alabama star Landon Collins is already on the Colts' radar.
Key Free Agents
The Colts have other noteworthy free agents besides the aforementioned. One is defensive lineman Cory Redding, who isn't a slam dunk to play anywhere next season. The 34-year-old is pondering retirement after playing a substantial role for last year's Colts, appearing in over 70% of defensive snaps and garnering praise from Pro Football Focus for his efforts.
Indianapolis also has decisions to make on two of Redding's fellow integral defenders, linebacker Jerrell Freeman and cornerback Darius Butler. As a restricted free agent, Freeman is almost sure to return to the Colts. Butler, however, is unrestricted and could change uniforms as early as next month. The six-year veteran has spent the last three seasons with the Colts, totaling eight interceptions. While none of those INTs came in 2014, Butler was still a solid part of Indy's above-average pass defense.
Finally, there's a trio of unsung hero types in offensive lineman Joe Reitz, safety Colt Anderson and linebacker Andy Studebaker. The latter two are special teams stalwarts, while the 29-year-old Reitz's best trait has been his versatility. Last year, in fact, he started at a team-high three different O-line positions and fared well. None of Reitz, Anderson or Studebaker should cost a ton for the Colts to bring back, but they're all useful role players. Indy would be smart to re-sign all three.
Possible Cap Casualties
There's one painfully obvious cap casualty on the Colts: Trent Richardson. It seems inevitable that the relationship between the Colts and the disappointing running back will end this offseason.
Richardson, whom the Colts acquired from Cleveland for a first-round pick in 2013, has been a colossal bust in his two seasons with Indianapolis. The 24-year-old has played 29 regular-season games as a Colt and registered just 977 rushing yards with a paltry 3.09 per-carry average. Worsening matters is that Richardson was scratched for the Colts' final two playoff games last month, the latter of which was a suspension for missing a team walkthrough. With all of that considered, it's clear that the next, final step in the marriage between the two sides is a divorce. If Indy releases Richardson, it will save more than $3MM for next season (provided Richardson's guarantees void because of his suspension). The writing is on the wall.
Extension Candidates/Contract Issues
The Colts are going to have to shell out major money in the near future for some of their paramount offensive players.
Atop the list is Luck, who will be paid handsomely for both his accomplishments and his status as the face of the Colts' franchise. During his three-year career, Luck has started all 52 of the Colts' games (playoffs included), led the team to three straight double-digit-win outputs, and thrown for 86 touchdowns and nearly 13,000 yards in the regular season.
ESPN's Adam Schefter tweeted last month that Indy was working on a contract that could make Luck the league's highest-paid player. Team owner Jim Irsay refuted Schefter's report, saying Luck still has two years left on his deal. If he isn't extended by later this offseason, the Colts will exercise Luck's 2016 option to make sure he'll at least be theirs for two more seasons. Barring something disastrous, though, Indianapolis will surely do everything in its power to keep Luck under center for a lot longer.
The Colts will have to make more immediate decisions on three of Luck's offensive mates – Hilton, Castonzo and tight end Coby Fleener – all of whom are scheduled for free agency next year.
Hilton came into the league with Luck in 2012 and has developed into his QB's go-to target. The 5-foot-9, 178-pounder just completed his second straight 82-catch season, one in which he set a career high in yardage (1,345) and tied his previous touchdown mark (seven). The 25-year-old could end up with a contract similar to the one the Jets gave Eric Decker last offseason. Decker was coming off his second consecutive 80-catch, 1,000-yard season as a Bronco when he signed a five-year, $36.25MM deal with New York ($15MM in guarantees). He put up 216 catches (13.7 YPC) and 32 touchdowns from 2011-13, when his age ranged from 24 to 26. Compare that to Hilton's three-year stretch – 214 grabs (15.4 YPC) and 19 scores from ages 23 to 25 – and you have the neighborhood in which his next contract is likely to live.
Castonzo, the cornerstone of the Colts' offensive line, has appeared in and started 60 games since joining the team as a second-round pick in 2011. The 26-year-old has been the quintessence of reliability over the last three years. He played every offensive snap for the Colts in 2012, missed only four in 2013, and led all NFL O-linemen in snaps last season (1,115). Castonzo will make $7.4MM in 2015, the fifth-year option Indy picked up last offseason. That option is the value of the highest-paid 25 players at the position, excluding the top three players. An extension should see him climb toward the lower end of the top 10, where yearly value ranges start at $8.5MM.
Finally, there's Fleener – who was part of a superb Colts 2012 draft class that, as mentioned, also produced Luck and Hilton. Fleener finished 2014 ranked 16th among tight ends in catches (51), eighth in yardage (774) and tied for fifth in TDs (eight). His per-catch average was tops at the position among those with at least 25 receptions. He'll make under $1.7MM next season and is sure to get a considerable raise between this offseason and next. If Fleener ends up in the top 10 tight ends in yearly contract value, that would mean a salary north of $5MM per annum.
Overall Outlook
Assuming Luck stays healthy, the least the Colts will do next season is rule their division for the third straight year. Whether they can ascend to greater heights and dethrone the Patriots in the AFC will hinge on how well Grigson handles the offseason. The GM will have plenty of money to work with, which should help the Colts repair at least some of their issues and close the gap on the Pats, but he'll have to keep the long-term future in mind when he considers spending it. His most important order of business this offseason will be locking up Indy's offensive linchpins for the foreseeable future.
Information from Over The Cap was used in the creation of this post. Photo courtesy of USA Today Sports Images.
Follow @PFRumors