Pending free agents:
Top 10 2015 cap hits:
Notable coaching changes:
Draft:
No. 15 overall pick
Acquired fourth-round pick from Broncos in deal for Cody Latimer.
Acquired seventh-round pick from Colts in deal for Cam Johnson.
Owe fourth-round pick to Bills in deal for Stevie Johnson.
Owe seventh-round pick to Dolphins for Jonathan Martin.
Other:
Overview:
The 2014 season was a massive letdown for the 49ers, whose recent stretch near the top of the NFL standings surprisingly came to a halt. San Francisco was expected to contend last year after a three-year stretch from 2011-13 that included a combined 36-11-1 regular season record, three straight NFC championship games, and a Super Bowl appearance. Instead, thanks primarily to an ineffectual offense, the 49ers finished an uninspiring 8-8 and missed the postseason for the first time since 2010. That spurred the conclusion of a coaching era and, as the offseason progresses, will surely prompt noteworthy roster modifications.
Coaching Changes:
The 49ers were mired in an eight-year playoff drought when they named Jim Harbaugh their head coach in 2011. The team went an embarrassing 46-82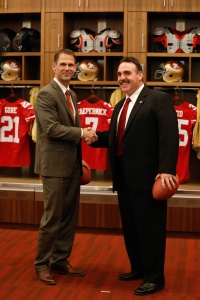 and mustered just one .500 season during that time frame. Harbaugh's arrival brought dramatic improvement in the on-field product, as he helped guide the Niners to a tremendous 44-19-1 regular-season mark and three playoff berths. However, his relationship with CEO Jed York and general manager Trent Baalke deteriorated over time and became particularly discordant in 2014. That culminated in December with the end of the coach's four-year stint in the Bay Area.
After interviewing several outside candidates, the Niners hired from within and chose longtime assistant Jim Tomsula to succeed Harbaugh. The 46-year-old Tomsula had run the 49ers' defensive line since 2007 and was their interim head coach for one game back in 2010 (a 38-7 win over the Cardinals).
Tomsula stayed in the organization to replace Harbaugh's departed coordinators, Greg Roman (offense) and Vic Fangio (defense), with Geep Chryst and Eric Mangini.
Chryst, San Francisco's quarterbacks coach the past four years, has previous experience as a coordinator – he oversaw the Chargers' offense from 1999-2000. Although Mangini was an offensive consultant with the 49ers in 2013 and their tight ends coach last season, most of his coaching career has been spent on defensive staffs.
Key Free Agents:
The start of the free agent period on March 10 could bring about the exits of three players who have long been 49ers offensive pillars — running back Frank Gore, left guard Mike Iupati and wide receiver Michael Crabtree.
Gore, the longest-tenured member of the trio, has spent all 10 of his pro seasons in San Francisco. Even at 31, he finished last year ranked ninth in the league in rushing (1,106 yards) on a respectable per-carry average of 4.3. Baalke has indicated that the 49ers want Gore back for his age-32 season. "I talked to him the other day on the phone and we're going to do what we can to get him back as a 49er," Baalke said earlier this month, according to the 49ers' official website. Jason La Canfora of CBSSports.com has reported that Gore, who made $6.45MM last season, is seeking $4MM per annum and that people around the league believe San Francisco is the likeliest team to meet his asking price.
Unfortunately for the 49ers, chances are they'll have a harder time retaining Iupati. The three-time Pro Bowler is primed to become one of the NFL's top-paid guards this offseason, and, with little cap space to work with, the 49ers seemingly aren't in the right position to outbid the market for the 27-year-old's services.
Then there's Crabtree, the only one of the group who is coming off a subpar season (698 yards, 10.3 YPC). Tomsula recently said he would "absolutely" like Crabtree back, but both the Sacramento Bee's Matt Barrows and Bleacher Report's Jason Cole (video link) have reported the six-year veteran will probably end up elsewhere.
As is the case on offense, the 49ers' defense also has important pieces scheduled to hit free agency. Those defenders happen to be both of the Niners' starting cornerbacks from last season, Chris Culliver and Perrish Cox. The pair excelled in 2014, combining for nine interceptions and ranking well above average in Pro Football Focus' grading system (subscription required) — Culliver was 14th and Cox 35th out of 108 qualifying corners. San Francisco is going to have difficulty keeping both, per Matt Maiocco of CSNBayArea.com, and the one who's expected to cost less (Cox) has a better chance of returning.
Positions Of Need:
The 49ers' offense was the main culprit behind their woes last season, as mentioned earlier. The unit ran the ball effectively, but averaged a meager 19.1 points per game (25th in the league) and its Colin Kaepernick-led passing attack finished 30th in yardage and 22nd in Football Outsiders' rankings. To Kaepernick's credit, he greatly aided San Francisco's ground game with 639 yards, second only to the Seahawks' Russell Wilson among quarterbacks. The four-year veteran was merely middle of the pack in most relevant passing statistics, though.
In order for Kaepernick to realize his vast potential, the 49ers are going to have to surround him with more weapons. It starts at receiver, where Baalke has already acknowledged that the 49ers are seeking downfield threats. Further, the 49ers' receivers coaches were among the few members of their staff who attended the recent scouting combine.
Given their dearth of cap space, the 49ers could have trouble filling their receiver void via free agency. That means they probably won't be able to take advantage of a deep class of established wideouts, which would make drafting one with their first-rounder – the 15th overall selection – a strong possibility. The 49ers need to find a complement to (and potential long-term replacement for) 34-year-old Anquan Boldin, and they might land one in DeVante Parker (Louisiville) or Kevin White (West Virginia) with their top pick.
In the event the 49ers don't take a receiver at 15, speedsters like Phillip Dorsett (Miami), Devin Smith (Ohio State) and Sammie Coates (Auburn) are potential targets who could be available after the first round. There's also Dorial Green-Beckham, whom Bucky Brooks of NFL.com sees as a possible fit for San Francisco. At 6-foot-5, 237 pounds, Green-Beckham has elite size to accompany 4.49 speed. Despite that enticing combination, he might drop in the draft because of past off-field transgressions – ones that led to his dismissal from Missouri's football team in 2014.
Other than receiver, San Francisco doesn't have any glaring offensive holes. If Gore leaves, the 49ers have an in-house option in Carlos Hyde, a second-round pick last April who averaged 4.0 yards per carry as a rookie and scored four touchdowns. Replacing Iupati would be a tougher task, but another player from last year's draft class (third-rounder Brandon Thomas) would have the inside track to take the reins at left guard. The 24-year-old Thomas was thought to be better than a third-round prospect before tearing his ACL a few weeks prior to the draft.
Defensively, the Niners were terrific last season, ranking fifth in both yardage and DVOA and 10th in points allowed. Ideally, they'll be even better in 2015 with full seasons from brand-name linebackers Patrick Willis, NaVorro Bowman and Aldon Smith. Those three combined to miss 35 games last season (Bowman lost all 16 because of a torn ACL and MCL), but they've also combined to make 10 Pro Bowls in the past. In 2013, when each of them played the majority of the season, Pro Football Focus (subscription required) ranked Bowman and Willis first and third, respectively, among 3-4 ILBs, while the site graded Smith as the fifth-best 3-4 OLB. Having those three and a pair of outstanding second-year men in Chris Borland and Aaron Lynch gives the 49ers an embarrassment of riches at linebacker.
The prospect of a deep and dominant linebacking corps is certainly a plus, but the 49ers do have defensive needs. Those needs begin along the line, where one end (Ray McDonald) has already been released and another (Justin Smith) is considering retirement. Although McDonald ranged from good to great during his eight-year 49ers career, the team cut him in December because of poor off-field conduct. Smith, 36 in September, has missed just two games since joining the Niners in 2008. His advanced age aside, Smith was still a crucial part of San Francisco's defense last season. Pro Football Focus (subscription required) agreed, ranking him as the league's 11th-best 3-4 end in 2014.
The 49ers have already tried to combat some of their D-line issues by bringing back one of their former players, Ricky Jean-Francois. The Colts released the six-year veteran and four-year Niner earlier this month, but he chose to sign with Washington. Regardless, it's clear that the 49ers are aware of their line problems. They'll likely continue trying to address them as the offseason moves forward.
San Francisco's other defensive questions lie at cornerback, given the nebulous statuses of Culliver and Cox. On the bright side, the secondary will get Tramaine Brock back at full strength next season. Brock broke out in 2013 with five interceptions as a nickel back, which led to the 49ers giving him a four-year, $16 million extension, and then missed 13 of 16 games last season with toe and hamstring injuries. Brock's return will be a boon to a pass defense that managed to finish 10th without him. Brock's comeback won't mean as much if both Culliver and Cox walk, obviously, but even if the Niners can only keep one of the two, they should still be in decent shape at corner.
Possible Cap Casualties/Contract Restructurings:

Odds are the 49ers will release Ahmad Brooks this offseason, considering his recent below-average play and the team's wealth at the linebacker position. If the 49ers drop Brooks on June 1, they'll save $4.71MM on next season's cap.
Receiver Stevie Johnson's roster spot is also in jeopardy, even though San Francisco is weak at wideout. Moving on from Johnson, who caught just 35 passes last season, would avail north of $6MM in cap room for the 49ers.
Regardless of whom they part ways with, the 49ers should look to restructure some of their veterans' deals this offseason. Aldon Smith, Willis and Bowman are scheduled to have the second-, third- and fourth-highest cap hits on the team next season. Combined, they'll take up roughly $25MM. Both Willis and Bowman have restructured their contracts in the past to create spending space for the club, so there's precedent with both of them.
Extension Candidates:
The 49ers will have decisions to make regarding the futures of Aldon Smith, Vernon Davis and Alex Boone in the coming year. All three are scheduled for free agency in 2016.
Smith has demonstrated immense ability during his four-year career, totaling 44 sacks in 50 games. Unfortunately, the four-year veteran's on-field accomplishments have come with serious off-field negatives. The latest, an April 2014 incident between Smith and TSA agent at the Los Angeles Airport, led to a nine-game suspension for the 25-year-old last season. Despite Smith's problems, Baalke recently referred to him as "a great young man." Smith will count $9.75MM against San Francisco's cap this year. Whether Smith is in Baalke's long-term plans is likely to depend on how he fares both on and off the field in 2015. If all goes well, Smith will have a strong chance to become one of the highest-paid 3-4 OLBs in the league. At the moment, Green Bay's Clay Matthews has the richest contract at the position in both total and annual value ($66MM and $13.2MM, respectively). Matthews signed that deal in 2013 as a four-year vet with 42.5 sacks in 58 games.
As for Davis and Boone, both expressed dissatisfaction in regards to their contracts during holdouts last year. Davis skipped the team's voluntary and mandatory minicamps, while Boone sat out the entire summer and reported to the 49ers a week before the regular season started.
The 31-year-old Davis is just two years removed from a 13-touchdown showing, but 2014 was his worst season since 2008. He amassed a paltry 26 catches with all-time lows in yardage and YPC, while his two TDs tied a career worst. Even if he bounces back in 2015, the odds of San Francisco giving Davis a sizable contract extension don't seem high. Although he has been among the top tight ends in the league for the better part of his nine-year career, it's fair to wonder if Davis' best days are behind him.
Unlike Davis, it's clear Boone has plenty left in the tank. Pro Football Focus (subscription required) rated the 27-year-old as the 17th-best guard in the league in 2014 – just three spots behind Iupati – out of 78 qualifiers. Boone will make $3.74MM in 2015, the final year of his contract. That's just below the value of the 10th-highest-paid right guard in the league (Washington's Chris Chester at $4MM). In all likelihood, an extension for Boone would mean signing him to a deal that would at least get him into the top 10 in total value, yearly value and guaranteed money. With Iupati's time as a Niner on the brink of ending, San Francisco would be wise to get Boone locked up at some point in the next year. For a team that has prioritized running the ball, losing its two outstanding guards in a 12-month span would be quite a setback.
Overall Outlook:
Despite the failures of last season and the resulting coaching change, the 49ers are still more talented than the majority of teams around the league. Because of that, they'll have a shot to return to the playoffs in 2015 – particularly if Kaepernick rebounds and Tomsula doesn't end up drowning in his new role. Nevertheless, the ultra-competitive NFC West certainly won't make life easy for Kaepernick, Tomsula or the rest of the 49ers.
Information from Over The Cap was used in the creation of this post. Photo courtesy of USA Today Sports Images.
Follow @PFRumors