WEDNESDAY, 9:12pm: The deal is official, the team announced on Twitter.
TUESDAY, 8:40pm: After becoming a free agent earlier today, cornerback Darrelle Revis will head from AFC East team to another, according to his representatives at Schwartz & Feinsod, who announced on Twitter that Revis will sign with the Jets.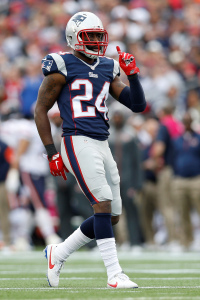 The four-time first-team All-Pro cornerback will return to the team that drafted him on a five-year, $70MM deal that produces $39MM guaranteed, Manish Mehta of the New York Daily News reported (Twitter link). Revis will make fully guaranteed sums of $16MM and $17MM, respectively, in the contract's first two years, according to Mehta (via Twitter).
This accord's total value matches Patrick Peterson's $70MM extension he signed last summer. While the the guarantees fall short of the $48MM the Cardinals standout corner received, Revis' $39MM is fully guaranteed, while a good chunk of Peterson's guarantee was for injury only.
This concludes another rapid free agency for Revis, whose 2015 option wasn't renewed by the Patriots on Monday.
The Patriots, who sent their one-year mercenary at No. 1 receivers all year en route to their fourth Super Bowl title, opted not to plug Revis back in at a $25MM cap number for next season after signing him to what amounted to be a one-year deal last March. The move now leaves a massive void at cornerback for the Patriots after they also let No. 2 corner Brandon Browner test the market.
The Patriots, having chosen to lock up safety Devin McCourty long-term, got the sense earlier today they were going to lose Revis to their rival, and the elite corner parlayed his stint in Massachusetts into another megadeal. Revis signed a $96MM contract with the Buccaneers in 2012, but played in a system that didn't utilize his lockdown man coverage as much. As a result, the Bucs were able to get out of that deal, which included annual $16MM base salaries and no dead money, after that one season and ultimately provide the Patriots with a unique weapon that they did use in the man looks in which he thrives.
Revis earned three of his All-Pro distinctions with the Jets from 2009-11, with the fourth coming last year in New England, and will now play for their new regime under Todd Bowles. Entering his age-31 season, Revis re-established his elite form after a torn ACL sustained in 2011 with Rex Ryan's Jets and will get a chance to help lift Gang Green back to prominence.
It marked a busy day for Bowles, the former Cardinals DC, and the Jets, after they added ex-Browns No. 2 corner Buster Skrine on a four-year, $25MM deal. That's a significant investment on the Jets' flanks. They have much more firepower now after having to start Darrin Walls and Marcus Williams for much of last year.
Photo courtesy of USA Today Sports Images. Luke Adams contributed to this post.
Follow @PFRumors