Pending free agents:
Top 10 2015 cap hits:
Notable coaching changes:
Draft:
No. 8 overall pick
Acquired seventh-round pick from Rams in deal for Alec Ogletree.
Other:
Overview:
The Falcons are drafting eighth overall despite being one victory over the Panthers away from playing the Ryan Lindley-led Cardinals at home in the first round of the playoffs. As enticing as that sounds, a quick exit to the Seahawks in the divisional round and the 25th overall pick may not have been worth the win in terms of long-term team building.
I'm not suggesting the Falcons tanked the end of the season — anyone who watched those games would not be surprised they didn't make the playoffs. I am suggesting they are in a better position to take the next step toward the playoffs because of how their season ended. The Falcons have already taken the most important step towards returning to respectability, and hopefully for them their decisions from a coaching perspective pan out for the best.
Coaching Changes:
The Falcons' defense has been a mess these past two seasons: they graded 26th in Pro Football Focus ratings in 2013 and 2014 (subscription required) and the traditional statistics place them even worse. In 2013, they finished 27th in both yards allowed per game and points allowed per game. This past year they were also 27th in points, as well as dead last in yards allowed.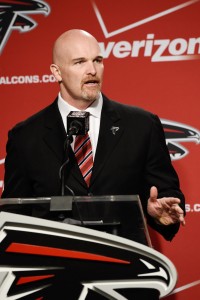 Mike Smith will be remembered mostly for the quick surge to the playoffs that started his tenure and the boneheaded decisions that ended it, but Seahawks defensive coordinator Dan Quinn has been brought aboard to change all of that. Smith accomplished quite a bit as a defensive assistant with the Ravens from 1999-2002 and coordinator with the Jaguars from 2003-2007, but he was never able to match those accomplishments as Atlanta's head coach. Quinn's accomplishments as a coordinator dwarf Smith's, as he has led the top scoring defense in the NFL for three consecutive years on his way to back-to-back Super Bowl appearances (of course, he was one controversial play away from consecutive victories as well).
Quinn had a pool of talent available to him on the defensive side of the ball in Seattle and while he is a highly touted defensive mind, there must be some reservation over leaving Richard Sherman, Earl Thomas, Kam Chancellor, Bobby Wagner, and Michael Bennett, among others. The defense was predicated on having safeties that could cover the middle of the field, corners who can handle themselves up the sidelines, and of course a ferocious pass rush.
The Falcons have had an abysmal pass rush for a few years now, and do not have a safety on the roster worthy of even being compared to Thomas or Chancellor. What the Falcons do have is a top flight young corner in Desmond Trufant. Trufant was taken by the Falcons 22nd overall in the 2013 NFL Draft. The 24-year-old graded out as the seventh best cornerback in the NFL as a rookie according to Pro Football Focus, and improved to sixth best in 2014 (subscription).
Trufant is a great star, a player who could possibly match what Sherman did for Quinn, but the team will need to acquire top level talent around him. If not, Quinn will need to be extremely creative in order to put a respectable defense on the field over the next few seasons.
Another very interesting coaching change comes on the other side of the ball, where Kyle Shanahan will be in control of an offense that has been inconsistent under multiple coordinator's during Smith's tenure. Shanahan hopes to bring consistency to the unit. Shanahan has a reputation for producing high-level running games in the zone-blocking scheme made famous by his father in Denver.
Shanahan has more recently been known as a very adaptable offensive mind, bringing in the zone-read spread from Baylor during RGIII's rookie year in Washington, as well as creating a hugely successful first half of the 2014 campaign with career backup Brian Hoyer as his quarterback. Equally impressive for me was convincing fans and media members that Kirk Cousins was a plausible NFL starter in his time filling in for an injured Griffin.
Key Free Agents:
Kroy Biermann and Osi Umenyiora are the closest things the team has to established pass rushers, and both will be free agents this offseason. This isn't Michael Bennett and Cliff Avril, but the team doesn't have a huge amount of depth behind them either. Jonathan Massaquoi stepped in and was effective, but he waived by the team and will not be returning in 2015. With both Bierman and Umenyiora unlikely to score huge deals elsewhere, they will at least be considered as options to stay with the team.
Matt Bryant has been a staple in Atlanta since he signed in 2009, and the team has already extending him to a three-year deal worth $8.5MM.
Quinn would like to have safeties with the talent of Thomas and Chancellor, but that just isn't a realistic goal. For now, Dwight Lowery is better than any other option they have. A solid player, he lacks the explosiveness and athleticism of a dynamic playmaker, but he does a good job of making up for it was smart play and sound football. Losing Lowery would make the secondary worse immediately, but committing to him with starter-level guaranteed money could prevent the team from upgrading the position should the opportunity arise.
Steven Jackson will not be with the team in 2015, leaving Devonta Freeman as the only back on the roster. Jacquizz Rodgers and Antone Smith are both free agents, and both have minimal value on the open market. The Falcons could keep one or both players on very cheap, non-guaranteed contracts. Rodgers is the more experienced of the two, and brings value in the passing game. He has had little impact as a runner, but has shown flashes in the screen game and catching the ball out of the backfield. Neither is on pace to become a lead back in an offense, but Shanahan has found gems out of forgotten running backs before, as have his mentors Mike Shanahan and Gary Kubiak.
The most notable player the Falcons have to make a decision on is Sean Weatherspoon. Weatherspoon was a standout in 2011, his second year in the league, but struggled with injuries and poor performance throughout most of the rest of his tenure with the team. A first-round pick in 2010, he was a defensive captain in 2012, and represents a potential Pro Bowl level performer. Quinn has already went on record saying he hopes the team can retain Weatherspoon. Of course, with the recent struggles, he will also be a risky proposition.
Possible Cap Casualties:
The potential cap casualties that could be released this offseason should be troubling to the Falcons. The team doesn't have many gigantic cap hits, but of their top ten highest at the end of the 2014 season, it would be easy to argue that seven of those players aren't worth the money they will make in 2015. In fact, an argument could be made for an eighth player who isn't worth the money, depending on your feelings about Matt Ryan.
The team has already parted ways with three of those top 10 cap hits. Justin Blalock has been cut by the team in a move that created $3.79MM in cap space this year. The Falcons also save $3.5MM in cap space by releasing Harry Douglas, and roughly an additional $3.75MM by releasing Steven Jackson.
While the Falcons have already done much of the heavy lifting in preparing for the offseason, they still have some options they could consider releasing.
Sam Baker has missed the past two seasons due to injury, and although he performed well in 2012, he had been underwhelming for the Falcons prior to that. He never excelled at left tackle, and while he might be a sturdy option, the emergence of last year's first-round pick Jake Matthews should allow the team to move in from him. Matthews struggled as a rookie, but is the future at the position. If Baker can make the move to right tackle, it could buy him another year, especially since the team would need to designate him a post-June 1st cut in order to see any savings on the cap in 2015.
Paul Soliai has underperformed, but with so much cap space going into free agency, releasing him without creating additional savings doesn't make a ton of sense. Designating him a post-June 1st cut would free up minimal space, but probably isn't worth it considering he still has a chance to bounce back and provide real value on the interior of the defensive line.
William Moore is another player who the team would probably rather keep as opposed to releasing him to free up a mere $700,000 in cap room. Quinn needs safeties to come in and run a defense in the image of the one he ran in Seattle, and the team will likely explore upgrades in free agency. However, unless they can get a legitimate starter over Moore, the Falcons will likely keep him the rotation in 2015.
Roddy White likely has another year in Atlanta, especially after the team moved on from Douglas. However, as a veteran that has struggled with injuries opposite the emergence of Julio Jones' superstardom, it will be difficult to imagine his time with the team under that lucrative contract lasting much longer.
Positions Of Need:
The Falcons' top priority will be finding a pass rusher. Atlanta only managed 22 sacks as a team in 2014, a whopping 32 less than the league leading Bills. They did so without a premier pass rusher, with no player on the defense achieving even five sacks. With all that cap space, the team will likely be looking at all options when it comes to pass rushers. If Justin Houston were to hit the market, the Falcons are among the few who could afford him despite the imperfect scheme fit. It would be unsurprising if the team even looked into Greg Hardy, who could be available at a discount if the division rival Panthers let him walk. Brandon Graham, Brian Orakpo, Jerry Hughes, and Jason Pierre-Paul could also be targets as high upside free agents. Also don't count out the possibility of Pernell McPhee, who has the versatility desired to fill the type of role Michael Bennett and Chris Clemons have previously held in Quinn's defenses.
The Falcons could also look to upgrade the offensive line. With Jake Matthews in the fold, I would not expect them to chase after a top tier left tackle, but a solid right tackle could be a great addition. If they don't think they can find a significant upgrade in Byron Bell or King Dunlap, or a similar player, they could roll back with Gabe Carimi to compete at right tackle. Offensive guard would provide more opportunity for star power. As Mike Iupati and Orlando Franklin look for new homes in 2015, the Falcons provide a tremendous need and an opportunity to get paid.
The team is happy with their wideouts, able to throw Jones and White outside the numbers and attack teams on the sidelines. What was very obviously missing from the offense in 2014 was Tony Gonzalez, who could work the middle of the field like no other player in NFL history. The biggest name on the market is Julius Thomas, an athletic receiving tight end who has been a downfield threat for the Broncos. Jordan Cameron is another big, athletic player, who missed most of 2014 but caught 80 passes the year prior. Neither player is a renowned blocker. A more logical fit would be Owen Daniels, who has a connection to Shanahan from their time with the Texans, and while he isn't necessarily a downfield threat he would replace some of the veteran savvy fans remember from watching Gonzalez. Niles Paul has some familiarity with Shanahan from Washington, but he saw limited snaps at tight end during that time, so it is unclear how highly he is thought of. Jermaine Gresham is the best blocking tight end at the top of the market, and he although he has yet to unleash his potential as a pass catcher, he was drafted to be a tall downfield threat, a skill he never realized in Cincinnati.
Safety wouldn't necessarily be the first position of need based on the roster, but it could be addressed as Atlanta could use an upgrade over William Moore and Dwight Lowery. Recently, PFR's Luke Adams put together an overview of the free agent market for safeties, and to put it simply, it is not pretty. He lists 14 players in his top tier, but he and I both know that Devin McCourty is the only star in the group and he will likely be franchised by the Patriots. For his part, Quinn needs great safety play to replicate what he did in Seattle. Rahim Moore, Ron Parker, and Darian Stewart could be interesting options, and Antrel Rolle might provide a short term upgrade, depending on the learning curve it takes to pick up Quinn's scheme.
If the Falcons want to address positions like safety, tight end, pass rusher, and offensive line with top flight free agents, they could probably get by at running back with spare parts. Shanahan has a history of getting the most out of previously unremarkable running backs. They have a few guys in the mix, between Rodgers, Freeman, and Smith who could turn their careers around in Shanahan's zone blocking scheme. They could also target a back late in the draft, where Shanahan made stars out of sixth-round pick Alfred Morris and undrafted free agent Arian Foster, not to mention the production he got out of Terrance West and Isaiah Crowell before All-Pro center Alex Mack was lost for the season in Cleveland last year.
If the team does decide that it has the room to sign a higher profile player, Justin Forsett would likely be at the top of the list. He had tremendous success in Shanahan's mentor Kubiak's zone-blocking scheme in 2014, and should make an easy transition to the new offense. Mark Ingram would provide another big name signing, while Ryan Mathews, Stevan Ridley, and Roy Helu could be cheaper options that have some proven ability to be a lead back.
In addition to that long list of needs, adding a linebacker and a defensive tackle wouldn't be the worst thing in the world. The front office will have to prioritize where they spend their money, and will likely have to look to improve through the draft. It isn't crazy to think that this team could have a quick turnaround with the likes of Matt Ryan and Julio Jones in the fold, but the reality is that it'll take some time for the Falcons to get back towards the top of the league.
Extension Candidates/Contract Decisions:
The team will need to extend Julio Jones as soon as possible. Jones has been an otherworldly talent at wide receiver when healthy, but injury concerns going back to his time at Alabama will probably complicate his contract negotiations. Despite his injury issues, he finished with 104 catches and 1,593 yards last season, both good for third in the league despite playing about 200 less snaps and accumulating 22 less targets than Antonio Brown and Demaryius Thomas. The Falcons will almost certainly look to lock Jones up the long term, especially when considering the price they paid to land him in the 2011 draft.
The Falcons have already exercised the fifth-year option on his contract which will keep him with the team in 2015, and they will have a backup plan of franchising him at season's end to secure him through 2016. This gives the Falcons leverage to work out an extension without the threat of their star receiver truly being able to test the open market. Through four seasons, there is no reason to think Jones will not become one of the highest-paid players at his position. If the Cowboys are able to come to terms with Dez Bryant, that would set the market and make it much easier to project a contract for Jones. I believe it would be unlikely to see either of those two players sign deals as magnanimous as the ones signed by Larry Fitzgerald and Calvin Johnson in terms of years and total value, but an average salary of between $10MM and $12MM per year would probably be the floor for Jones' next deal.
Overall Outlook:
Atlanta was staving off a rebuild for the past few years under Smith, looking for band-aids and big names to put them over the top, and that plan nearly worked as they were a fourth-down pass breakup away from getting to the Super Bowl in 2012. However, they didn't catch the breaks they needed these past two seasons, and with an abundance of cap space, they have the opportunity to legitimately build up their roster.
Looking at the needs of the roster and assuming Quinn would want to replicate the type of defense he employed in Seattle, it is tough to imagine the Falcons turning this around in only a year or two. The silver lining for the fan base in Atlanta is that unlike other teams that seem to be constantly rebuilding–like the Browns, Rams, and Texans– the Falcons know that if Matt Ryan continues to play at a high level, and with weapons like Jones to throw to, just returning to league average along the offensive line and on defense could catapult them right back into contention.
Information from Over The Cap was used in the creation of this post. Photo courtesy of USA Today Sports Images.
Follow @PFRumors