Pending free agents:
Top 10 2015 cap hits:
*Randall Cobb's new contract will likely place him in the Packers' top 10, but specifics of the deal aren't yet known.
Notable coaching changes:
Draft:
No. 30 overall pick
No traded picks
Other:
Overview
For most teams in most years, finishing with a 12-4 record and winning the NFC North for the fourth consecutive season would be considered a resounding success. But in Green Bay, the final snap of the 2014 season is all that posterity will remember, as the Packers coughed up a 12-point fourth quarter lead to the Seahawks in the NFC Championship Game before losing in overtime. One of the main culprits in that loss — tight end Brandon Bostick, who mishandled an onside kick recovery — has already been waived, but that surely wasn't enough to appease disgruntled Packers fans.
The Packers have already been active this offeason — earlier tonight, the club agreed to a four-year, $40MM contract with pending free agent receiver Randall Cobb, keeping PFR's No. 3 free agent from hitting the open market. The versatile 24-year-old was Green Bay's top free agent, but the team has other need areas to upgrade. Free agency is anathema to general manager Ted Thompson (although he did sign big-ticket item Julius Peppers last offseason), so while the Packers likely won't make many outside additions, they will look to retain their own FAs, and perhaps explore a few long-term extensions.
Key Free Agents
Now that Cobb has been taken care of, the Packers can focus on Bryan Bulaga, the club's other key free agent. Bulaga may not have the name value of Cobb, but along with Denver's Orlando Franklin, he represents the cream of the crop am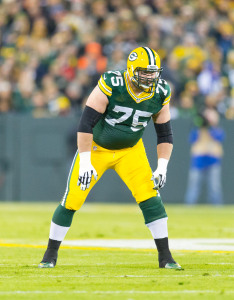 ong free agent tackles, a FA position group that has already been thinned by King Dunlap and Derek Newton re-signing with their respective clubs. Bulaga, who will turn 26 later this month, graded as the league's 16th-best tackle among 84 qualifiers per Pro Football Focus (subscription required), with most of his value coming from his exceptional pass-blocking.
Green Bay wants to keep its right tackle, and even with Cobb's new deal in place, the Packers should still have the cap room available to get something done. But there will definitely be other suitors, and I can't shake the feeling that another interested team will ink Bulaga with the intention of transitioning him back to left tackle, the position he played in college. With next to no free agent talent available on the left side, could a team like the Panthers sign Bulaga and throw him on Cam Newton's blindside? It's possible, and given that Bulaga is likely to match or exceed the five-year, $35MM deal PFR's Rory Parks projected for him last month, the Packers will have to compete to keep him.
While Bulaga will generate most of the headlines, the Packers have other key players headed for free agency, and two reside in the defensive backfield. Tramon Williams is the elder of two, and the soon-to-be 32-year-old has already drawn interest from the Seahawks as they plan for life after Byron Maxwell. Green Bay is said to have offered Williams, who's spent his entire career with the Packers, a two-year deal worth $8MM — an unserious price which makes it appear as though the club has no intention of retaining him.
The Packers' other free agent corner — the 25-year-old Davon House — doesn't have the track record of Williams, but could ultimately command more dollars thanks to his youth. In House's entry on PFR's Top 50 list, our Luke Adams expressed some optimism that House, who saw only 411 snaps in 2014, could experience a breakout if given a larger role, and I share the feeling that House has some untapped potential. Green Bay will need to replace Williams in some fashion, and there's no reason House shouldn't be the one to fill his shoes.
Elsewhere on the defense, defensive lineman Letroy Guion and B.J. Raji are both scheduled to become free agents on Tuesday, and each faces a unique circumstance. Guion was arrested on drug charges in February, and though probation could reportedly be in the cards, his future is certainly cloudy. If his legal issues are resolved, however, the Packers should look to re-sign him (they expressed interest in doing so in January, before Guion's arrest), as he was invaluable in '14 while playing nose tackle.
Raji, meanwhile, faces similarly uncertain prospects, but for an entirely different reason — the former first-round pick missed the entire season after tearing his bicep during the preseason. Last month, we heard that Raji is expected to re-sign with Green Bay on a one-year deal, and he'll presumably have to take a pay cut from his 2014 net of $4MM. The BC alum was shifting back to nose tackle during last year's training camp, so we'll have to see if his status affects that of Guion.
None of the remainder of the Packers' impending free agents played more than 300 snaps last season, but the club will have to make a decision on a backup quarterback. It seems as though Matt Flynn is more comfortable in Green Bay than he was in either Seattle, Oakland, or Buffalo, and given his play at those other stops, he won't garner any interest as a starter. Scott Tolzien, meanwhile, has now been in Green Bay for two seasons, and is two years younger, so the Packers could opt to promote him to the No. 2 role. It wouldn't be a surprise if both are retained.
Possible Cap Casualties
The Packers have already been active in clearing out cap space, as they've released linebackers A.J. Hawk and Brad Jones, saving more than $7MM in the process. Green Bay does an excellent job of managing its cap, so unless it wants to cut Mason Crosby ($3.55MM cap hit) and find a new kicker, the club's only realistic cap casualty could be linebacker Mike Neal.
According to PFF's metrics, the 27-year-old Neal was the Packers' worst defender in 2014, and was second-worst in 2013. His 2015 cap charge of $4.25MM is the ninth-highest on Green Bay's roster, while the team would save $3MM by releasing him. There haven't been any reports of Neal being on the chopping block, but this is a case where the production doesn't match the compensation.
Positions Of Need
Through our Outlook series, we've now previewed all 32 teams' offseasons — the following "positions of need" section might feature the least mentions of external pending free agents of any entry so far. Not that the Packers don't have needs (every club does), but Green Bay simply doesn't utilize free agency. As detailed by Bill Barnwell of Grantland in a July 2013 article, Thompson had signed just six veteran free agents since taking over as Packers GM in 2005 (adding Peppers and Guion last offseason brings the total to eight).
The one major area where Green Bay could look to upgrade is tight end, where the current depth chart consists of Andrew Quarless and Richard Rodgers — entering his second season, Rodgers could show some improvement, but the position lacks a true playmaker. That could change with the addition of Julius Thomas or Jordan Cameron, the top two TEs available, but neither seems like a Packers-type addition. More likely, Green Bay could take a look at players like Jermaine Gresham or Lance Kendricks, who figure to be more affordable options.
The front seven could also use a few new additions, especially at linebacker — though Hawk and Jones weren't impact players, they certainly made contributions. The inside linebacker free agent class doesn't have much to offer, so while GB could target Jasper Brinkley (Vikings) or Kelvin Sheppard (Dolphins), I'd expect them to wait until more notable players are cut during the summer, and snatch up a viable starter. The same goes for the defensive line, where Thompson won't pay the price of bringing in an big-name addition.
Of course, the Packers could face two new needs — offensive line and corner — pending the outcomes of the Bulaga, Williams, and House negotiations. Each position could become an area of concern if other clubs poach Green Bay's free agents, but I'd expect the Packers to target both positions through the draft (GB's offensive line vacancies, in particular, are almost always filled by NCAA players). Along the O-line, Iowa's Brandon Scherff figures to be off the board by the time Green Bay picks at No. 30, but Stanford's Andrus Peat, Pitt's T.J. Clemmings, or Texas A&M's La'el Collins, each of whom would be an option at right tackle. At corner, the Packers could look at Marcus Peters (Washington) or Kevin Johnson (Wake Forest) in the first round, or perhaps target combine wonder Byron Jones in the second or third round.
Extension Candidates/Contract Issues

Green Bay has a fifth-year option on linebacker Nick Perry, the club's first-round draft choice in 2012. The 24-year-old Perry hasn't lived up to expectations, as he has yet to top 500 snaps in any one season and has posted just nine sacks in three seasons. The USC product isn't an integral part of the Packers' defense, and I doubt that they'll want to exercise the option and pay Perry more than $7MM.
The Packers could look to sign a pair of other young players to extensions, however, starting with cornerback Casey Hayward. At first glance, Hayward's future might appear to be tied to that of Williams and/or House — if GB re-signs either one, the need for Hayward might be lessened. However, Hayward is almost exclusively a slot corner, so his role shouldn't be altered by Green Bay keeping one of its other corners. When healthy, Hayward is one of the most effective slot corners in the NFL — injury concerns have limited his production in recent years, however, so perhaps the Packers could use that missed time as leverage, and re-sign him to a below-market deal now.
Another defender, lineman Mike Daniels, could also be a candidate for a multi-year deal. The 25-year-old Daniels enjoyed his first season as a starter in 2014, finishing as the league's eighth-best 3-4 defensive end per PFF. The role of a 3-4 DE often isn't to generate pressure, but for what it's worth, Daniels has accrued 12 sacks over the past two seasons. He plays a position that doesn't get paid on the open market, but he could potentially target the five-year, $34MM deal Desmond Bryant signed with the Browns last March.
Overall Outlook
In re-signing Cobb, the Packers have already met this offseason's most formidable challenge. They have the cap space to keep Bulaga, as well, and new contracts for either Williams or House (or both) would be the next items on the table. The free agent period usually isn't exciting in Green Bay — but with Aaron Rodgers at quarterback, the Packers will be considered division (and perhaps conference) favorites no matter how little they spend in March.
Information from Over The Cap was used in the creation of this post. Photo courtesy of USA Today Sports Images.
Follow @PFRumors