Pending free agents:
Top 10 2015 cap hits:
Notable coaching changes:
Draft:
No. 31 overall pick
Conditionally acquired fourth-round pick from Jets in deal for Percy Harvin; pick becomes a sixth-rounder if Harvin is cut by March 19.
Owe sixth-round pick to Colts in deal for Marcus Burley.
Other:
Overview:

Despite a heartbreaking conclusion, the 2014 season was another enormous success for the Seahawks. After a so-so start,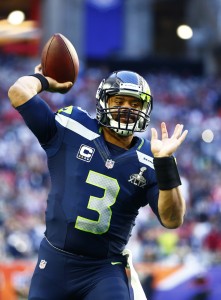 the reigning Super Bowl champions closed the regular season with six victories in a row, finished 12-4 and earned a second consecutive NFC West crown. The team went on to pull off a miraculous rally against the Packers in the NFC championship game, overcoming a 12-point fourth-quarter deficit before winning dramatically in overtime and clinching a second straight conference title.
Unfortunately for Seattle, as exhilarating as its triumph over Green Bay was, its Super Bowl XLIX loss to the Patriots was at least as deflating. The Seahawks, just 26 seconds and a single yard from another Lombardi Trophy, looked like shoo-ins to repeat as champs. However, a questionable second-down play call and shoddy execution combined for their undoing when the Pats' Malcolm Butler intercepted quarterback Russell Wilson at the goal line to seal a 28-24 victory for New England.
How well the Seahawks will bounce back from such a shattering defeat won't be found out until next season, of course. In the meantime, general manager John Schneider will use the offseason to lock up key talent for the foreseeable future and supplement an already formidable roster. Although Schneider's squad won't require much help, it does have some areas that could use his attention.
Key Free Agents:
When the free agent market opens March 10, the likelihood is that the Seahawks will lose starting cornerback Byron Maxwell. In fact, a source told Bob McGinn of the Milwaukee Journal Sentinel that Seattle has "little or no chance" to retain the 27-year-old. Maxwell, a four-year veteran, began garnering extensive playing time in 2013 and has intercepted six passes since. Pro Football Focus (subscription required) ranked him 45th among 108 qualifying corners last season and an impressive 16th out of 110 the year prior. Now it appears he'll parlay his success with the Seahawks into a sizable payday from another franchise.
None of Seattle's other pending defensive free agents make the impact Maxwell does, but the group has some useful role players in linebacker Malcolm Smith, end O'Brien Schofield and tackle Kevin Williams. The Seattle Times' Bob Condotta wrote earlier this week that Smith, the Super Bowl XLVIII MVP, will "probably get better offers elsewhere." Thanks to injuries and the players in front of him on the depth chart, Smith didn't leave much of a mark last season. The two linemen, Schofield and Williams, were both valuable depth for Seattle in 2014. Schofield has previously spoken of a desire for more money and could be "tough" to keep, per Condotta, while the Seahawks would be interested in getting the soon-to-be 35-year-old Williams back on a second straight cheap, one-year contract.
The most significant offensive UFA the Seahawks have is left guard James Carpenter, who has started 39 games since they used a first-round pick on him in 2011. The injury-prone Carpenter set a career high with 13 starts last season, but Pro Football Focus (subscription required) wasn't enamored with his play: The site rated him 47th out of 78 qualifying guards, which came on the heels of an even worse ranking the year prior (65th out of 81). Nevertheless, ESPN's John Clayton told 710 ESPN Seattle radio last month that the team would take Carpenter back on a deal worth $3MM or less annually. Carpenter is seeking yearly value in the $4MM range, however, according to Clayton.
Like Carpenter, wide receiver Jermaine Kearse is also unsigned. However, the 25-year-old is a restricted free agent and received a tender offer from the team today. Given his team-controlled status, Kearse is a safe bet to return to receiver-needy Seattle, for which the three-year veteran finished second in both catches (38) and yards (537) last season.
Positions Of Need:
With Maxwell's time in a Seahawks uniform expiring, they're about to find themselves in need of a starting cornerback to pair with Richard Sherman and help maintain their top-ranked pass defense for a third year in a row. The Seahawks are prepared for Maxwell's departure and have already begun turning their attention toward keeping the position strong. On Thursday, they visited with Cary Williams – whom the Eagles released earlier this week in a cost-cutting move. The 30-year-old hasn't missed a game since 2010 and has tallied nine interceptions over the last three years. Moreover, Pro Football Focus (subscription required) liked Williams nearly as much as Maxwell last season, ranking the two four spots apart (Williams 49th, Maxwell 45th). Williams has visits with other teams scheduled and there's no timetable on when he'll sign.
Seattle also has its eyes on another corner named Williams – the Packers' Tramon Williams – McGinn wrote Wednesday. As a pending free agent, Williams won't be allowed to start negotiating with teams until Saturday. The eight-year veteran has spent his entire career in Green Bay, where Schneider worked as a front office assistant when Williams entered the NFL. According to McGinn, Schneider "views him as an ideal fit for coach Pete Carroll's aggressive Cover 3 coverage scheme." Multiple NFC personnel executives informed McGinn that Williams should net anywhere from $4MM to $6MM per annum on the open market. The 31-year-old has proven himself a durable playmaker, missing a mere one game out of a possible 128 and totaling a prolific 28 interceptions.
Offensively, the Seahawks' receiver situation is mediocre at best. With the Percy Harvin experiment having failed, the Seahawks continue to be in need of game-breaking talent at the position. At the very least, they have to find another starting-caliber player to complement Doug Baldwin, who hauled in 66 passes for 825 yards last year.
While the odds of the Seahawks splurging on the Packers' Randall Cobb, the Eagles' Jeremy Maclin or the Ravens' Torrey Smith are low, there are some satisfactory receivers available who are expected to sign more modest contracts. Among several candidates are the 49ers' Michael Crabtree (if the front office is willing to overlook the differences between him and Sherman) and the Chargers' Eddie Royal. Though neither is a world-beater – and the same is applicable to fellow free agents like Kenny Britt and Hakeem Nicks – adding one would give Wilson a third decent receiver to team with Baldwin and Kearse.
Seattle could otherwise turn to the draft, where it has the 31st overall pick. In his latest mock draft, Daniel Jeremiah of NFL.com has the Seahawks taking Dorial Green-Beckham, formerly of Missouri, with their first-round selection. Green-Beckham offers an enticing blend of size (6-foot-5, 237 pounds) and 4.49 speed, but has dealt with numerous off-field issues.
Bettering their offensive line should also be on the Seahawks' to-do list this offseason, especially with Carpenter's possible exit. Football Outsiders graded Seattle's O-line as the fourth best in the league last year at run blocking, though it struggled in pass protection – evidenced by a 24th-ranked adjusted sack rate. Although the Seahawks have two outstanding linemen in left tackle Russell Okung and center Max Unger, they've combined to miss 23 regular-season games during the previous two years. Further, Okung hasn't played a 16-game season since the Seahawks drafted him in 2010. Right guard J.R. Sweezy and right tackle Justin Britt aren't nearly as good as Okung or Unger, but they're cheap and they've been able to stay on the field. Therefore, they're likely to retain their starting jobs.
The one open spot is seemingly at left guard, where the Seahawks are going to have trouble making considerable strides if they aren't willing to throw money at the 49ers' Mike Iupati, the Broncos' Orlando Franklin or the Bengals' Clint Boling. Like some of the aforementioned receivers, the three top left guards on the market are going to cost a lot – perhaps too much for a team that will soon have crucial contract decisions to make on in-house talent.
Ultimately, should Carpenter walk and the big-time free agents price themselves out of the Seahawks' range, they could simply plug in backup Alvin Bailey as a starter. That would enable them to focus on bolstering their O-line depth with lesser signings and adding potential future starters by way of the draft.
Possible Cap Casualties:
Entering the offseason, many viewed tight end Zach Miller as someone whose roster spot with the Seahawks was in jeopardy. The eight-year veteran missed 13 games last season with an ankle injury and sophomore Luke Wilson showed promise in his place. Unsurprisingly, the Seahawks elected Friday to release Miller, ESPN's Field Yates tweeted, and save $2.39MM on their 2015 cap.
Moving to the defensive line, Seattle has an expensive tackle, Brandon Mebane, who missed most of last season with a torn hamstring. Releasing him would save the Seahawks $5.5MM. It's improbable to think the team will part with Mebane because he's a quality player and, as Condotta wrote earlier this week, a respected figure in the locker room. With that said, Schneider could always decide there's a more alluring way to spend $5.5MM.
Extension Candidates/Contract Issues:
The status of five-time Pro Bowl running back Marshawn Lynch was up in the air as recently as Friday, when he agreed to a new deal with the Seahawks that shouldn't affect his 2015 cap number. With Lynch's situation taken care of, at least briefly, the Seahawks can begin to focus on some of their other players with uncertain futures.
During their three-year run as a premier team, one of the major luxuries the Seahawks have had is top-notch quarterback play for a relative pittance. Wilson has played the first three years of his career on his rookie deal – and he was only a third-rounder, remember – while throwing 72 touchdowns against 26 interceptions and helping lead Seattle to a 36-12 regular-season record, two NFC championships and a Super Bowl title. Wilson's stellar play at a minimal price has allowed Schneider to stack the team around his QB with high-cost players. Those days are nearing an end, however, to at least an extent.
Wilson's contract runs through next season. Between now and this time next year, the Seahawks are going to have to pay him a substantial amount of money. Ian Rapoport of NFL.com reported in January that Wilson's next deal would make him the highest-paid QB in the league, surpassing the five-year, $110MM pact Aaron Rodgers inked with Green Bay in 2013. Schneider said last month that the Seahawks would use an "outside-the-box" approach with Wilson's contract, according to NFL.com's Chris Wesseling, implying they'll find a way to generously compensate the 26-year-old without damaging the rest of the roster.
Okung is also a year from free agency. Despite his injury issues (he has missed 21 of 80 regular-season games), Okung will be in for a hefty payday. It'll be his second one – the ex-Oklahoma State standout signed a $48MM deal with $29MM in guarantees when he entered the league – and CBS Sports' Joel Corry, a former agent, opined that Okung "probably won't be interested in a new contract" worth less than his rookie deal. A raise might be out of range for the Seahawks, considering their other upcoming contractual priorities.
The centerpiece players scheduled for free agency in 2016 don't stop on offense, unfortunately for Seattle. Bobby Wagner, who has been one of the league's foremost defenders during his first three seasons, is a year from hitting the open market. Pro Football Focus (subscription required) has ranked Wagner as the second-, 12th-and fifth-best 3-4 inside linebacker during his first three years. In 2014, he made 100-plus tackles in only 11 games and was rewarded with his first Pro Bowl invitation and First-Team All-Pro status. Wagner will be just 25 if he becomes a free agent next March and, between now and then, could approach or pass the Texans' Brian Cushing as the league's richest 3-4 ILB in terms of total value. Cushing signed for $52.5MM in 2013.
The Seahawks will also have to make a decision soon on pass-rushing linebacker Bruce Irvin, who has amassed 16.5 sacks in his three-year career. The team has until May to choose whether to pick up Irvin's fifth-year option for 2016. That option is the value of the highest-paid 25 players at his position, excluding the top three players. The exact sum isn't yet known, but it will be appreciably more than the $2.90MM Irvin is set to rake in next season.
Overall Outlook:
Regardless of its Super Bowl gaffe, Seattle is a battle-tested, uber-talented club led by an excellent coaching staff. Most of that talent and the majority of the coaches will return next season. Thus, with a productive offseason, the redemption-driven Seahawks should find themselves back in the championship hunt in 2015. Things will get trickier thereafter, though – as salaries for integral players markedly increase, Schneider's mission to field an elite team will become more taxing.
Information from Over The Cap was used in the creation of this post. Photo courtesy of USA Today Sports Images.
Follow @PFRumors