In the first somewhat surprising franchise-related move of the day, the Patriots have used their tag on kicker Stephen Gostkowski, reports Adam Schefter of ESPN.com (via Twitter). Safety Devin McCourty had been considered the more viable candidate in recent weeks, but we heard earlier today that the Pats were leaning toward franchising their Pro Bowl kicker, rather than the standout safety.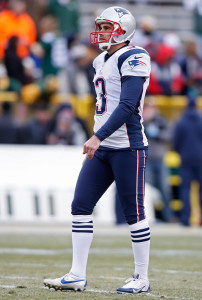 If any kicker is worthy of a franchise tag, Gostkowski certainly fits the bill. He has led the NFL in field goals in each of the last two seasons, making 73 of his 78 total attempts during that stretch, for a 93.6% mark. Gostkowski has also made all 95 of his extra point tries over the last two years.
Franchising Gostkowski will mean tendering him a one-year offer worth $4.56MM, which he will immediately be free to sign. Before or after Gostkowski signs that tender, the two sides will have the option of working out a longer-term deal.
As for what the move means for McCourty, it certainly looks like he's one step closer to reaching the open market next Tuesday. The Pats still have another few days to exclusively negotiate with the veteran safety, but there have been no recent talks, per Shalise Manza Young of the Boston Globe (via Twitter), and the team is reportedly prioritizing Darrelle Revis, whose option will need to be addressed by next Monday. The decision to use the franchise tag on Gostkowski may be a sign that the club is willing to let McCourty go in order to get something done with Revis, but that's far from a given at this point.
While the Pats have a reputation for cutting ties with players earlier than expected, in their ongoing quest to maximize a player's value, they've had remarkably little turnover at the kicker position over the last two decades, with only Gostkowski and Adam Vinatieri handling the role. New England previously franchised Vinatieri twice in the first half of the 2000s in order to keep him on the roster.
Photo courtesy of USA Today Sports Images.
Follow @PFRumors