After Michael Crabtree signed with the Raiders earlier this week, Hakeem Nicks suddenly became the most intriguing free-agent wide receiver still on the market. Greg Jennings might have something to say about that, but in terms of potential upside, Nicks presents the best opportunity for a low-risk investment to pay significant dividends.
At just 27, Nicks already has a fairly impressive resume. In the 2010 and 2011 seasons, the former 29th-overall pick averaged 78 receptions for more than 1,100 yards and nine touchdowns for the Giants. He was also a major contributor to New York's Super Bowl title in 2011, averaging seven receptions and 111 yards per game over the team's four-game playoff run (including a 10-catch, 109-yard performance in Super Bowl XLVI). He also grabbed four touchdowns during that stretch. Combined with Victor Cruz's breakout 2011 season, it appeared as if Eli Manning would have one of the most dynamic pair of receivers in the league at his disposal for the foreseeable future.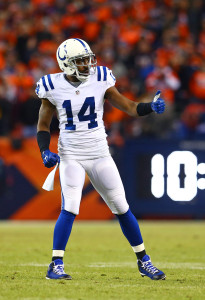 Unfortunately, the injury bug struck Nicks as the Giants prepared to defend their title. During OTAs in May 2012, Nicks fractured the fifth metatarsal in his right foot and was forced to undergo surgery. As a result, he missed valuable training camp time, and even when he returned to the field, he had to play through pain. He landed hard on his right knee during the Giants' Week 2 contest that year, and he ultimately missed three consecutive games due to knee swelling.
Although he suited up on game days the rest of the season, he was rarely able to practice with the team, and it was clear that the injuries had sapped a great deal of his explosiveness and playmaking ability. His numbers—and the Giants' offense—suffered as a result. In the last two games of the season, Nicks failed to record a single catch, playing just one snap in the finale.
The former North Carolina standout enjoyed a statistical uptick in 2013, but he failed to crack 900 receiving yards and did not catch a single touchdown despite playing in 15 games. He therefore signed a one-year "prove it" deal with the Colts last season, but he was unable to prove much of anything. Nicks was lost in the shuffle of an otherwise explosive aerial attack led by Andrew Luck, who favored Reggie Wayne, T.Y. Hilton, and Coby Fleener. Nicks recorded a mere 38 catches for 405 yards and four touchdowns, and he was targeted just 68 times after receiving over 100 targets in each of his previous four years with the Giants.
The once-promising wideout is consequently looking for another team to offer him the same opportunity the Colts did. Nicks has visited with both the 49ers and Titans, but has otherwise failed to generate a great deal of interest. It is somewhat telling that the Dolphins, who are known to be in the market for a veteran receiver, were apparently more interested in Crabtree, Jennings, and Wes Welker.
Nicks may not be able to recapture his 2011 form, but given his relative youth and record of productivity, one would have to think there is some truth to his assertion that he is "nowhere near finished." Perhaps on a team like Tennessee or Miami, which feature several talented but young receivers, Nicks would be able to succeed. But if San Francisco is still interested, the 49ers may represent the best opportunity for him. He offers some of the downfield ability of Torrey Smith but is more akin to Anquan Boldin in terms of his route-running and good hands, and is therefore a quality complement to both. Guided by a capable quarterback in Colin Kaepernick, Nicks could thrive in the Bay Area.
But regardless of where he lands, it would be a surprise for him to get much more than the one-year, $3MM deal that Crabtree just signed. And if his 2015 numbers do not show a marked improvement over what he compiled in 2014, he may, in fact, be finished, as the promise of 2011 gets pushed further into the rear-view mirror.
Photo courtesy of USA Today Sports Images
Follow @PFRumors