As we noted on Wednesday, Vikings kicker Blair Walsh recently expressed optimism that he'll be able to work out a long-term extension with the team that keeps him in Minnesota beyond 2015, the last year of his rookie contract. While Walsh's comments suggested that contract talks hadn't gotten serious between the two sides yet – he says there's been "a little bit of communication" – it's possible that the kicker will reach a deal with the club before the season gets underway.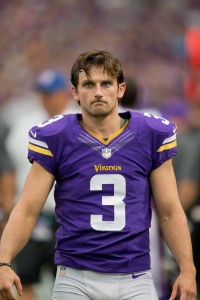 As Walsh prepares to discuss his future with the Vikings, the roles of kickers around the NFL are evolving. The ball will be placed at the 15-yard line for extra-point attempts in 2015, meaning kickers will have to make 32- or 33-yard PATs rather than 19-yard kicks. That change will go into effect on a trial basis, but it's extremely unlikely that the NFL will decide to return to the old format in 2016. In fact, as Newsday's Bob Glauber (Twitter link) and TheMMQB.com's Peter King observe, it's more probable that the league will continue to push those extra-point tries back even further in future seasons, perhaps by another eight or 10 yards.
With the requirements for the extra point changing, it's fair to wonder how exactly that will affect the value of kickers going forward. It's possible that some teams will rely less on their kickers, opting to go for two points more frequently. But NFL kickers don't miss 33-yard attempts very often, and most head coaches are fairly conservative, so I expect the majority of the league's teams will still opt for the single point most of the time.
What does that mean for kickers? It's not as if they're an afterthought now, since games are frequently won or lost on field goal attempts. However, if a handful of a team's games each season are now decided on extra-point tries, clubs figures to give the kicker position a little extra attention. Teams may be more willing to offer more money to a reliable kicker, particularly if the spot for the PAT keeps moving back in future seasons. As Josh Brown of the Giants suggests, players capable of regularly making kicks in tough weather conditions should see their value increase as well.
It raised some eyebrows around the league when the Patriots used their franchise tag this offseason on kicker Stephen Gostkowski. After all, once Gostkowski signed that one-year tender, he assured himself of a $4.54MM salary for 2015, which is significantly more than the per-year salary of any other player at his position, as Over The Cap's data shows. The Patriots are a smart team, and likely suspected this extra point change was coming (theirs was one of the three proposals considered by the NFL). It's not unreasonable to assume that New England was willing to go a little higher than expected to retain Gostkowski, one of the league's most consistent and reliable kickers, having anticipated that his role would be slightly more crucial in 2015.
All of this brings us back to Walsh, whose next contract will depend at least in part on how confident the Vikings are that he can continue to make all of his extra points. Through his first two NFL seasons, Walsh was virtually automatic from inside 40 years, converting 37 of 38 attempts (97.4%). However, 2015 was a shakier season for the 25-year-old. He missed nine field goals in total, and three of those misses came from less than 40 yards away.
With extra points becoming more difficult, the Vikings may want to wait to see how Walsh performs in 2015 before committing to him on a long-term deal. If he's the player who made 89.7% of his field goals in his first two seasons, he's worth that multiyear investment; if he's the guy who converted just 74.3% of his tries last year, the team may want to explore other options. Walsh's big leg makes him valuable – he has made 17 attempts of 50+ yards in his three NFL seasons – but accuracy will be more important than ever for kickers going forward.
I expect a nice bounce-back year from Walsh, and perhaps the Vikings will have a window to buy low over the next few months, while the former sixth-round pick is coming off the worst season of his career. If Minnesota can get Walsh locked up for a deal in the neighborhood of $3MM per year, I think it makes sense for the team to try to get something done. That's the price that kickers like Graham Gano, Matt Prater, and Nick Folk have signed for within the last couple years, and if the position's value is truly on the rise, getting Walsh for a similar rate could be a nice coup, assuming he bounces back in 2015.
Speaking to Matt Vensel of the Star Tribune this week, Walsh said that he's embracing the challenge that the new extra point rules will bring: "You've got to be confident in what you do. If somebody was telling you, 'Hey, we're going to make your job just a little bit more important,' why wouldn't you take it? It's a new challenge."
As his job becomes more difficult, Walsh's confident approach should serve him well, and it could help him land a lucrative new contract. His case will be an interesting one to watch, since it could provide a hint at how these PAT changes will affect teams' valuations of their kickers.
Photo courtesy of USA Today Sports Images.
Follow @PFRumors