With four straight postseason appearances under their belt, the Bengals didn't have many pressing needs heading into draft season. The club's pass rush was a concern, but many mock drafters projected that Cincinnati would select an offensive tackle in an attempt to shore up their front five for years to come. Prior to the draft, Bengals left tackle Andrew Whitworth, a free agent after the 2015 season, didn't seem concerned that a rookie could eventually take his spot:
"I've always had the opposite mentality," Whitworth said. "Mess up and draft somebody at my position because you are going to sit around and watch him sit the bench. That's always been my mentality. I see it as a challenge."
That was April 28. Fast forward six days to May 4, after Cincinnati had drafted not only Texas A&M tackle Cedric Ogbuehi in the first round, but Oregon tackle Jake Fisher in the second, and the 33-year-old Whitworth had changed his tune. "It's hard to [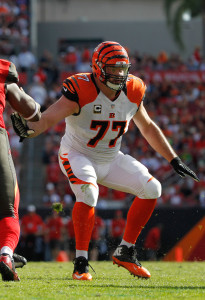 be a team leader] when that feeling is not reciprocated and is just a one way street," said Whitworth. "'We'd like you to prepare two guys to be really good football players, we'd like you to be the leader of football team, but we'd also like to have the best situation possible for us. We'll talk to you when we want to.'"
Later that week, Whitworth was involved in a bizarre social media snafu, as a message sent out from his Twitter account seemed to express even more frustration about his future with the Bengals. "[Bengals owner] Mike Brown told me I'm done here," the tweet read. "Said I can play this year and go home. So I told him I want a raise or I'll sit my a– at home this …" Whitworth later downplayed the situation, blaming the incident on his wife's unfamiliarity with technology, but it's easy to connect the dots between his earlier vexation with management and this tweet, whether or not it was intended to be released.
Despite his age, the fact that Whitworth hasn't yet been offered an extension is a bit strange, simply because Cincinnati is willing (much more so than other NFL clubs) to hang onto its veteran players. Nearly every other team in the league would have released defensive tackle Domata Peko — among the NFL's worst at his position — and saved more than $3MM in cap space, but as of now, he remains on the roster. 30-year-old corner Leon Hall has the second-highest cap figure on the Bengals' roster, and has lost a step after rupturing each Achilles in the past four seasons — but he hasn't been cut or even asked to restructure.
However, Whitworth, who along with Peko is the longest-tenured Bengal, will head into his contract year without a new deal on the horizon. The former second-round pick will earn a $5MM base salary in 2015, and account for $6.2MM on Cincinnati's cap. While that may seem modest given Whitworth's production, his current contract terms are part of a two-year extension tacked onto the back end of an old contract, so his ~$9.76MM AAV is actually good for the sixth-highest left tackle contract in the league.
Obviously, dollar figures will be the driving force in any sort of negotiations between Whitworth and the Bengals. But Whitworth's fit along the offensive line could be a secondary topic of discussion, as his role come 2016 could be unclear. As noted, Cincinnati selected two players in Ogbuehi and Fisher who played primarily left tackle in college. Their addition only further clouds a Bengals front five that could look very different next season.
Like Whitworth, right tackle Andre Smith is a free agent at season's end. The former first-round pick's play has stagnated in recent years, and at this point it's highly unlikely he'll return to southern Ohio when his contract expires. Left guard Clint Boling was recently locked up via a long-term deal, but right guard Kevin Zeitler's future with the club is less certain — his 2016 option was exercised, and though the Bengals have indicated they'd like to reach agreement on an extension with the Georgia product, Zeitler is currently unsigned after next season. The final member of Cincy's line, center Russell Bodine, struggled during his rookie season, and remains something of an unknown.
So where does this leave Whitworth (were he to be extended)? One possible scenario (which I first heard floated by Andy Benoit of TheMMQB.com) could see a complete shuffle of the Bengals' front five. Left-to-right, Cincinnati's possible 2016 offensive line could read Ogbuehi-Whitworth-Boling-Zeitler-Fisher. The concerns here are obvious: Boling has no pro experience at center, and trusting two young players with no NFL experience whatsoever on the outside could be troubling for a contending team. But if Ogbuehi and Fisher develop, this setup could mean an improvement at every position along the line. For his part, Whitworth was dominant while moonlighting as a guard during the 2013 season (check out these three GIFs as evidence).
It's conceivable, however, that Whitworth doesn't want to move off the blindside at this point in his career, and even if he is amenable to transitioning inside, I'd wager that he'd still want to be compensated as a left tackle. The years tacked on to the end of Whitworth's deal in 2011 amounted to a two-year, $20MM extension. He'd probably want something similar to that to stay in Cincinnati, and given his track record, that'd be a fair deal for both sides. At 33, Whitworth shouldn't expect a long-term deal, especially with two youngsters fighting to take his job, but a short-term pact at a respectable salary would work.
So if the Bengals do express interest in re-signing Whitworth, the only hurdle would be the level of intrigue the former LSU Tiger could attract from around the league. There isn't a ton of precedent for age-30+ offensive lineman generating free agent bidding wars, but it's conceivable that a club with a dire need at left tackle — Panthers? Vikings? Jaguars if Luke Joeckel continues to disappoint? — could present a large offer to Whitworth that Cincinnati would have no interest in matching.
Cincinnati has more pressing issues on its plate than the contract status of Whitworth. A.J. Green, George Iloka, Dre Kirkpatrick, Zeitler, Marvin Jones, Mohamed Sanu, and Reggie Nelson are just some of the Bengals whose contracts expire in the next two seasons. Green, in particular, figures to take up much of Cincinnati's negotiating time and cap space during the next ten months, so Whitworth could be on the back burner. But a short-term deal to keep the team leader in the Queen City almost makes too much sense not to happen.
Follow @PFRumors