With about three months remaining until the 2015 season gets underway, the market for quarterback contract extensions is starting to get interesting. Cam Newton signed a new deal with the Panthers this week, locking him up through the 2020 season, but several notable QBs remain unsign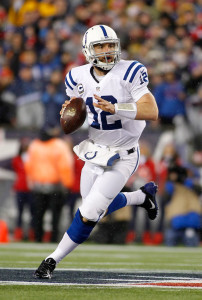 ed beyond this year. Russell Wilson, Eli Manning, Philip Rivers, and Nick Foles will all see their contracts expire in the winter, and Andrew Luck is extension-eligible as well, though the Colts exercised their fifth-year option on him for 2016.
Manning and Rivers are veteran signal-callers coming off veteran contracts, and will be entering their mid-30s by the time their next deals begin. Foles, meanwhile, had one incredible season with the Eagles, but doesn't have nearly the same track record as a player like Newton, Wilson, or Luck. So for now, we'll just focus on those latter three players, since their situations are the most similar.
Newton, 2011's No. 1 overall pick, has four NFL seasons under his belt, while Wilson and Luck just have three, but all three quarterbacks have been their respective team's starter since entering the league — between the three of them, they've only missed two total games in their NFL careers (both Newton in 2014, due to a rib injury). With Newton securing a contract that places him among the game's highest-paid QBs, it makes sense that Wilson and Luck would be paying close attention to the numbers on that deal.
As Mike Florio of Pro Football Talk outlines, the Seahawks will probably view Newton's contract as a ceiling for Wilson, while Wilson – and agent Mark Rodgers – will consider it his floor. Having played his first three seasons on a third-rounder's salary, Wilson may be more motivated than Newton (a former No. 1 pick) to maximize his earnings, which could inspire him to play out the 2015 season on his current contract, rather than accepting any sort of discount from Seattle.
As for Luck, Mike Wells of ESPN.com writes that there's no question that 2012's first overall pick should be paid more than Newton, and perhaps more than anyone else in the NFL. The question is how much more.
A look at the career stats for Newton, Wilson, and Luck shows why both unsigned QBs could make a strong case that they're more deserving than Newton of a mega-deal that exceeds even Aaron Rodgers' $20MM for year. All numbers in this chart, with the exception of regular-season and playoff records, are averages per season:

You could make a case that Newton's supporting cast hasn't been as strong as Luck's or Wilson's during his first few NFL seasons, but it's not as if Wilson has been surrounded by Pro Bowl wideouts, and the Colts' inconsistent and unproductive running game hasn't helped Luck. Newton's value has also been buoyed by his ability to make things happen with his legs, but Wilson and Luck aren't exactly statues in the pocket either. Plus, history has shown that a quarterback's rushing ability typically declines as he gets older, so I doubt the Panthers are expecting Newton to run for 650 yards and eight touchdowns per season over the course of his next contract.
What this chart does show is that Luck is a more productive passer than Newton, averaging about 700 more passing yards and eight more touchdowns per year, despite an up-and-down rookie campaign. As for Wilson, he's certainly more efficient than Newton, throwing for a higher completion percentage, fewer interceptions, and a much better rating.
Most importantly, both Luck and Wilson have had significantly more postseason success than Newton, whose lone playoff victory came after his team earned a home game in the Wild Card round despite a 7-8-1 record, and defeated a third-string quarterback. Wilson has a Super Bowl win on his résumé, and came one play away from another, while Luck has reached an AFC championship game, and has three career postseason wins. Considering there are many other factors in play, it may not be fair to judge an NFL quarterback so heavily on his playoff success as opposed to his regular season performance, but it happens. Just ask Andy Dalton.
There should be no question then that, unless they decide to take a discount, Luck and Wilson will do even better on their extensions than Newton did on his. With the cap on the rise, it wouldn't be a surprise to see both players exceed Rodgers' $22MM annual salary, and I could easily imagine Luck setting a new high watermark for guaranteed money. With the Seahawks apparently playing hardball though, and with the Colts postponing Luck's extensions talks until 2016, it may take some time before those deals are actually consummated.
Photo courtesy of USA Today Sports Images.
Follow @PFRumors