2:12pm: Mike Florio of Pro Football Talk has the details on Davis' extension, reporting that the linebacker will get a $9MM signing bonus, and salaries of $1.25MM (2015), $3.5MM (2016), and $4.25MM (2017). This year's money ($10.5MM) is fully guaranteed, while next year's salary is partially guaranteed ($1.5MM) for injury only.
1:23pm: The Panthers have officially announced (via Twitter) their two-year extension for Davis, who said in a statement, "I now get to officially end my career as a Carolina Panther and that means the world to me."
1:11pm: The Panthers have reached an agreement with linebacker Thomas Davis on a deal that will extend his contract by two seasons, reports Joseph Person of the Charlotte Observer (all Twitter links). According to Person, Davis' new contract, which will run from 2015 to 2017, is expected to be worth about $18MM. The Carolina linebacker figures to sign the pact later today.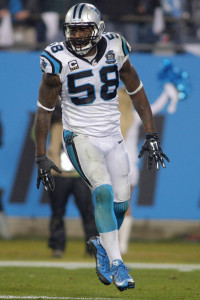 Davis, 32, had been set to earn a $7.25MM base salary in 2015 before becoming eligible for free agency in 2016. While his old contract technically ran through the 2018 season, as Over The Cap details, that was only to stretch a previous signing bonus out for cap purposes — the deal was set to void following the coming season.
As I noted last week when I examined the top cap hits by defensive position, Davis' deal was an outlier, as he was the only outside linebacker with a top-10 cap number for 2015 who plays in a 4-3 scheme rather than a 3-4 defense. The veteran linebacker's new contract should reduce that $9.9MM cap charge for 2015, though the initial figures suggest he'll still be paid well at a position that typically doesn't feature many of the league's top earners.
The 14th overall pick out of Georgia back in 2005, Davis has been a key piece of the Panthers' defense since entering the league, appearing in 117 games (99 starts) for the team over the last decade. For his career, he has racked up nearly 750 tackles to go along with 17.5 sacks, six interceptions, and 13 forced fumbles.
Having taken care of Davis, the Panthers will likely shift their attention to another linebacker soon, as Luke Kuechly is nearing the end of his rookie contract. Because he was also a first-round pick, Kuechly has a fifth-year option for 2016 on his deal, which the Panthers exercised earlier this spring. However, the club still may explore an extension sometime before the 2015 season rather than waiting until next year to lock up the Pro Bowler.
Photo courtesy of USA Today Sports Images.
Follow @PFRumors