2:31pm: Nick Eatman of DallasCowboys.com has tweeted out a photo of Bryant signing the contract, making it official.
2:16pm: Bryant will get $23MM in total money – including a $20MM signing bonus – for 2015, according to Pro Football Talk (Twitter links). The other $22MM will become fully guaranteed by March of 2016.
2:10pm: The Cowboys and Dez Bryant have an agreement in principle on a five-year extension worth $70MM, which will be finalized prior to this afternoon's deadline for franchised players to sign multiyear contracts, reports Ian Rapoport of NFL.com (via Twitter). According to Chris Mortensen of ESPN.com (via Twitter), the agreement features $45MM in guaranteed money, though it's not clear yet how much of that amount is fully guaranteed.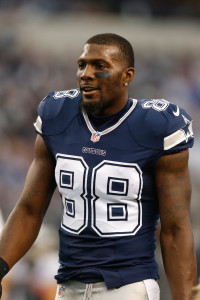 Earlier reports had indicated that the two sides were closing in on an agreement and that Bryant was on his way to the team's facility to hammer out the final details. Based on Rapoport's report, it sounds like the star wideout will be putting pen to paper shortly.
The agreement between Bryant and the Cowboys brings to an end a saga that has played out over the last several months, ever since the team assigned its franchise tag to the All-Pro receiver back in March. While both sides indicated all along that they wanted to get a long-term deal done, there were plenty of potential roadblocks along the way, with Bryant threatening to hold out into the regular season if he didn't get an extension, and the NFLPA looking into possible collusion between the Cowboys and Broncos over Bryant's and Demaryius Thomas' contracts.
Although Bryant's franchise tag was worth $12.823MM, he had been seeking a larger annual salary on a multiyear contract. Reports earlier today suggested that Dallas had increased its offer to north of $13MM annually, and while it was said that the wideout's camp still wasn't satisfied with that proposal, Bryant seemed eager to get something done and get his contract situation put to bed. It appears his new deal will average $14MM per year.
Bryant, 26, has established himself as an elite, durable wideout during the first five seasons of his career. The former first-round pick has racked up 381 catches and 56 touchdowns while appearing in 75 of a possible 80 regular-season games since Dallas selected him 24th overall out of Oklahoma State in 2010. Bryant hasn't missed a game since 2011 and is coming off his third straight season with at least 88 catches and 12 TDs.
The 6-foot-2, 220-pounder set a new career high for touchdowns in 2014 by reaching the end zone 16 times, and he also tied his previous best yards-per-catch mark (15.0). As a result, Bryant earned First-Team All-Pro honors and his second consecutive Pro Bowl invitation.
Among the NFL's elite receivers who are extension-eligible this season, Bryant is the first to land an extension, and the deal could result in other star wideouts around the league making progress on their own contracts. Thomas, Bryant's fellow franchise-tag recipient, will have to get something done with the Broncos by the top of the hour if he hopes to sign a long-term deal before 2016, but Julio Jones and A.J. Green could negotiate extensions with their respective teams at any time throughout the year.
One reason that it took some time for one of these top receivers to sign an extension was the uncertainty about how they fit into a market that featured a significant gap between the top two contracts. The gap between Calvin Johnson's $16.21MM average salary and the $12MM annual figure for Mike Wallace was significant, with players and agents angling for something closer to Johnson's number, while teams argued that was an outlier. Unsurprisingly, Bryant's per-year salary falls nearly right in the middle of the two figures.
Photo courtesy of USA Today Sports Images.
Follow @PFRumors