Defensive tackle Marcell Dareus is rightly atop the Bills' priority list when it comes to extension candidates, but he isn't the team's only key lineman entering a contract year. Offensive tackle Cordy Glenn is also set to play out his final season under Buffalo's control. While the team would be wise to make an effort to lock Glenn up for the foreseeable future, there hasn't been much talk of a long-term deal for the 25-year-old. Unless something changes, he could cash in elsewhere in 2016.
Since the Bills used a second-round pick in 2012 on Glenn, the former Georgia standout has been a durable stalwart, appearing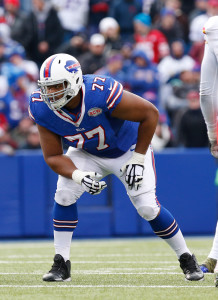 in 45 of a possible 48 regular-season games with the team. Every one of Glenn's 45 appearances have been starts, and he has earned positive grades from Pro Football Focus in all three seasons of his career. Glenn was the only Bills O-lineman last year who received plus marks from PFF, which ranked the unit an abysmal 30th out of 32 teams.
Glenn's ability to both stay on the field and play well despite being surrounded by subpar line mates are reasons to keep him in the fold going forward, but the Bills may not view the 25-year-old as positively as PFF does. In fact, he and second-year man Seantrel Henderson – whom PFF (subscription required) ranked as the worst right tackle in the league in 2014 – spent offseason practices alternating between the left and right sides.
Glenn took the transition in stride, saying, "The way I look at it, when you're here, you're trying to help out your team … Anything you've got to do to win, you've got to do it."
Glenn's positive approach could change if he ends up in a backup role, which Buffalo News scribe Vic Carucci introduced as a possibility last month. If the Bills' coaches (namely head man Rex Ryan, offensive coordinator Greg Roman and line coach Aaron Kromer) like the athletic Henderson enough to be their left tackle and fellow second-year pro Cyrus Kouandjio on the right side, that could relegate Glenn to the bench – a place for which he's clearly far too qualified. That seems unlikely when one considers Glenn's track record, Henderson's horrid 2014 and Kouandjio's inability to get on the field as a rookie after the team used a second-round pick on him, but the fact that Carucci mentioned the idea means it isn't totally far-fetched.
Even if Glenn does ultimately start and impress for a fourth straight season, it may not be enough to sway Bills brass, led by general manager Doug Whaley, in his favor. Carucci noted late last month that, given the Bills' desire to keep a dominant defense together, Glenn was at the bottom of an extension pecking order that includes Dareus and linebacker Nigel Bradham, whose deal also expires at year's end.
In the event the Bills do find a way to keep Glenn as part of their long-term core, a deal in the range of $30MM to $40MM overall may be in the offing. That's roughly the going rate nowadays among good, in-their-prime tackles – evidenced by the recent contracts given to Rodger Saffold ($31.7MM), Jared Veldheer ($35MM) and Eugene Monroe ($37.5MM) – not to mention a significant step up from the rookie deal under which Glenn is currently playing.
One comparable Glenn and his agent could use is Veldheer, whose resume was similar to Glenn's in places when he signed his deal as a free agent in 2014. At the time, Veldheer was 26, a four-year veteran, with 48 starts under his belt. On the other hand, two of Veldheer's seasonal performances drew negative grades from PFF and he missed 11 games because of a triceps tear the year before signing with the Cardinals. However, PFF did rank him as one of the league's 16 best tackles in 2011 and '12. Those efforts helped the ex-Raider land a five-year, $35MM payday. The total value of Veldheer's contract currently ranks a modest 14th among left tackles, as does the the $17MM in guarantees (including a $6.25MM signing bonus) he received, per Over The Cap. If Glenn's next contract exceeds those totals, odds are it won't be by much.
The Bills seem to be taking a wait-and-see approach with respect to Glenn's long-term status. But if Henderson and Kouandjio don't take sizable steps in 2015, it's hard to imagine Buffalo letting Glenn go without a fight. Quality left tackles who are young and durable aren't exactly easy to come by, and a team whose O-line was a major weakness last season (and could be again this year) isn't in position to allow one of its few capable blockers to head elsewhere.
Photo courtesy of USA Today Sports Images.
Follow @PFRumors