The Jets haven't had a lot to root for on the field during the last couple of years of Rex Ryan's reign in New York, especially as the short-lived era of John Idzik came to an end. However, as the team is looking forward under the new leadership of Todd Bowles and Mike Maccagnan, they do so with a roster rebuild that was started under the previous regime.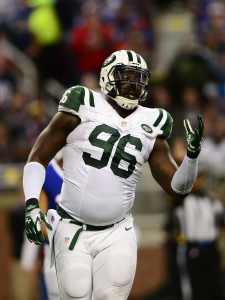 One of the crown jewels of the team is coming into the option year of his rookie-contract, which the Jets exercised and will pay him $6.969MM in 2015. As Bowles looks to build a defense that can be one of the best in the AFC for years to come, signing Wilkerson to a long-term extension could give him a cornerstone player to build around.
Wilkerson's talent has been on the line between underrated and acknowledged for most of his career. As a 3-4 defensive end in a blitz-heavy scheme, he isn't in a position to put up large numbers in the traditional statistical categories, only notching 24 sacks in his four seasons, including a robust 10.5 in 2013. When some analysts refer to him as the second-best player at his position in the NFL, the player he is being compared to is J.J. Watt, who has two Defensive Player of the Year trophies and 57 sacks over the same time frame.
While it may be flattering for Wilkerson to be in that company, Watt's status as the NFL's undisputed top defender makes his sidekick seem quite small, especially playing the same position as him. Even the other notable defensive linemen in the league often come from the 4-3 mold, with only Calais Campbell of the Cardinals joining Watt as a 3-4 defensive end in the Pro Bowl in 2015. Traditional 4-3 pass rushers from defensive end also accompanied Watt on the 2014 Pro Bowl roster, and only Haloti Ngata represented the position aside from Watt in 2013.
Therefore, despite being regarded as one of the top players at his position, Wilkerson has never made the Pro Bowl in his career, even though he was second-team All-Pro in 2013, and ranked as the 74th best player and 42nd best player in the NFL according to the NFL Newtwork's list.
Still, advanced metric sites like Pro Football Focus (subscription required) have rated Wilkerson extremely highly, listing him as the second-best 3-4 defensive end in 2012 and third best in 2014. Watt was first both of those years, and Wilkerson's teammate Sheldon Richardson ranked second this past season. Accordingly, he was named a Pro Football Focus All-Pro in both of those seasons.
The complications of Wilkerson's case for an extension come from the presence of Richardson, and are only additionally muddled by the drafting of Leonard Williams with the fifth-overall pick in the 2015 NFL Draft. The Jets may make a case for having the best defensive line in football this coming season, which is notable for a fan base that saw its elder brother Giants win two Super Bowls on the strength of its defensive line in spite of mediocre quarterback play.
On the other hand, the strength along the defensive line also provides the Jets a certain amount of leverage in these talks, with adequate replacements for Wilkerson already on the roster and under team control on rookie contracts going forward. They can afford to play hardball with Wilkerson, knowing they will have two more years plus a fifth-year option with Richardson and the full length of Williams contract as well. That doesn't include the potential to use the franchise tag on these players to add a year of team control to their contracts, an option that extends to Wilkerson as well.
All that team control, as well as the in-house options, decidedly suppresses Wilkerson's market with the Jets. Richardson commented earlier this offseason that both he and his teammate were worth those big $100MM contracts, and even more. "We don't just want J.J. Watt money. We want it all," said Richardson. "We want Suh money. Hopefully everybody wants that type of bread in this league."
Watt signed a six-year contract worth $100MM last offseason, and Suh signed a six-year contract worth more than $114MM earlier this year. Wilkerson's situation more closely resembles Watt's as a 2011 draft pick. In both cases, the team had the fifth-year option and franchise tag at their disposal.
Suh, drafted a year earlier, was not subject to the newer rookie-wage scale and therefore had a bloated salary with no team options to fall back on. His contract was renegotiated for short-term cap room, but the Lions could not afford to use the franchise tag or re-sign him, and he hit unrestricted free agency.
If Wilkerson keeps his performance up and waits out his time with the Jets, free agency would be the best place for him to secure a $100MM contract. Manish Mehta doesn't believe the team would consider that sized contract in an extension, at least not this year.
Letting Wilkerson walk and waiting for Richardson to come up for an extension seemed like a good idea, especially if the Jets thought Richardson is the better player. Unfortunately for Richardson, his recent suspension for violating the league's substance abuse policy weakens his case as well, therefore tipping the scale back in Wilkerson's favor.
Richardson's suspension was for marijuana use, and the policy for that offense includes a number of steps before suspension. That knowledge suggests that this isn't his first positive test, and that this is an ongoing problem for Richardson as long as marijuana is included in the substance abuse policy. Add to that how outspoken Richardson has been about the type of money he eventually wants to command, and the team might see a safer option in Wilkerson.
As he is overshadowed by Watt on the field, if Wilkerson and the Jets are able to come to an agreement on an extension, he will also be overshadowed by Watt's bank account. Based on production, given similar leverage, it is unfair to expect Wilkerson to match those numbers, even if waiting until closer to the end of the team's control usually shifts leverage to the player.
In the scenario where the two sides are able to come together on a number, I think throwing Watt's contract out would be a given, but given that after Watt's $100MM the next highest total value for a contract is Calais Campbell and Cameron Jordan's similar five-year, $55MM deals, there is a lot of breathing room in between to work out, according to OverTheCap.com.
Even going to high profile 4-3 defensive ends like Robert Quinn's four-year deal worth $57MM and Charles Johnson's six-year, $76MM contract could be the high marks for Wilkerson. Johnson's deal is an outlier in terms of production when accounting for the position he plays, but his position is also more valuable. Quinn has more star power, and his $14MM+ yearly salary is a big number to approach. If Wilkerson could get a six-year deal worth $70MM, that would put him in an elite tax bracket, well above all his contemporaries save for Watt.
However, it seems like both sides would have to make serious concessions to make that happen. The vibe coming from the Jets organization as well as Wilkerson's camp is that they are comfortable playing out the string. I would still expect Wilkerson to be franchised after this season, but if he does reach free agency, I'd guess he gets a lot closer to the number he wants than he will with the Jets.
Photo courtesy of USA Today Sports Images.
Follow @PFRumors