Quarterback Nick Foles burst on the scene as a member of the Eagles in 2013, appearing in 13 games and totaling league bests in yards per attempt (9.12) and and rating (119.2 rating) on the strength of an astounding 27:2 touchdown:interception ratio. As a result, expectations with Foles were sky high entering last year, but he missed half the season because of a broken collarbone and his numbers took a significant step back (6.96 YPA, 13 TDs, 10 INTs and an 81.4 rating).
Eagles coach and football czar Chip Kelly decided Foles wasn't an ideal fit for his offense, so he traded the 26-year-old to the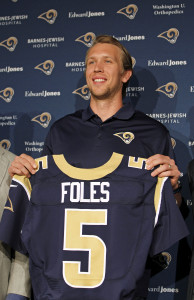 Rams in a deal involving draft picks and, more importantly, Sam Bradford – another QB who has battled inconsistency during his career – earlier this offseason.
In St. Louis, Foles will try to rebound from a mediocre 2014, give the Rams their first taste of consistently above-average QB play since Marc Bulger's heyday nearly a decade ago, and help the team break its 10-year playoff drought. If Foles accomplishes those things – or, at the very least, reestablishes himself as a legit starter – he'll be in line to cash in by next offseason as a free agent. There's a chance it could happen before then, though, as the three-year veteran and the Rams have both expressed interest in a contract extension. Head coach Jeff Fisher acknowledged discussions on a new deal, USA Today's Howard Balzer tweeted in June, after NFL.com's Ian Rapoport reported (via Twitter) that the initial talks between the two sides would "ramp up" prior to the season. Foles has already stated both a fondness for St. Louis and a desire to remain there, but noted that his agent would handle contract negotiations, ESPN's Nick Wagoner tweeted last month.
Given the fact that he has put up less-than-stellar numbers in two of three seasons, it would be a gamble for the Rams to give Foles an extension prior to ever seeing him throw a pass in their uniform. But, considering how important quarterbacks are and how badly Rams QBs have struggled during their playoff drought, it might be a worthwhile risk for general manager Les Snead to lock up Foles now instead of waiting and possibly seeing his price rise exponentially thanks to a bounce-back season.
The question is: How much is it going to cost for the Rams to keep Foles long term? Wagoner took a look at the issue earlier this month and concluded that the Bengals' Andy Dalton could be used as a comparable for a hypothetical Foles contract.
Dalton signed a six-year extension worth up to $115MM (with a guaranteed $17MM, which has already been paid out) last summer. At the time, Dalton had three things in common with present-day Foles: three years' experience, one Pro Bowl appearance, and career-best outputs in 2013. In terms of counting stats, Dalton – unlike Foles – had three straight seasons of at least 3,300 yards, including a 4,200-plus-yard campaign in 2013, three consecutive years of 20-plus touchdown passes (33 in '13) and quarterbacked three playoff teams in a row. Incidentally, Dalton and Foles were one spot apart in Pro Football Focus' ranking system for QBs in '13 (Dalton was 16th, Foles 17th – subscription required).
Foles hasn't accomplished enough to earn a deal in Dalton's neighborhood in terms of total value, but Dalton's contract isn't as enormous as it looks. Given the fact that Bengals have already paid Dalton his guaranteed money, his deal isn't an anvil going forward. That allows the Bengals to evaluate Dalton on a year-to-year basis and decide whether to continue on with him. Wagoner notes that a similar structure would make sense for the Rams on a hypothetical Foles deal.
As far as length, annual value and guarantees go, Wagoner wrote that something in the range of $12MM to $14MM per annum for four years (with roughly $20MM in guarantees) might get an extension done. If Foles signs a contract in that vicinity and pans out, he'd be a steal for the Rams. Those financial numbers would be relatively modest for a solid starter, as the yearly salary and total guaranteed money would place just inside the top 20 among today's QBs, according to Over The Cap. For Foles' part, accepting a contract along those lines would allow him to secure himself financially now and, if he fares well, give him another crack at a hefty payday in a few years.
There would be risk on both sides if they were to strike a deal, clearly. If the two are realistic about Foles' worth, though, the reward should outweigh any wariness.
Photo courtesy of USA Today Sports Images.
Follow @PFRumors