The Seahawks haven't been shy about locking up their own players to long-term extensions — Russell Wilson and Bobby Wagner each agreed to deals within the past month, but they're just the most recent Seattle players whom the club has committed to. Richard Sherman, Earl Thomas, Marshawn Lynch, Michael Bennett, Cliff Avril, K.J. Wright, and Doug Baldwin all reached extensions with the Seahawks (or in the case of Bennett, re-signed just days into free agency) within the past 18 months. But there's still one key Hawk who is heading for free agency and hasn't yet worked out a new contract — left tackle Russell Okung.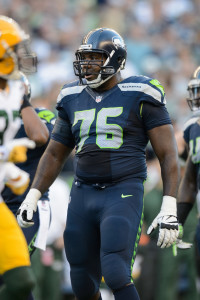 Okung, the first draft pick of the Pete Carroll/John Schneider regime, hasn't exactly been the picture of health since entering the league out of Oklahoma State in 2010. The 27-year-old has only played in about 73% of Seattle's games during the past five years, missing 21 out of a possible 80 contests. Just last season, Okung missed only two games, but he was plagued with injuries throughout the year, dealing with calf and chest ailments while also playing through a torn labrum.
Not only has Okung suffered through injuries, but when he has been able to take the field, his production hasn't been great. Outside of the 2012 season, when he graded as the league's eighth-best tackle and was named to the Pro Bowl, Okung has never even placed among the top 30 tackles in the NFL, according to Pro Football Focus, including last season, when he ranked just 36th (subscription required). Last year, specifically, most of Okung's negative grade was attributed to his subpar run blocking, as he actually graded out pretty well in terms of pass-blocking.
Indeed, if there is one thing that Okung does not do, it's give up sacks. In three years with Wilson as the club's starting quarterback, Okung has been responsible for just four sacks. And that's not simply a function of Wilson's ability to move in the pocket, as Wilson has been sacked the second-most times among all QBs since entering the league. It's Okung's linemates who are giving up most of Wilson's sacks, as Okung gave up just 22 total pressures in 2014, ranking 13th in PFF's pass-blocking efficiency metric.
So now that we've covered what type of player Okung is, let's tackle another question: Can Seattle afford him? The Seahawks have done a marvelous job of keeping their Super Bowl corps together, whether by extending a player like Kam Chancellor at a below-market rate, keeping Bennett for less than he's worth, or finding a viable starting QB in Wilson in the third round. But at a certain point, it becomes impossible to keep everyone, as evidenced by the fact that linebacker Bruce Irvin — like Okung, a former first-rounder — is widely expected to depart via free agency after the season.
As it stands now, Over the Cap projects the Seahawks to have about $14.4MM in cap space heading into the 2016 offseason (for context, that ranks as the 10th-least amount of room in the league). That number doesn't figure to increase by that much, as there aren't any obvious candidates for release on Seattle's 2016 roster. One tactic could be to restructure the contracts of either Sherman or Thomas, converting some portion of their base salaries into signing bonuses and therefore creating more immediate cap relief. But, for the most part, the Seahawks will have to work with what they have.
Still, $14.4MM isn't nothing — even after accounting for draft pick signings, it'd be enough to re-sign Okung. However, retaining Okung would likely mean saying goodbye to Irvin (as expected), Brandon Mebane, Ahyta Rubin, and possibly Jermaine Kearse. Additionally, it would leave little money left over for a free agent addition at, say, receiver, or along the interior offensive line. In other words, 2016 becomes the year where Seattle will have to start choosing precisely who it wants to keep around — they won't be able to extend every contributor.
If Okung does hit free agency, he'll be doing so along with an impressive crop of fellow left tackles. Barring any extensions between now and next March, the FA left tackle class will include Trent Williams, Anthony Castonzo, Andrew Whitworth, Nate Solder, Cordy Glenn, and Donald Penn. Williams is perhaps the most interesting comparable, as both he and Okung were selected in the top 10 of the 2010 draft, and both dealt with injuries last season (Williams missed just one game but was hampered knee, ankle, and shoulder problems throughout the 2014 campaign). Indeed, based on Pro Football Reference's metrics, they match up rather well:
| NumYrs | Players whose career was of similar quality and shape |
| --- | --- |
| 3 | Trent Williams, Marvin Powell, Blake Brockermeyer, Joe Bostic, Mike Kenn, Mick Tingelhoff*, Kent Hill, Homer Elias, Kent Hull, Alex Barron |
| 4 | Alex Barron, Joe Bostic, Todd Steussie, Blake Brockermeyer, Trent Williams, Dan Dierdorf*, Sean Farrell, Kenyatta Walker, Frank Garcia, Donald Penn |
| 5 | Alex Barron, Tra Thomas, Bryant McKinnie, Trent Williams, Joe Bostic, Frank Garcia, Homer Elias, Dan Dierdorf*, Todd Steussie, Blake Brockermeyer |
| Career | George Foster, Orlando Franklin, Brad Badger, Bryan Bulaga, Zach Strief, Mike Pouncey, Will Beatty, Dave Taylor, Kyle Cook, Alex Barron |
Two other players on that list, Bryan Bulaga and Will Beatty (both of whom appear under the Career section) are interesting for the purposes of this discussion, as they've both earned new contracts in the relatively recent past. Bulaga, a right tackle, signed a five-year, $33.75MM deal with the Packers in March that contained $8MM in guarantees. Beatty, a left tackle, signed in 2013, so his contract is a little outdated, but for reference, the Giants handed him $37.5MM over five years ($18.35MM guaranteed).
Okung was part of the last draft class that signed under the old CBA, so his current contract is artificially inflated. He's earning about $8.08MM per season, so Beatty's annual salary would actually represent a downgrade. That presents something of a problem: I don't think Okung is good enough to jump into Brandon Albert/Duane Brown territory (~$9MM per year), but I also don't believe that he's interested in taking a pay cut. If we bump Okung's AAV up to $8.25MM and stretch it over five years, that gives us a total of $42.25MM.
I'd guess Okung would think long and hard about accepting that offer, especially if the guarantees were in the neighborhood of $13-15MM. But would Seattle want to pay that much? They'd be giving Okung more than Joe Staley, Jared Veldheer, Eugene Monroe, and Jermon Bushrod on an annual basis, and I'm not sure Okung is better than any of them. Maybe the Seahawks would balk at such a price, hoping they can land of the top collegiate tackle prospects, or perhaps they could throw a short-term deal at someone like Whitworth.
It sounds like the Colts could be nearing a deal with Castonzo, and maybe if Washington wants to buy low on Williams with him coming off a down season, they could reach an agreement quickly, as well. Any extensions signed by those two would go a long way towards providing a baseline for the Seahawks and Okung to work from. One added wrinkle to the talks will be that Okung plans on negotiating his own deal without the help of an agent. How exactly that will affect discussions is unclear, but is it possible that Okung overvalues himself without an agent's counsel?
Ultimately, I think it makes sense for the Seahawks to try and work something out with Okung. The Super Bowl corps can only be retained for so long, so if there's any chance at extending their current championship window, Seattle should take it. But there's no doubt that the club will have to start carefully picking and choosing who it wants to re-sign beginning in 2016. As Wagner tweeted before he was ultimately extended: "Can't keep everyone."
Follow @PFRumors