SUNDAY, 8:11am: The NFL Network's Ian Rapoport passes along a bit of news on the Smith signing this morning (via Twitter). We already knew that Smith chose the Raiders' offer over competing contracts from the Jaguars, Buccaneers, and Rams, and Rapoport says those other clubs actually offered more money than Oakland. Smith, however, wanted to stay close to his support system in the Bay Area. Rapoport also reports that the Raiders are confident in the information they have on Smith's criminal charges, which suggests that Smith may not be facing significant punishment from the judicial system or, consequently, from the league.
SATURDAY, 11:25am: ESPN's Field Yates has slightly different contract numbers for Smith (Twitter link), reporting that the base salary is worth $1.25MM. He also notes that there is $2.75MM in sack incentives and $4MM in per-game bonuses, both of which differ from Rapoport's tweet.
FRIDAY, 5:06 pm: Smith's deal with the Raiders is worth up to $8MM, according to Ian Rapoport of NFL.com (Twitter link). It includes a $1MM base salary, $5MM in 53-man roster bonuses, and $2MM in sack incentives.
12:47pm: The Raiders have officially signed Smith, cutting defensive end Lavar Edwards to create a spot on the roster, according to a team release.
11:16am: After being released last month by the 49ers, outside linebacker Aldon Smith has found a new home across the bay. According to Jason Cole of Bleacher Report (via Twitter), the Raiders have agreed to sign Smith to a one-year contract.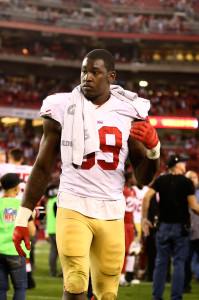 When he's healthy and on the field, Smith can be one of the league's most effective pass rushers, as he exhibited during his first two years in the NFL. As a part-time player in his rookie season, the linebacker recorded 14 sacks, and he piled up another 19.5 as a starter in 2012, en route to a spot on the All-Pro first team.
However, Smith's off-field issues have limited his production since then — he missed nearly half the Niners' games over the last two seasons after entering a rehabilitation facility in 2013 and serving a nine-game suspension in 2014. Most recently, Smith was arrested by Santa Clara police on hit and run, DUI, and vandalism charges, though when he was released from jail, the outside linebacker disputed the fact that he had been driving under the influence.
The incident is the latest in a series of off-field run-ins for Smith, who has had DUI arrests in the past, and it was the last straw for the 49ers. The team parted ways with him in early August, with GM Trent Baalke issuing the following statement: "This organization has tried very hard to help Aldon fight his issues. Although he is no longer a member of this team, our support and concern for him will continue."
Cole reported earlier this week that at least four teams had interest in signing Smith, but things were still in a holding pattern at that point, since the NFL had yet to make a decision on possible discipline after his latest legal situation. As Cole noted, if Smith were to sign with a club and then received a year-long suspension, that would be a PR embarrassment for both the team and the league.
The fact that the Raiders are willing to bring Smith aboard suggests that the club either has an idea of what his potential suspension might look like or is simply willing to roll the dice on a talented but troubled player. It's also not clear how long the NFL's investigation will take, so Smith could potentially play until the league announces its decision. If he's able to stay on the field for the majority of the 2015 season, the Raiders should have a very strong pass rush this year, with the ex-Niner joining Khalil Mack and Justin Tuck in Oakland.
According to Ian Rapoport of NFL.com (via Twitter), Smith chose the Raiders over the Jaguars, Buccaneers, and Rams.
Photo courtesy of USA Today Sports Images.
Follow @PFRumors