In the four weeks since the first edition of our Free Agent Power Rankings, two players listed (albeit, as honorable mentions) have inked extensions, as defensive end Derek Wolfe agreed to a four-year, $36.75MM pact with the Broncos, while fellow defensive end Mike Daniels signed a four-year, $42MM deal with the Packers. There's still an impressive crop of 2016 free agents heading for the open market, however, so let's check in on the status of the top unrestricted free agents, ranked by projected guaranteed money.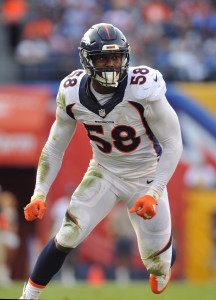 1. Von Miller, LB: Miller did nothing over the final four weeks of the season to lose his top spot, picking up two sacks (to finish the year with 11) while being named both a first-team All Pro and and Pro Bowler. Nothing has changed regarding his contract expectations, but the Broncos' quarterback situation could have an effect on Miller's status. Denver probably won't have to worry about using the franchise tag on Brock Osweiler now that he's lost his starting job, meaning the tag will be in play for Miller.
2. Alshon Jeffery, WR: Jeffery missed two of the season's final four games, and was ultimately placed on injured reserve prior to Week 17. He only played in nine games on the year, but it's hard to think that his nagging injuries will affect his free agent stock, as most teams will likely assume he'll be at full health by next season. And Jeffery was productive when he played, averaging nearly 90 yards per game, and the Bears are open to an extension. Jeffery doesn't sound as amenable to such an offer, however, so the threat of the franchise tag looms.
3. Kirk Cousins, QB: Perhaps no player in the league did more over the last four weeks of the regular season to help their stock than Cousins, who completed 74% of his passes for nearly 1,200 yards, while posting a 12:1 touchdown-to-interception ratio to go along with a 134.0 quarterback rating. Washington has made it clear that it will retain Cousins one way or another, and they've indicated that a long-term extension is the preferred option. Just 27 years old and having shown he can serve as a franchise QB, Cousins could ask for the Ryan Tannehill contract ($77MM total, $21.5MM guaranteed) — or more.
4. Kelechi Osemele, G/T: Osemele moves up from sixth to fourth primarily due to the Ravens' decision to play him at left tackle for the final three games of the season. Already an outstanding guard, the ability to handle tackle only increases Osemele's value, and Baltimore agrees, as a report last month indicated that the club would be willing to pay up for a quality left tackle (whereas they probably couldn't justify retaining Osemele as a guard given that they've already extended Marshal Yanda). Osemele himself sounds optimistic about his chances to stay, noting that he had a positive end-of-the-year conversation with GM Ozzie Newsome.
5. Josh Norman, CB: Compared to Norman's outstanding first three-quarters of the regular season, it's difficult to call his final four games anything other than a disappointment. He was still a solid corner, to be sure, but he wasn't the top-notch standout he had been during Weeks 1-13. For example, when I listed Norman on the first edition of these rankings, he graded as the league's No. 1 corner, per Pro Football Focus — but he finished the season at No. 13, indicating a precipitous dropoff. At 28, he's a little older than a typical first-time free agent, so he might need to set his sights a little lower than the Richard Sherman/Patrick Peterson territory.
6. Muhammad Wilkerson, DE: Wilkerson suffered an unfortunate injury in Week 17, breaking his leg in a loss against the Bills that prevented the Jets from earning a playoff berth. He should be able to fully recover by the start of the regular season, but there is a chance that he'll miss some training camp activity. New York has expressed an interest in re-signing Wilkerson, but with a defensive line already chock full of talent, the club's best route might be assigning him the franchise tag and then attempting to trade him, a possibility that has been floated.
7. Sam Bradford, QB: Bradford's first season in Philadelphia is a little hard to value production-wise. He ranked 11th in completion percentage, 18th in passing yards, 22nd in touchdowns, and 26th in quarterback rating. Pro Football Focus graded him as the 11th-best QB, but he ranked just 26th in Football Outsiders' DYAR (a metric that grades performance against replacement level). Bradford didn't put up the type of numbers that some thought he might in Chip Kelly's offense, but the fact remains that QBs get paid. With so many teams looking for mere competency at the position, Bradford will earn a nice contract.
8. Cordy Glenn, T: Recently-extended Bills GM Doug Whaley said last week that re-signing both Glenn and fellow offensive lineman Richie Incognito would be a "major point of emphasis" this offseason. While Incognito should only require a short-term deal, Glenn will want both a longer contract and more money. The 26-year-old Glenn was outstanding this season (PFF's No. 10 tackle) and is nothing if not durable — he's only missed three games in his career, all during his rookie season.
9. Russell Okung, T: Okung has name value after being a former top-10 pick, but his play has continued to deteriorate (he slid all the way to No. 32 among tackles per PFF).Okung will probably point to the extensions signed by Trent Williams and Tyron Smith as he negotiates his next deal, but the fact is that he's not that caliber of player. I wonder if he might get a little bump simply by being a part of successful team in Seattle, but I predict he'll come up short of his contractual target.
10. Eric Berry, S: Berry has moved down a few spots since the previous edition of our rankings, but that's not because of his production. Safeties just don't get paid like other positions included here do, and while Berry could certainly hit the $9MM/year mark, his guarantees likely won't match what the quarterbacks, tackles, pass-rushers, corners, and receivers earn. Still, it should be all good news for Berry this offseason, and he's certainly the favorite for Comeback Player of the Year.
Dropped out: Brock Osweiler, QB.
Follow @PFRumors