Both the 49ers and the Dolphins have asked permission to interview Bengals offensive coordinator Hue Jackson, according to reports from Mike Silver of NFL Network (on Twitter) and PFT. Jackson has been tagged as a hot coaching candidate all season after turning the Bengals offense into one of the league's best.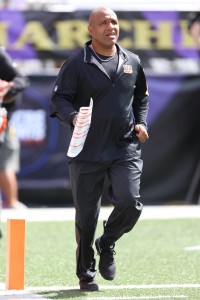 When asked about Jackson's head coaching candidacy back in November, Bengals owner Mike Brown admitted that he might lose him this offseason:
"Hue is a very qualified coach. We think the world of Hue…We've had (Jay) Gruden and (Mike) Zimmer leave, and I'm sure after this year Hue will be a candidate," Brown said. "It is a compliment to Marvin and maybe some others here as well. I like to see it when they achieve. It's flattering when that happens. It works against our best interest because we have to regroup and reestablish ourselves but it's also heartwarming to see your people achieve their ambitions."
Under Jackson's guidance, the Bengals finished the year with the No. 1 overall offensive DVOA in the NFL. That feat is extra impressive considering that star quarterback Andy Dalton went down with a fractured thumb in December. Jackson, of course, has experience as a head coach after manning the sidelines for the 2011 season in Oakland. Jackson was fired by the Raiders after only one season, a decision that did not sit well with many Raiders fans. The passionate coach returned to Cincinnati where he worked his way up the coaching staff to the OC position. Now, it appears that Jackson could find himself as someone's head coach in 2016.
Photo courtesy of USA Today Sports Images.
Follow @PFRumors