In response to Dean Spanos' decision on Friday to keep the Chargers in San Diego for at least another season, Mayor Kevin Faulconer and Ron Roberts of the County Board of Supervisors jointly issued a statement (Twitter link via Faulconer):
"We appreciate Mr. Spanos' commitment to staying in San Diego for the 2016 season to work with the region on a stadium solution. We look forward to discussing his vision for a new San Diego home for the Chargers, and will be working with him and our negotiating team on a fair and viable plan to put before voters. We have agreed to meet again in the near future."
[RELATED: Chargers To Remain In San Diego For 2016]
Rams owner Stan Kroenke, whom Spanos could eventually join in Los Angeles if he's unable to reach an agreement with San Diego, also released a statement (Twitter links – 1, 2, 3 – courtesy of the LA Daily News' Vincent Bonsignore):
"The Los Angeles Rams have reached an agreement with the San Diego Chargers to join us in the new Inglewood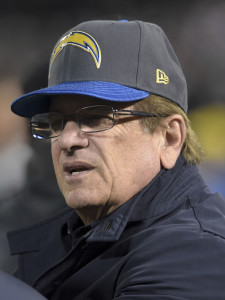 Stadium. If they choose to exercise their option to relocate within the next year, we look forward to partnering with the Chargers in Inglewood, but the decision of course is Dean's to make."
Spanos' decision to stay or leave will obviously come down to whether he can get a new stadium built in San Diego. The Chargers would prefer their next venue be a joint stadium and convention center in downtown San Diego, reports ESPN's Eric D. Williams, who notes that the team isn't a fan of its current location, Mission Valley.
In an effort to move forward on their stadium/convention center plan, the Chargers are expected to create a citizens' initiative in San Diego for a November ballot, according to Jason Cole of Bleacher Report (Twitter link). If the Chargers get the necessary 60,000 signatures from voters, that would enable them to bypass requirements set by the California Environmental Quality Act, per Cole. Should the Bolts get their initiative on the ballot this year, the deadline on their LA decision could extend to 2018, write Kevin Acee and David Garrick of the San Diego Union-Tribune, and the extra year would allow for legal challenges or a second election.
Regardless of what happens long term, we know the Chargers will spend the 2016 season in San Diego, which has seemingly caused mixed reactions among some of their players. While franchise quarterback Philip Rivers is excited – "It's good to know we get to make another run at it here," he said, per Michael Gehlken of the Union-Tribune – a couple of his teammates came off as less enthusiastic about the news, even tweeting ultimatums to the club's fans.
"The stadium better be packed. The fans got what they wanted," receiver Keenan Allen wrote.
"Every home game better be sold out," linebacker Melvin Ingram added.
According to ESPN's attendance numbers, the Chargers had the 18th-most fans (a total of 534,180) at their games during the 2015-16 season and finished 22nd in capacity percentage (94.6). The figures rank as the Chargers' highest in both categories since 2009.
Photo courtesy of USA Today Sports Images.
Follow @PFRumors