Giants offensive coordinator Ben McAdoo interviewed for the Eagles' head coaching job Thursday, the team announced (link to press release). McAdoo, who talked to the Giants about their head coaching vacancy earlier this week, is the fourth different candidate to interview with the Eagles, joining two in-house names – interim head coach Pat Shurmur and running backs coach Duce Staley – and Bears offensive coordinator Adam Gase.
[RELATED: 2016 NFL Head Coaching Search Tracker]
One obvious similarity McAdoo, Shurmur, Staley and Gase share is that they're all offensive-minded coaches. The sa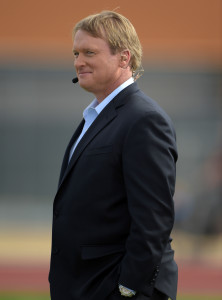 me holds true for longtime head coach Jon Gruden, who has expressed interest in the Eagles' job to owner Jeffrey Lurie through an intermediary, Paul Domowitch of Philly.com reports. Gruden has a fan in Lurie, according to Domowitch, but Lurie is unsure if Gruden and executive vice president of football operations Howie Roseman would be able to work well together. Gruden has told people he and Roseman would be able to get along, per Domowitch, who notes that ex-Eagles head coach Chip Kelly said the same thing before taking over in 2013. That didn't turn out well, of course, as Kelly and Roseman were at loggerheads during Kelly's short run in Philadelphia. Regardless, Domowitch writes that Lurie's focus right now is on the assistants the Eagles have interviewed and the ones they've yet to interview.
While Gruden could be a Plan B option if Lurie doesn't end up smitten with any of the other candidates, the owner is currently bullish on Chiefs offensive coordinator Doug Pederson – who is scheduled to interview Sunday – and Gase. However, contrary to a previous report, the Eagles won't conduct a second interview with Gase this weekend, according to Les Bowen of Philly.com.
Gruden hasn't coached since 2008, having served as an analyst instead, but he had a successful tenure from 1998 until then atop the Raiders and Buccaneers, respectively. The 52-year-old compiled a 95-81 regular-season record, five playoff appearances and a Super Bowl title with Tampa to cap off the 2002-03 season. He also won eight-plus games in eight of his 11 seasons at the helm in Oakland and Tampa. Immediately prior to his time as a head coach, Gruden worked in Philly as its offensive coordinator from 1995-97.
Photo courtesy of USA Today Sports Images.
Follow @PFRumors