Saints general manager Mickey Loomis spoke today to reporters, including Evan Woodbery of the New Orleans Times-Picayune, about a number of issues related to the team, including the status of the head coach and quarterback. Let's dive right in and round up several of the more notable quotes from the GM, via Woodbery….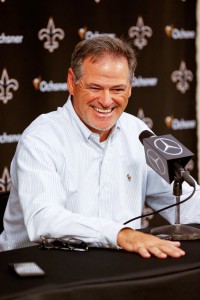 On Drew Brees and how his $30MM cap number will affect the Saints:
"I know this: Drew's going to be our quarterback. We'll figure out how we're going to handle the contract, whether it stays the same and just remains right in place, or whether we do something different. That's all part of what we've got to figure out in the coming weeks.
On the team's more general cap situation:
"I keep reading how we're in dire straits with the cap and this, that and the other. It's not a great cap situations, but it's not as dire as sometimes I think it's painted out to be. We know where we're at, we know what we have to do."
On the possibility that Sean Payton was going to leave the team this offseason:
"Here's what I can tell you: I never had a discussion with another team. No one called me and I never called anyone else.
"[Payton's] first statement when he walked in the room [for the end-of-season meeting] was, 'Hey, I want to be here. I want to be coach for the Saints.' It never really went beyond that. Then it was just a matter of how are we going to approach this season, what are the things we need to do, and let's get going."
On free agent signings or contract extensions that go south, and the Saints' depth issues:
"Are there mistakes? Yeah, absolutely there are. We always own them. We're not shying away from a decision that I've made or that we've made that didn't turn out. We also don't trumpet the ones that do work out, either. That's up to you guys.
"You know what makes it hard to build depth? Having two draft picks taken away from you [for Bountygate]. That makes it hard. I'd say that's more impactful than making a mistake on a contract."
On how long and hard he considered the big Junior Galette extension in 2014:
"Not hard enough. I should have thought harder about that. That's my mistake."
Photo courtesy of USA Today Sports Images.
Follow @PFRumors