The root of the NFL's concern over the Titans' ownership situation stems from the fact that there was no clear succession plan in place when team founder Bud Adams passed away, according to Mike Florio of Pro Football Talk. Adams' heirs have attempted to make Amy Adams Strunk the controlling owner, but she still doesn't have the "clear, legal power to do the things that a controlling owner must be able to do." While the easiest solution would be to have Strunk buy out the remaining two-thirds of the franchise, she may not have the necessary resources, so the Titans are attempting to come up with another solution.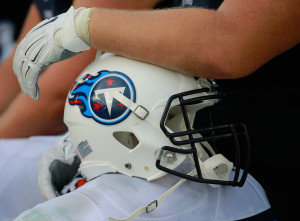 [RELATED: Titans Hire Terry Robiskie]
Recently, Titans president and CEO Steve Underwood refuted the notion the Titans are for sale, though he did confirm that the NFL and the team are engaged in dialogue regarding ownership status.
"The league has never once indicated to us that they are attempting to force the sale. I've never heard those words used. I think they're continuing to work with us on trying to resolve the ownership issues, and in the meantime, none of those things are affecting the operation of the club," Underwood said.
Luke Adams contributed to this post. Photo courtesy of USA Today Sports Images.
Follow @PFRumors