One of the oldest adages in broadcast journalism is to "be careful around a hot mic." Broncos quarterback Peyton Manning didn't follow that rule in the immediate aftermath of the AFC Championship Game and, as a result, he may have let some big news slip.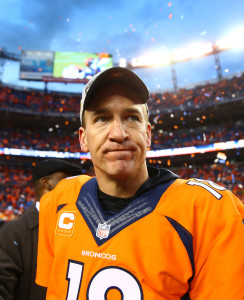 "This might be my last rodeo," Manning is heard saying to Patriots coach Bill Belichick, as Allison Sylte and Mike Klis of 9NEWS write. "So, it sure has been a pleasure."
Manning is entering the final year of his contract with the Broncos and many have speculated that he will not be back with Denver in 2016. Manning's understudy, Brock Osweiler, showed promise in his second-half stint as the team's starter and he is due to hit the open market this spring. If Manning were to be brought back as the starter for 2016, Osweiler would almost certainly choose to go elsewhere as he would have numerous starting opportunities around the league. As Klis writes, even if Manning were to be named MVP of Super Bowl 50, he would be unlikely to be wearing orange next season. However, Manning's words with Belichick are the strongest indication yet that Manning could just decide to retire altogether. For what it's worth, Manning has given no such indication to teammates, as James Palmer of NFL.com tweets.
Of course, this has not been Manning's easiest season. The veteran QB got off to an atrocious start in Denver, though his struggles were largely masked by the team's 8-0 record through the first half. In the second half, the injury bug ultimately put Manning on the bench and allowed Osweiler to take control under center. In December, a documentary by Al-Jazeera America led to allegations of HGH use by the quarterback, though Manning vehemently denies such claims.
Speaking of the HGH rumors, NFL spokesman Brian McCarthy told the Associated Press that the league launched an investigation weeks ago into Manning's potential involvement with a PED supplier. The league's investigation includes the review of records, interviews, and "coordination with other agencies," per the AP. The league, however, will not be teaming up with the investigations being conducted by MLB and USADA, according to ESPN's T.J. Quinn. League PR man Greg Aiello (on Twitter) says that the NFL has "worked with" both organizations from the start, but Quinn (link) asserts that the NFL is only communicating with them and not working in tandem.
Photo courtesy of USA Today Sports Images.
Follow @PFRumors