In the wake of Johnny Manziel's latest off-field incident and a report that the Browns plan to cut him, Manziel's agent has announced that he has ended his business relationship with the quarterback. As Adam Schefter of ESPN.com tweets, agent Erik Burkhardt issued a statement explaining why he is no longer representing Manziel.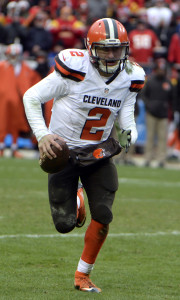 "It is with deep regret that, after several emotional and very personal discussions with his family, his doctors, and my client himself, I have made the decision to terminate my professional relationship with Johnny Manziel," Burkhardt said.
"Though I will remain a friend and Johnny supporter, and he knows I have worked tirelessly to arrange a number of professional options for him to continue to pursue, it has become painfully obvious that his future rests solely in his own hands. His family and I have gone to great lengths to outline the steps we feel he must take to get his life in order. Accountability is the foundation of any relationship, and without it, the function of my work is counterproductive.
"I truly wish the best for Johnny and sincerely hope he can, and will, find the kind of peace and happiness he deserves."
While Manziel isn't the first player to lose an agent, it's a rare occurrence, and it's even rarer to see any player's representative announce so openly and bluntly that his client has let him down. In many ways, Burkhardt's statement is a more worrying indictment of the former Texas A&M star than the announcement issued by Browns executive VP of football operations Sashi Brown earlier this week. Brown's statement read, in part: "Johnny's continual involvement in incidents that run counter to those expectations undermines the hard work of his teammates and the reputation of our organization."
A first-round pick in 2014, Manziel started eight games during his two years in Cleveland, completing 57% of his passes and throwing seven touchdowns to seven interceptions, for a QB rating of 74.4. While his on-field performance was unspectacular, it was his off-field behavior that will cost him his agent and his roster spot, with the Browns expected to cut him when the new league year begins on March 9th.
Although there has been plenty of speculation about what teams might be a fit for Manziel when he becomes a free agent next month, these latest developments suggest that he may have a hard time finding any team willing to take a shot at him unless he can convince clubs that he's committed to staying out of trouble and focusing on saving his football career.
Photo courtesy of USA Today Sports Images.
Follow @PFRumors