Pending free agents:
Top 15 cap hits for 2016:
Notable coaching/front office changes:
Draft:
Other:
Overview:
After narrowly missing a playoff berth in 2014, with a 9-7 record, the Chargers came into the 2015 season determined to take a step forward and become a postseason contender. Instead, the team headed in the other direction.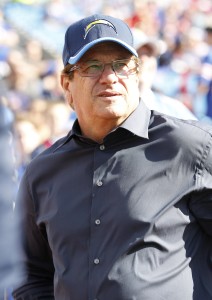 Plagued by injuries, particularly on the offensive line, the Chargers' offense struggled to put points on the board. The defense, an area of weakness in past seasons, didn't improve at all, and the end result was a disappointing 4-12 season.
While the team's on-the-field performance was a letdown, Chargers fans were preoccupied all season with concerns about the franchise's long-term future in San Diego. Team owner Dean Spanos filed for relocation and was approved by his fellow NFL owners, who deemed San Diego's stadium proposal as insufficient.
However, since those other team owners approved Stan Kroenke's Inglewood project, rather than the Carson plan put forth by the Chargers and Raiders, Spanos had the option of partnering with Kroenke in Los Angeles or returning to San Diego for another year. The Chargers opted for the latter scenario, meaning the team and the city – armed with an extra $100MM from the NFL – have another 12 months to try to improve their plan for a San Diego stadium. If those efforts fall short, 2016 may very well be the Chargers' final year in San Diego.
The Chargers' uncertain long-term future looms large over the offseason, but while Spanos and his closest confidantes work to solve that issue, the club's top personnel decision-makers, including general manager Tom Telesco, must focus on improving the product on the field after an unsatisfactory 2015 showing.
Key Free Agents:
By working out a new contract with quarterback Philip Rivers last August, the Chargers ensured that their most noteworthy potential free agent won't reach the open market this winter. However, the team's list of free-agents-to-be still includes a handful of big names.
We'll start with one longtime Charger who almost certainly be back with the team in 2016: Eric Weddle. The veteran safety, who failed to record an interception last season for the first time in his career, was still fairly effective on the field, but his relationship with the team seemed to grow more and more acrimonious as the year went on.
After refusing to discuss a potential extension in the summer, to the chagrin of Weddle and his agent, the Chargers placed the former second-round pick on injured reserve heading into Week 17, even though he felt he could play. Reports also indicated that the team fined Weddle $10K for remaining on the field during halftime to watch his daughter perform during a dance ceremony, and said there would be no room for him to travel on the team plane to the regular season finale in Denver. Several days after that game, Weddle publicly stated that he doesn't think re-signing with the Chargers is a realistic possibility.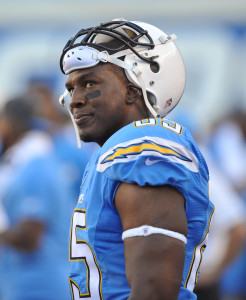 While Weddle spent nine years in San Diego, tight end Antonio Gates has been with the franchise even longer, having made his Chargers debut way back in 2003. He's also eligible for free agency this offseason, and so is his understudy at the position, Ladarius Green. Gates has said he'd like to play for at least one more season, and the Chargers appear to reciprocate that interest, but it will be interesting to see what that means for Green.
Long viewed as Gates' eventual replacement, Green has seen the veteran continue to get the majority of the targets at the position over the last few seasons. When Gates missed the first four weeks of the 2015 season due to a suspension, it looked like Green was poised to break out. However, after catching 26 balls in his first six contests, Green didn't have more than two receptions in any game the rest of the way. Unless the Chargers are willing to give him a nice raise, it wouldn't be a surprise for the 25-year-old to explore his options on the open market and potentially find a spot where he could get out of Gates' shadow.
The Chargers' offensive line was a mess in 2015, but one constant was offensive tackle Joe Barksdale. Not only was he the only lineman to start all 16 games for San Diego, but he was by far the team's most reliable player up front, ranking 22nd among 81 qualified tackles, according to Pro Football Focus' grades. Given the number of question marks facing the Chargers on the offensive line heading into 2016 in terms of both performance and health, it would make sense for the team to make a strong effort to bring Barksdale back into the fold.
The Chargers' other free agent offensive linemen – including Chris Hairston, Jeff Linkenbach, and J.D. Walton – are more expendable, though it wouldn't be a surprise to see one or two of them re-signed for continuity's sake.
While none of the rest of the Chargers' unrestricted free agents are must-sign players, cornerback Patrick Robinson was a nice complementary piece to Jason Verrett and Brandon Flowers in the secondary, and should be affordable enough to bring back. Restricted free agents Jahleel Addae, Johnnie Troutman, and Damion Square are also decent bets to receive low-end tenders.
Possible Cap Casualties:
Linebacker Donald Butler has a complicated contract that includes a $12MM option bonus in 2017. The Chargers must make their decision on that option this offseason, and given Butler's underwhelming performance on the field, it seems obvious that San Diego will move on from him. Doing so would create more than $2.5MM in cap savings in 2016, and would remove his contract from the books entirely for the following four seasons.
The contract signed two years ago by Donald Brown raised some eyebrows at the time, and the running back hasn't done a whole lot since then to justify the Chargers' investment. Brown's paltry 3.1 yards per carry average on his 144 attempts in San Diego can be attributed partially to the team's ineffective offensive line, but it would still be a surprise if he's on the roster by September. The Chargers could create $3.5MM in cap room by cutting him.
Other candidates to be cut include center Trevor Robinson and punter Mike Scifres. Robinson stayed relatively healthy compared to the rest of the Chargers' offensive line in 2015, but PFF ranked him 37th out of 39 qualified centers, so the team could potentially replicate – or improve – his production at a lower cost.
As for Scifres, like Gates, he has been with the Chargers since 2003, so the club may prefer not to release him. But he ranked in the bottom half of the league in both total yards and net yards per punt last season, and his cap number ($4.163MM) is high for a punter. Depending on how aggressive San Diego is in free agency, the team may not need that extra cap room.
Positions Of Need:
As noted above, the Chargers' offensive line was extremely shaky in 2015. Pro Football Focus ranked the group dead last in the NFL overall, placing it in the bottom five in terms of pass blocking, run blocking, and penalties taken, writing that the Chargers "just haven't got it right on the line and it shows each and every game."
Health issues are partly to blame for the offensive line's ineffectiveness, but even when they were healthy, big-money investments like King Dunlap and Orlando Franklin were far from dominant in 2015, and D.J. Fluker has yet to play like an 11th overall pick. Even if Barksdale returns, the Chargers will have to assess nearly every spot on the line, deciding whether they want to continue to rely on the current group, or whether it's time to make some significant changes.
It might make sense for the Chargers to take an approach to the 2016 draft that the Bengals did in 2015 — Cincinnati's first two picks were offensive tackles, despite the fact that the team didn't expect them to play right away. If the Chargers were to use the third overall pick on Ole Miss tackle Laremy Tunsil, it would give the club an immediate starter, one who would likely be a cog on the offensive line for years to come.
After the free agent market produced mixed results for the Chargers a year ago, adding some young offensive line talent to the current group could create a strong insurance policy in the event that Dunlap, Franklin, and/or Fluker don't play like San Diego believes they're capable of playing. If the team does decide to revisit free agency for offensive line solutions, Byron Bell, who played for offensive coordinator Ken Whisenhunt in Tennessee, could be a player worth watching.
While some of the Chargers' skill position players struggled in 2015, improved offensive line play would likely create a domino effect and allow some of those players to have bounce-back seasons in 2016 — Melvin Gordon, for instance, could be in line for a nice increase in production if the line creates some holes for him. The return of Whisenhunt as offensive coordinator also bodes well for the offense. As such, it makes sense for the Chargers to devote most of the rest of their resources to the defensive side of the ball.
San Diego should be fairly solid on the outside in 2016 — the cornerback group is a good one, particularly if Robinson returns, and outside linebackers Melvin Ingram and Jeremiah Attaochu played well in 2015. However, that still leaves a number of spots on the middle for the Chargers to address.
Corey Liuget is a nice piece on the club's defensive line, but he didn't get much help up front, making me wonder if the Chargers might take a long look at a veteran nose tackle in free agency. With Damon Harrison, Ian Williams, B.J. Raji, and Letroy Guion among the players whose contracts are expiring, there will be no shortage of potential options.
At inside linebacker, 2015 second-round pick Denzel Perryman took over Butler's starting role in the second half of last season, and I'd expect him to run with that job next year. But he only has nine career starts to his name, and fellow starter Manti Te'o has had major issues against the run, so the Chargers might want to fortify this group with another veteran. Spending a day two or three draft pick on the position might not be a bad idea either, since top inside linebackers typically don't come off the board right away.
Finally, with Weddle on his way out, the Chargers will be in the market for a new free safety. Reggie Nelson, Tashaun Gipson, Rodney McLeod, and Isa Abdul-Quddus are among the free agents at the position that could appeal to San Diego. And while the division-rival Chiefs are a good bet to lock up Eric Berry, the Chargers may want to take a look at his backup, Husain Abdullah, who played well as a full-time starter in 2014 and is also eligible for free agency.
Extension Candidates/Contract Issues:
Although the Chargers had a disappointing year on the whole in 2015, outside linebacker Melvin Ingram enjoyed his best season as a pro, establishing new career highs with 65 tackles, 10.5 sacks, and three forced fumbles. He's under contract for one more year,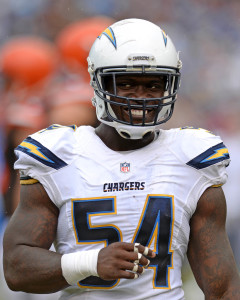 since San Diego exercised his fifth-year option for 2016 last spring. Still, it wouldn't be a surprise to see the Chargers seriously explore a contract extension for their best pass rusher before the season begins.
Outside linebackers who can rack up double-digit sacks don't come cheap, so if the Chargers intend to extend Ingram, it will almost certainly require an annual salary north of $7MM, and perhaps one much higher than that. A logical point of comparison if and when the two sides enter negotiations could be Bills pass rusher Jerry Hughes, whose 2014 numbers were very similar to the ones Ingram posted in 2015. Hughes, who had a slightly more extensive track record than Ingram, signed a five-year, $45MM contract that included nearly $18MM in fully guaranteed money.
Like Ingram, wide receiver Keenan Allen will be entering a contract year, and you could make the case that he's the most important player on San Diego's offense, outside of Philip Rivers. With 62 receptions in his first seven games, Allen was on pace to challenge the record for most catches in a season before a lacerated kidney in his eighth game prematurely ended his season.
Because Allen's breakout season was cut short, his reps and the Chargers may have a hard time agreeing on his value this offseason. I'd expect Allen's agent to aim for a T.Y. Hilton-type deal ($13MM per year), while San Diego may prefer something in the Randall Cobb range ($10MM per year). If the two sides can agree on the numbers, the Chargers will want to get something done as soon as possible, to ensure the 23-year-old remains under contract for years to come.
Overall Outlook:
As long as the Chargers still hold an option to move to Los Angeles in 2017, fans in San Diego will be apprehensive about getting too attached to the roster on the field. There's some reason for optimism from a football standpoint though — if the Chargers can stay a little healthier in 2016 and fortify two or three key positions, there's enough talent here for the team to bounce back to respectability.
The Chargers' ability to take a major step forward and return to postseason contention will hinge on whether the team can put together an offensive line capable of keeping Rivers upright and creating holes for Gordon, and whether the club can add some defensive playmakers at up-the-middle positions. Those figure to be the areas GM Tom Telesco prioritizes as he makes his roster decisions this winter and spring.
Information from Over The Cap was used in the creation of this post. Photo courtesy of USA Today Sports Images.
Follow @PFRumors