Less than 12 months after signing Charles Clay to a five-year, $38MM contract, the Bills have restructured the tight end's deal, according to Tyler Dunne of The Buffalo News (Twitter link). They've converted Clay's $10MM roster bonus into a signing bonus as a way to create cap space, Adam Caplan ESPN.com reports (Twitter link). By going that route, the team has opened up $7.5MM of breathing room, Dunne tweets. The downside, as Joe Buscaglia of WKBW writes, is that Clay's cap hit from 2017-19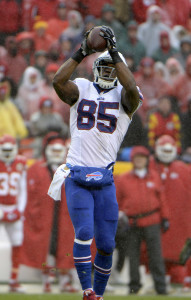 will now rise from $6.5MM to $9MM.
Prior to the restructuring of his deal, Clay was scheduled to count $13.5MM against the Bills' cap next season. That's an unpalatable total for a non-elite player, especially one who's on a team with a less-than-ideal cap situation. The Bills entered Thursday with the least amount of spending space of any team in the NFL ($209,715), per Over the Cap, though the league has since awarded them upward of $4MM in carryover money from 2015.
In his first season with the Bills, knee and back injuries limited Clay to 13 games. The 27-year-old was fairly productive, though, catching 51 passes for 528 yards and three touchdowns. Most of Clay's receptions came courtesy of quarterback Tyrod Taylor, whom the Bills could look to extend, we learned earlier this evening.
Follow @PFRumors