THURSDAY, 1:38pm: According to supervisor Ron Roberts, San Diego County's point man on stadium discussions, the Chargers were seeking an extra $200MM in public money toward the proposed Mission Valley project, above the $350MM already offered (link via FOX 5 San Diego). The team had been seeking a total contribution worth $550MM from the city and county of San Diego. It's not clear what the Chargers' request will look like for a downtown stadium.
TUESDAY, 5:29pm: The Chargers released a statement on their website summarizing their plan to pursue a citizens' initiative in hopes of securing a deal for a downtown San Diego stadium instead of one in Mission Valley, Calif., where Qualcomm Stadium is located.
With the goal of placing a new stadium near the Padres' Petco Park and a convention center downtown, the Chargers are eschewing the Mission Valley site that had been the choice of local leaders for over a year, according to Vincent Bonsignore of InsideSoCal.com.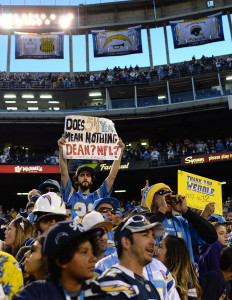 "We believe that a downtown multi-use facility will attract broad support from throughout our entire community. And we hope that, as our downtown proposal is developed and as the campaign for passage begins, those who have supported the Mission Valley site will keep an open mind and consider supporting what we believe is the best way to secure a permanent home for the Chargers in San Diego," part of the statement reads.
They've played on that site since 1967 and will play there again in 2016 before having to make a decision on their future in San Diego or venturing to Los Angeles to join the Rams.
Further progress toward this goal is contingent on a vote involving a measure for taxpayers' money to contribute to the new stadium passing in November.
The key figures in the sides' effort to construct a new playing site for the Chargers met in San Diego on Monday. Dean Spanos, mayor Kevin Faulconer and several other high-ranking officials spoke for several hours, according to Kevin Acee of the San Diego Union-Tribune. Per Acee, the sides have meet for the past couple of weeks to discuss the best plan for coaxing voters to approve the funds for the long-sought-after new stadium.
The citizen's united proposal is meant to expedite the process, per Bonsignore. The Chargers and Raiders used this tactic when crafting their Carson proposal.
Bonsignore write that this plan's approval could trigger a Raiders move back to Los Angeles. The Raiders haven't had any substantive discussions with Oakland about replacing their 50-year-old playing site and have been connected to several cities, including San Diego. But Los Angeles remains an option, with the league designating the Raiders as the team-in-waiting while the Chargers determine their future home.
Photo courtesy USA Today Sports Images
Follow @PFRumors