SATURDAY, 8:55am: Team chairman Clark Hunt acknowledged Berry's importance to the organization when talking with Terez A. Paylor of The Kansas City Star.
"Certainly, Eric is somebody that's very important to the franchise," Hunt said. "Coach (Andy) Reid and his staff think highly of him. They appreciate the leader that he's become, and obviously personally, he had the amazing year overcoming cancer. We'll do everything we can to try to bring him back."
Berry, meanwhile, isn't allowing the extension talks to be a distraction.
"Right now, it's in my agent's hands," Berry said, when asked about his contract situation. "With everything that went on this past year, I just want to kick it for a little bit, get the season off me, get all that off me, and then I think we'll go from there."
WEDNESDAY, 2:56pm: Having already extended a key offensive player this offseason, locking up Travis Kelce to a new, long-term contract, the Chiefs are now focusing on one of their top defenders, says Ian Rapoport of NFL.com. According to Rapoport (via Twitter), Kansas City is "ramping up talks" on a potential extension for safety Eric Berry.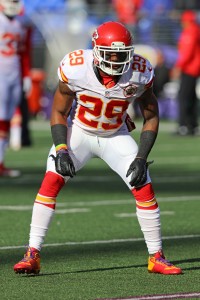 [RELATED: Chiefs sign Travis Kelce to extension]
Berry, who earned Pro Bowl nods in three of his first four NFL seasons, was diagnosed with Hodgkin lymphoma in 2014, raising some doubts about his future in the league. However, Berry was declared cancer-free in 2015 and enjoyed one of his best seasons this past year for the Chiefs.
Appearing in all 16 games for Kansas City in 2015, Berry logged 61 tackles to go along with a pair of interceptions and 10 passes defended. Pro Football Focus ranked the Tennessee product sixth among 88 qualified safeties. The standout season earned Berry his fourth Pro Bowl berth, along with a spot on the NFL's All-Pro first team.
Unlike Kelce, who still had a year left on his rookie contract, Berry is eligible for free agency this winter, so if the Chiefs hope to lock him up before he can hit the open market, the club will have to do so within the next five weeks.
In the latest edition of Pro Football Rumors' free agent power rankings, Dallas Robinson placed Berry 10th overall, down from eighth in our previous installment. Dallas noted that safeties typically don't land the sort of guaranteed money that quarterbacks, left tackles, and pass rushers do, but added that Berry should still do very well for himself this offseason, whether he re-signs with Kansas City or joins another team.
In the fall, former agent Joel Corry estimated that the franchise tag for safeties in 2016 will be around $10.7MM, so that's an option for the Chiefs if they can't reach a longer-team deal with Berry within the next few weeks. Although that's a significant price tag, it's not a huge increase over the 27-year-old's 2016 cap hit of $8.36MM, so Kansas City could probably make it work. Tagging Berry would also give the team a few extra months to work out a multiyear contract for him.
If Berry does ultimately sign a long-term deal, there's a good chance it will make him one of the top two or three highest-paid safeties in the NFL. As Over the Cap's data shows, the former fifth overall pick would have to secure an average annual salary of at least $9MM to crack the top three, while surpassing $10MM per year would make him the league's highest-paid safety.
Photo courtesy of USA Today Sports Images.
Follow @PFRumors