Pending free agents:
Top 15 cap hits for 2016:
Notable coaching/front office changes:
Draft:
No. 2 overall pick
No traded picks
Other:
Overview:
In 2014, the Browns finished out the year with a 7-9 mark and at least showed glimpses of competitiveness. In 2015, there wasn't much to write home about after a 3-13 campaign. Naysayers around the league whispered about Johnny Manziel's off-the-field issues, and the party-loving quarterback proved them all right. Of course, the Browns' issues ran much deeper than the quarterback position, but their poor play under center has been an issue for decades now and it's unlikely that they will get back on track until they finally find a solution there.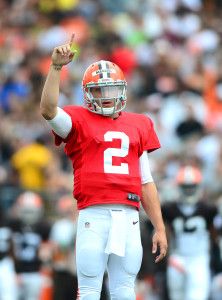 Throughout 2014, Browns fans wondered whether it would be Brian Hoyer or Manziel starting at QB for Cleveland in 2015. As it turns out, it was neither. Instead, that mantle was given to offseason acquisition Josh McCown. The 6'4″, 213-pounder spent the 2014 campaign in Tampa Bay and performed poorly in 11 games for a Buccaneers team that finished with the NFL's worst record. Thanks to a string of injuries, things didn't go much better for him in 2015. McCown suffered a concussion in Week 1, a shoulder injury in Week 8, a rib injury in Week 9, and a season-ending collarbone injury in Week 12.
As for Johnny Football? The injuries opened up the door for him to show his skills and, for a brief moment, he did. He wound up squandering that opportunity at mid-season, however, after he was caught on video partying and lied to the team about it. There were numerous off-the-field transgressions for Manziel in 2015 and the most recent run-in will probably bring an end to his time in Cleveland.
"We've been clear about expectations for our players on and off the field," executive VP of football operations Sashi Brown said in early February. "Johnny's continual involvement in incidents that run counter to those expectations undermines the hard work of his teammates and the reputation of our organization. His status with our team will be addressed when permitted by league rules. We will have no further comment at this time."
Assuming they don't designate him as a post-June 1 cut, the Browns will take on a '16 cap hit of about $4.33MM if they release Manziel on or after March 9. Of course, the team could remove that entire figure from its cap if the 23-year-old is claimed on waivers, but that seems extremely unlikely. A first-round pick in 2014, Manziel started eight games during his two years in Cleveland, completing 57% of his passes and throwing seven touchdowns to seven interceptions, for a QB rating of 74.4. While his on-field performance was unspectacular, it was off-field behavior that will cost him his roster spot.
What follows is a detailed look at what lies ahead for the Browns — not just at quarterback, but everywhere else on the field.
Key Free Agents:
Wide receiver Travis Benjamin broke out in 2015, hauling in 68 catches (125 targets) for 966 yards and five touchdowns. Of course, this wasn't the easiest year for the Browns, but Benjamin has been generally positive when asked about making a future in Cleveland and in December, he said he was 75-80% on the way to reaching a new deal with the Browns.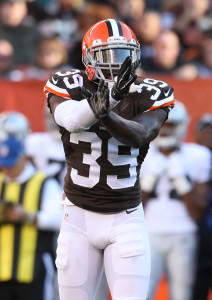 "I'm not looking for (free agency)," he said in October. "Me and the Browns have a great relationship. I love them, they love me and I love the community so if we get a deal done that'll be great for me…I love it here, my wife loves it here and we're just happy to be here."
Safety Tashaun Gipson was the league's final restricted free agent on the market last offseason and only re-signed with the Browns in June of 2015. The team assigned Gipson a second-round tender worth $2.356MM earlier in the offseason and, despite his protests, he ultimately signed it in order to join his team in training camp. While Gipson wasn't happy with the RFA tender he received from the Browns, it's not a huge surprise that he eventually relented and signed it, given his lack of leverage.
This past season, Gipson played in (and started) 13 games, racking up 60 tackles, two pass deflections, and two interceptions. The former UDFA could, theoretically, sign a deal with the Browns before the start of free agency, but he has stated in the past that he wants to test the open market to assess his value.
It has been speculated for some time that Browns right tackle Mitchell Schwartz could be in for a big payday this offseason. For his part, Schwartz recently said he'd like to re-sign with Cleveland. The 26-year-old is a four-year starter at the right tackle position and Pro Football Focus is wild about him, having named him to its "All Third-Year Team" for the 2015 season. The Browns have the money to retain him, but it's not clear if they're willing to make him the kind of offer that will convince him to bypass the open market, or if his stated preference to stay in Cleveland is genuine.
Possible Cap Casualties:
As noted above, Dwayne Bowe currently stands as the Browns' fourth-highest cap hit with an $8MM figure in 2016. And, of course, you've seen the math on how much money Bowe has been paid per reception and the end result is not pretty. Bowe's contract is not just the worst in Cleveland – it's arguably one of the worst in the entire NFL. Cleveland gave Bowe $9MM in guaranteed money in March of 2015. In September, it was already rumored that coaches were displeased with his work ethic and performance. Bowe, 32 in September, is not wanted back in Cleveland and it would not be a surprise to see him let go.
Outside of Bowe, there are a handful of notable players that would make at least some sense as possible cap casualties. Wide receiver Brian Hartline might not have a major role going forward, but he's also not too expensive with a cap number of $3.75MM in 2016. He also produced with 46 catches (77 targets) for 523 yards and two touchdowns across 12 games.
Barkevious Mingo would be a possible release candidate if his salary weren't fully guaranteed. Paul Kruger and Desmond Bryant carry high cap numbers ($7.7MM and $7MM, respectively), but they gave Cleveland some decent production last year. Donte Whitner also gets honorable mention in this section, though he doesn't seem like a strong candidate given his production.
The Browns also shouldn't be too strapped for space as they will be carrying over ~$20MM in unused cap room from last year.
Positions Of Need:
Obviously, the quarterback position is the No. 1 priority with a bullet for the Browns. Armed with the No. 2 overall pick in the draft, the Browns could try their luck again with a rookie QB. The latest word is that Cleveland prefers Carson Wentz to Jared Goff, but they'll be evaluating all quarterback options over the next few months. If the Browns look to the free agent market for a quarterback, they're not likely to find any real slam dunk options. Someone like Ryan Fitzpatrick, who seems likely to re-sign with the Jets anyway, would serve only as a transitional option, and that's something Cleveland already has with McCown.
The Browns will continue to discuss a new deal with Benjamin and the outcome of those talks will largely dictate what they do at wide receiver. If the 26-year-old cannot be retained, the team would have even more room to go out and try to hit a home run at the position. If the Browns are thinking big, they could potentially make a move for Bears free agent wide receiver Alshon Jeffery. The soon-to-be 26-year-old is primed to cash in soon, be it with the Bears, Browns, or someone else, having accumulated 228 receptions, 3,000+ yards, and 21 touchdowns over the last three years (41 games). Of course, the Browns already have one of the game's most talented wide receivers in-house: Josh Gordon (more on him later).
Cleveland threw some money at its defense last offseason, but it sure didn't show. The Browns' pass defense finished outside of the lower third in the league with 250.8 yards surrendered per game, but that's partly because teams decided to just run them over instead — opponents averaged 128.4 yards per game against Cleveland, putting the club in a virtual tie for the NFL's second-worst run defense.
Specifically, the Browns badly need an edge rusher to put pressure on opposing quarterbacks. Von Miller stands as the most desired free agent player at the outside linebacker position, but few expect him to actually reach the open market since the Broncos reserve the right to use the franchise tag on him. However, Seahawks free agent Bruce Irvin could be available for the Browns, if they're interested, and he'd cost less than Miller on a long-term deal too. How much exactly? That's hard to say, but it has been suggested that Vinny Curry's recent five-year, $47.25MM ($23MM guaranteed) deal with the Eagles could be a reasonable starting point for talks. Meanwhile, Joey Bosa could be a consideration for them with their top pick.
Inside linebacker will have to be addressed, particularly with Karlos Dansby getting up there in age. A strong second cornerback opposite Joe Haden would also give the Browns' secondary a much-needed boost — 2014 first-rounder Justin Gilbert hasn't been that player so far.
Extension Candidates/Contract Issues: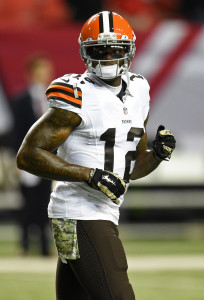 The Browns have some serious decisions to make when it comes to wide receiver Josh Gordon. Gordon was suspended for the 2015 season but just a few weeks ago, he applied for reinstatement. Since his entry into the league in 2012, Gordon's NFL career has been tumultuous to say the least. He missed the first two games of the 2013 season following a drug suspension, but then went on to lead the NFL in receiving yards, finishing with 87 receptions for 1,646 yards and nine touchdowns.
Hopes were high for the 2014 season, but Gordon's off-the-field issues resurfaced, as he was first arrested for DUI, and then suspended for one year after again violating the league's substance-abuse policy. He was eventually reinstated after only 10 games as part of the NFL and the players' union agreeing to a new drug policy, which reduced the sentences for some players-in-limbo. The Browns subsequently suspended Gordon for the final contest of the season after he reportedly violated team rules, and then a failed alcohol test resulted in the wideout's ban of at least a year last February.
Will the Browns hang on to Gordon? The old regime was vocal about wanting to build a future with the 6'4″ receiver. However, that will now be up to a group that includes head coach Hue Jackson, lead decision maker Sashi Brown, and (for some reason) former MLB executive Paul DePodesta.
The Browns' offensive line could look drastically different in 2016 depending on how things play out. While Cleveland's starting right tackle is a potential free agent, left tackle Joe Thomas said he was considering asking about a way out of the organization before the team hired its new coach and top decision maker. After Hue Jackson and Sashi Brown were chosen, Thomas indicated that he was unlikely to ask for a trade. Still, given that a potential deal that would have sent Thomas to the Broncos for a bevy of draft picks reportedly fell through at last year's trade deadline, it was fair to wonder if the club might attempt to deal Thomas again.
At last check, Browns center Alex Mack said that he has yet to make a final decision on whether he'll opt out of his contract this winter. The offensive lineman says he'll start seriously considering his options after the Super Bowl, with a decision to follow within the next month or so. Ultimately, it stands to reason that Mack will opt out. Even if he wants to remain in Cleveland, he can easily best his current pact which calls for $8MM annual salaries for the next three seasons, with only his 2016 salary guaranteed.
Overall Outlook:
The Browns have already done some major remodeling by showing coach Mike Pettine and GM Ray Farmer the door. Now, they'll have to do even more work to the roster if they hope to compete in 2016. Odds are '16 will be yet another rebuilding year for the Browns, but they can set themselves up nicely for the future if they make good use of their high draft picks and significant cap space.
Information from Over The Cap was used in the creation of this post. Photo courtesy of USA Today Sports Images.
Follow @PFRumors