Pending free agents:
Top 15 cap hits for 2016:
Notable coaching/front office moves:
Defensive staff: Hired former Saints DC Rob Ryan as assistant head coach/defense.
Defensive staff: Hired former Ravens S Ed Reed as assistant defensive backs coach.
General manager: Extended Doug Whaley through 2019 season.
Draft:
No. 19 overall pick
Owe seventh-round pick to Vikings in deal for QB Matt Cassel.
Other:
Overview:
When the Bills hired Rex Ryan as their head coach last winter, he expressed a desire to construct a team capable of beating opponents into submission with a suffocating defense and a dominant running game. He also spoke optimistically about the prospect of the club breaking what was then an NFL-worst streak of 15 straight years without a playoff berth.
Twelve months later, the postseason drought is at 16 years after the Ryan-led Bills finished 8-8, a slight drop from the team's 9-7 mark in 2014. As for Ryan's build-a-bully approach, he got half of what he wanted. It just wasn't the half anyone expected.
The Bills had arguably the top defense in the AFC under ex-coordinator Jim Schwartz in 2014, but Ryan dismissed Schwartz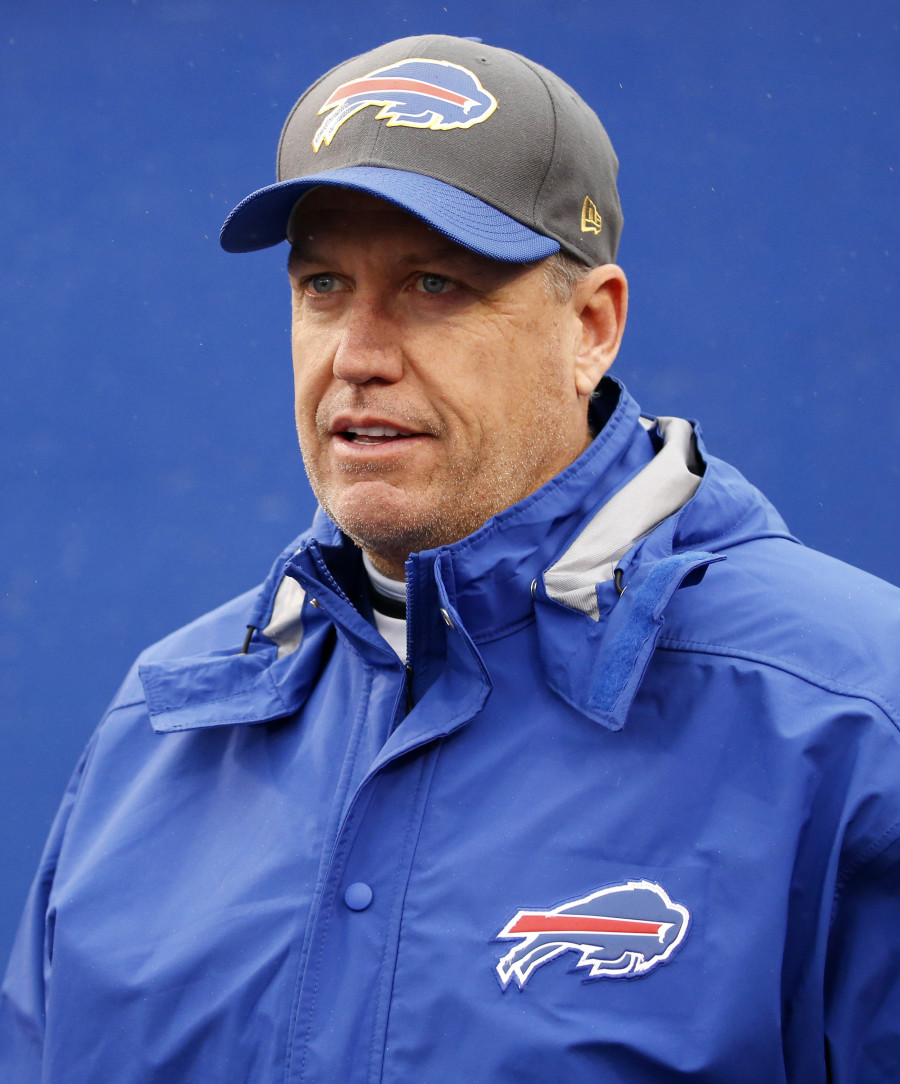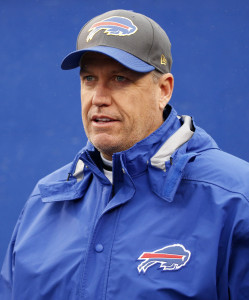 after his hiring because of their differing philosophies. Given Ryan's reputation as a defensive guru, it wasn't foolish to think the Bills' defense would continue to thrive – perhaps even improve – with him running it. Instead, the unit took a tremendous step backward under Ryan and coordinator Dennis Thurman, going from top five in points, yards, sacks, and takeaways in 2014 to middle of the pack in most of those categories last season. The starkest decline was in sacks, in which the Bills stunningly reversed course from No. 1 in the league two years ago to second-last with Ryan and Thurman at the controls.
On the other hand, offensive coordinator Greg Roman presided over an attack that accomplished Ryan's ground-and-pound goal en route to first-place rankings in both rushing yards and per-carry average. Two running backs, LeSean McCoy and Karlos Williams, and quarterback Tyrod Taylor – all offseason pickups a year ago – were the main catalysts behind the Bills' rushing success.
Unfortunately for the Bills, McCoy's status for next season isn't assured because of a pending investigation against him. Philadelphia District Attorney R. Seth Williams is considering whether to charge the four-time Pro Bowler for his alleged role in a nightclub brawl with off-duty police officers on Feb. 7. Even if Williams opts against charges and McCoy gets off scot-free from a legal standpoint, that doesn't mean he'll dodge a suspension from the league.
Before McCoy found himself in trouble, the biggest stories of the Bills' young offseason centered on their front office and coaching staff. Shortly after the Bills' season ended, general manager Doug Whaley got a contract extension through 2019 – the same year Ryan's deal expires.
Ryan, meanwhile, hired his brother Rob Ryan in a prominent role: assistant head coach/defense. Rob Ryan was previously the defensive coordinator for the Saints, who fired him last November after he oversaw a unit that was allowing 424.7 yards per game at the time of his dismissal. Had the Saints kept up that pace, it would've been the second-worst all-time total for a full season. Nevertheless, Rex Ryan called his brother "a great football coach" earlier this month, and the two of them will team with Thurman as they attempt to turn around an underachieving defense next season.
Key Free Agents:
The Bills aren't loaded with free agents who are primed to land major paydays in the coming weeks, but their top two unsigned players – left tackle Cordy Glenn and left guard Richie Incognito – were among the league's premier offensive linemen last season. Glenn and Incognito comprised one of the best tackle-guard duos in the league, with both starting all 16 games and thriving in the process. Glenn was Pro Football Focus' 10th-ranked tackle last season (subscription required), while Incognito placed second overall among guards.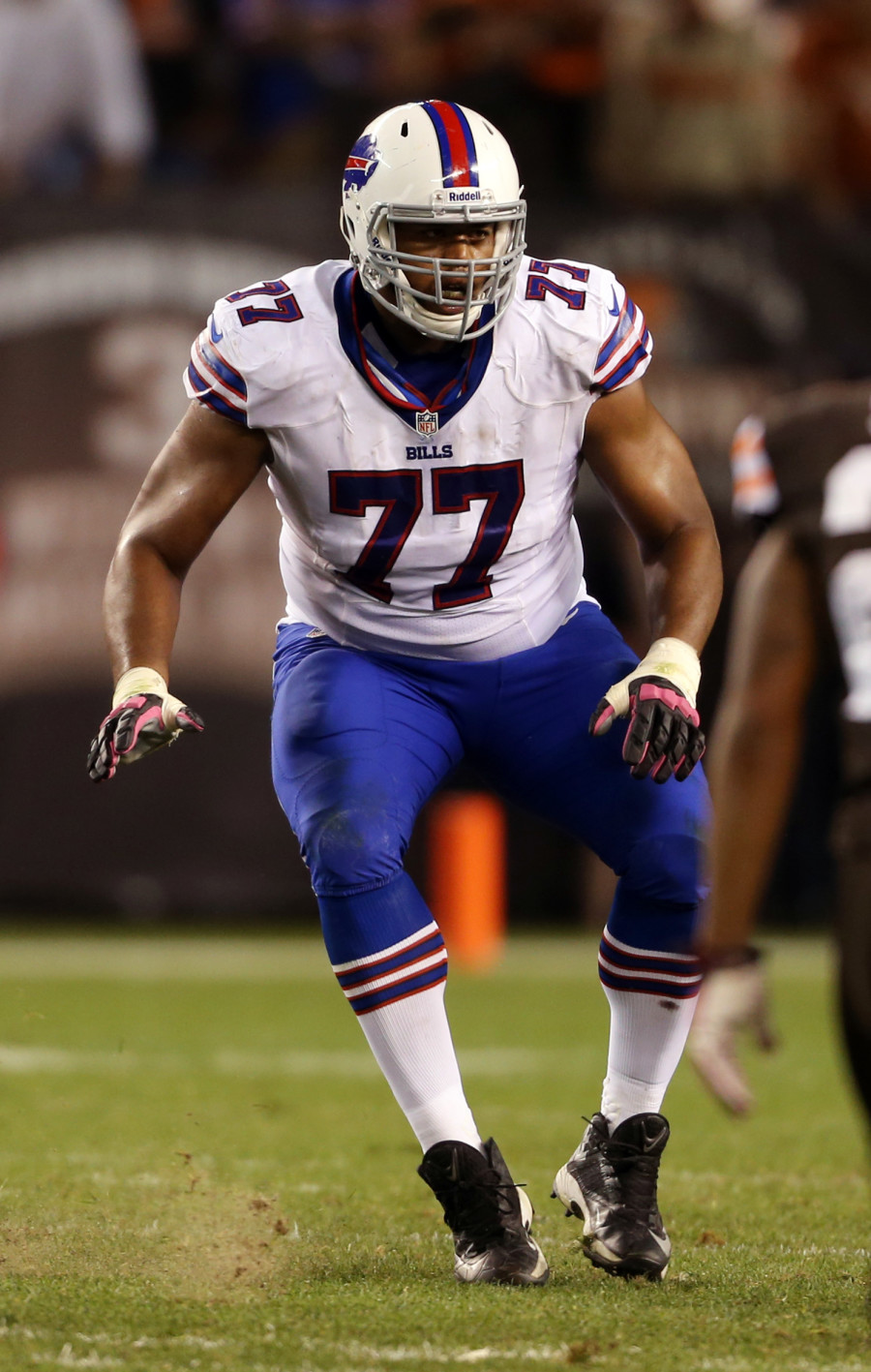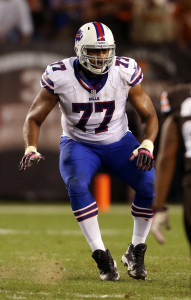 Given that Glenn's much younger than Incognito (26 versus 32) and plays a position of higher priority, he'll undoubtedly be the more expensive of the pair. Since the Bills used a second-round pick on Glenn in 2012, the former Georgia Bulldog has been a durable stalwart, appearing in 61 of a possible 64 games (all starts) and earning positive grades from PFF in each of his four seasons. Now, as one of the standouts in a market of pending free agent tackles that also features the likes of Russell Okung (Seahawks), Kelvin Beachum (Steelers) and Donald Penn (Raiders), Glenn is in position to collect an appreciable raise.
Glenn wouldn't be out of his depth to push for a deal in the neighborhood of the one the Colts' Anthony Castonzo netted last summer. At the time, Castonzo was similar to Glenn as a four-year veteran with 60-plus starts who was entering his age-27 season. Castonzo got $43.6MM ($18MM guaranteed) over four years, and now ranks 10th among left tackles in maximum value, fourth in annual worth ($10.95MM) and 11th in guarantees. The Colts still had control over Castonzo at the time, though, whereas Glenn is potentially weeks away from having teams engage in a bidding war for his services. Thus, Glenn has a strong opportunity to surpass Castonzo's contract.
If the Bills and Glenn aren't able to find common ground on an accord sometime this month, the club will have the option of placing the franchise tag on him by the March 1 deadline to prevent him from hitting the open market March 9. PFR's Luke Adams identified Glenn as a viable candidate for the tag last week. If the Bills go that route, it'll cost them just under $14MM next season. Locking up Glenn long term after tagging him would enable the Bills to lower that number, of course.
The Bills bought low on Incognito last season, inking him to a deal that included less than $1MM in base salary, after he missed most of 2013 and all of 2014 because of his role in a bullying scandal with the Dolphins. Considering his performance last season, the Bills won't be nearly that lucky this year. However, Incognito will stay a Bill if he has his druthers.
"My goal is to come back and play in Buffalo. I love it there," he said in January.
There's obviously mutual admiration between Incognito and the Bills. Whaley opined in December that Incognito deserved to be in the running for Comeback Player of the Year – an award that ended up going the Chiefs' Eric Berry (rightly so) – and stated last month that keeping both Incognito and Glenn would be "a major point of emphasis" (Twitter link via Joe Buscgalia of WKBW). The two sides remain without an agreement, though, and Incognito certainly isn't in the running for the franchise tag. That means the Bills can either re-up him within the next couple weeks or risk watching him head elsewhere when free agency opens.
On paper, Incognito shouldn't be that tough to re-sign. His age and past off-field issues don't exactly make him ripe for a lengthy contract, and a fair dollar amount would put him in the range of $3MM to $4MM per year. Only nine left guards presently average more than $4MM annually. The majority of those players are still in their 20s. Those who aren't signed their deals before they turned 30.
Linebacker Nigel Bradham is the Bills' only other full-time starter who is scheduled for free agency. He didn't come close to making the impact Glenn and Incognito did last season, however, as Bradham joined many of his cohorts in going backward under Ryan and Thurman. Despite that, the Bills and Bradham want to extend their four-year relationship, according to Tyler Dunne of The Buffalo News. Dunne reported Friday (via Twitter) that Bradham is willing to take a "prove-it" contract to remain in Buffalo. If the 26-year-old is truly open to that, it would make sense for the Bills to bring him back, have one fewer immediate need to address this offseason, and hope he adapts better to their defense in 2016.
Similarly, the Bills would do well to retain receiver Percy Harvin on a low-risk deal. They can't count on him to fill a significant role, though, given his career-long injury issues. Harvin was a competent piece of the Bills' offense early last season, catching 19 passes on 30 targets over the first five weeks, but the former Viking, Seahawk and Jet missed the remainder of the campaign with hip and knee ailments. Whaley revealed last month that the Bills hope to re-sign the 27-year-old.
The Bills have three restricted free agent agents who racked up sizable playing time last season in defensive lineman Corbin Bryant, safety Bacarri Rambo and receiver Chris Hogan. The trio combined for 22 starts (10 for Bryant, eight for Rambo, four for Hogan) and accrued well over 600 snaps apiece.
Buffalo is expected to tender a one-year offer to Bryant, per Dunne (Twitter link). All has been quiet on the Rambo and Hogan fronts thus far, meanwhile, but both are candidates to receive tenders. Rambo led Bills defenders with three forced fumbles last season. Hogan was fourth on the Bills in catches (36), aerial yards (450) and receiving touchdowns (two). He also played 39 percent of their special teams snaps.
Possible Cap Casualties:
Thanks to a combination of his subpar output last season and his exorbitant cap number ($19.9MM), defensive end Mario Williams faces long odds of ever putting on a Bills uniform again.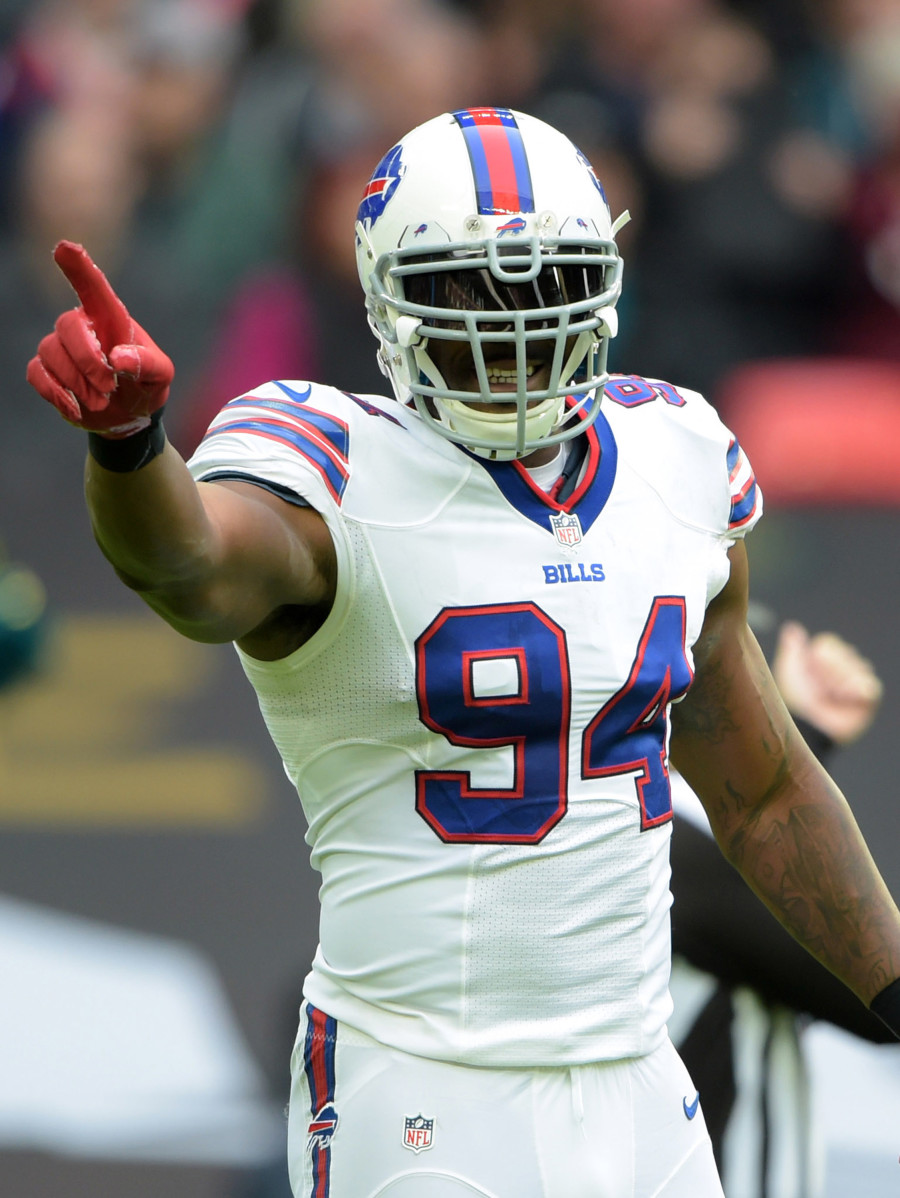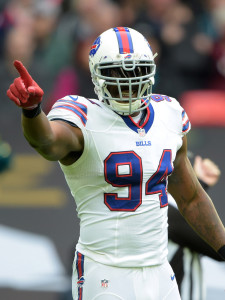 Williams was a nonentity under Ryan and Thurman – his sack total plummeted from 14.5 to five, and he was largely invisible otherwise – and the 31-year-old was unafraid to voice his disenchantment with their scheme throughout the season. Going forward, the 10-year veteran is scheduled to easily pace the Bills in 2016 cap hit, but they'll recoup most of that ($12.9MM, to be exact) if they release him. Williams, who signed with the Bills for $96MM in 2012, has missed only one game over the last four seasons and piled up 43 sacks.
The Bills might also move on from defensive back Leodis McKelvin, which would save them $3.9MM. It's worth mentioning that the longtime cornerback told Dunne in December that he'd be open to shifting to safety and coming back at a lesser cap charge than his current $4.9MM. Those actions could help McKelvin return to Western New York for a ninth season.
Buffalo would save healthy amounts by cutting defensive lineman Kyle Williams ($5MM), safety Corey Graham ($3.38MM) and kicker Dan Carpenter ($1.76MM). That's an improbable outcome in the cases of Williams and Graham, however, as both are starters and valuable contributors.
Carpenter disappointed last season after establishing himself as a high-end kicker in previous years. The 30-year-old was 18th out of 32 qualifiers in field goal accuracy (85.2 percent) and 31st in extra point success rate (85 percent). He also doesn't handle kickoffs, forcing the Bills to use a roster spot on specialist Jordan Gay. With all of that considered, Carpenter's hold on a roster spot looks tenuous.
The departures of backup offensive lineman Kraig Urbik ($1.78MM) and reserve running back Anthony Dixon ($1.15MM) look like good bets. Receiver Marquise Goodwin ($710K) and safety Duke Williams ($675K) aren't safe either. Defensive end Jarius Wynn, who missed all of last season with a knee injury, could also be on the outs. Pink slipping him would net the Bills an extra $1MM.
Positions Of Need:
Should either or both of the Cordy Glenn–Richie Incognito duo walk, the Bills will be tasked with replacing at least one of their top two offensive linemen. As mentioned earlier, Russell Okung, Kelvin Beachum, and Donald Penn join Glenn as the cream-of-the-crop unsigned left tackles.
If the Bills are unable to meet Glenn's demands, it's hard to envision them ponying up for Okung, who is seeking a large payday despite durability concerns. The six-year veteran has missed 25 of a possible 96 contests and has never played a 16-game regular season. Moreover, he's currently on the mend from recent shoulder surgery.
Beachum also hasn't been the picture of health – the 26-year-old tore his ACL last season and missed 10 games. But, as Bill Barnwell of ESPN.com wrote last week, the highly talented Steelers tackle will have no shortage of suitors on the open market.
Penn, on the other hand, has been the quintessence of dependability, having missed zero games in his nine-year career. He has also started 16 games in eight straight seasons. Both Penn's reliability and performance (he was PFF's No. 11 tackle last season, one spot behind Glenn) are likely to lead him to a raise over the $4.8MM per year he made on his prior deal. Penn's age (33 in April) should prevent him from finding anything long term, though.
Given how he fared last season and the fact that he won't require a lengthy commitment, it'll be puzzling if the Bills part with Incognito. Pending free agents like Kelechi Osemele (Ravens), Jeff Allen (Chiefs), Alex Boone (49ers) and Brandon Brooks (Texans) are all younger than Incognito and will get longer contracts as a result, but none are clearly superior players to Incognito at this juncture. Boone does have a notable connection to the Bills' coaching staff – he played four years in Roman's offense with the 49ers from 2011-14.
Evan Mathis (Broncos), Ramon Foster (Steelers) and Chris Chester (Falcons), like Incognito, are 30-somethings who are capable short-term Band-Aids. Interestingly, Whaley was a member of Pittsburgh's front office when the club drafted Foster in 2009. Foster, who has since started 87 games, ranked as PFF's 16th-best guard last season.
Unfortunately for the Bills, they also have issues on the right side of their O-line. Tackle Seantrel Henderson has started all 26 of his appearances since the Bills took him in the seventh round of the 2014 draft, but he hasn't made enough progress to automatically keep his job for a third season. If the Bills venture into free agency for someone better, Joe Barksdale – who has made 45 starts over the last three years – jumps out as an enticing option who shouldn't cost a bank-breaking amount. The ex-Ram took a one-year, low-money deal in San Diego last offseason and proceeded to play the second-most snaps in the league among tackles (1,150). His play earned him a No. 21 overall ranking among 77 qualifying OTs from PFF.
In the event the Bills address their O-line early in the draft, tackles Jack Conklin (Michigan State), Taylor Decker (Ohio State) and Jerald Hawkins (LSU) are possibilities at No. 19. Kansas State guard Cody Whitehair could also draw their interest.
Elsewhere on offense, the Bills aren't sure what they have at quarterback, the sport's paramount position. After spending the first four years of his career as a backup in Baltimore, Tyrod Taylor signed on the cheap with the Bills last winter in hopes of winning their starting job. Taylor did just that over the summer, beating out two career mediocrities in Matt Cassel and EJ Manuel, and then played better than anyone could have realistically expected during the season. As a passer, Taylor completed 63.7 percent of his throws, finished fifth in yards per attempt (7.99), seventh in rating (99.4) and added 20 touchdowns against just six interceptions. He complemented his solid passing skills with world-class mobility, chipping in 568 rushing yards (second to Cam Newton among QBs) and four more TDs.
While it was a successful year for Taylor, the Bills may not be sold on him as a franchise guy quite yet. They won't find anyone better on the free agent market, but both Whaley and Ryan have left the door ajar with respect to drafting a QB this year. The Bills were one of the teams that showed the most interest throughout last season in North Dakota State's Carson Wentz, whom they scouted extensively, NDSU quarterbacks coach Randy Hedberg told Dunne. Wentz probably won't be available when the Bills are on the clock at No. 19, but Whaley hasn't been shy about trading up in the past and could do it again if Wentz is still on the board within a few selections of Buffalo.
The Bills are also fans of Stanford's Kevin Hogan, according to Tony Pauline of DraftInsider.Net. Hogan is a likely mid-round pick, so it's doubtful he'd be a threat to Taylor next season even if the Bills drafted him. It's possible Hogan would be able to push Manuel off the roster and serve as the No. 2 behind Taylor, though Whaley and Ryan both like Manuel. Further, releasing the former first-rounder would save the Bills nothing and leave them with nearly $2.83MM in dead money in 2016.
Regardless of who's under center for the Bills next season, the organization seems intent on giving him more to work with at receiver. With Whaley suggesting last month that Robert Woods is losing his grip on the No. 2 spot, the Bills don't have anyone of much consequence behind Sammy Watkins. Not surprisingly, then, they'll "seriously look into" drafting a wideout, according to Whaley (Twitter link via Buscaglia).
Player personnel director Jim Monos expressed further dissatisfaction with the team's receiving corps, Watkins excluded, telling WGR 550, "We need to get somebody opposite of Sammy to be a real threat to that defense. I think that's a big key for our offense, to take one more step."
If the Bills are bold enough to draft another first-round receiver – keep in mind that, because they traded up for Watkins in 2014, they essentially used two No. 1s on him – a few names to watch include Laquon Treadwell of Ole Miss and the Ohio State tandem of Michael Thomas and Braxton Miller.
In free agency, it's unrealistic to think Buffalo will reel in a big fish like Marvin Jones, who's reportedly seeking $7MM annually, or fellow Bengal Mohamed Sanu (he could get $5MM per year). Not many would classify Seahawks free agent-to-be Jermaine Kearse as a "real threat," to use Monos' phrase, though the 26-year-old could pique the Bills' interest if the cost is reasonable. Earlier this winter, Jason Fitzgerald of Over the Cap forecast a deal worth $3.25MM to $3.75MM per year for Kearse (Twitter link). The 6-foot-1, 209-pounder only caught two more balls than Woods last season, but he did it on 13 fewer targets, averaged 14.0 yards per reception to Woods' 11.7 and added five TDs to Woods' three.
The Bills entered last offseason in the catbird seat defensively, which isn't the case 12 months later. The team's front seven still features an enviable trio of linemen in Marcell Dareus, Jerry Hughes and Kyle Williams, but imposing pass rushers are lacking aside from Hughes and the linebacking corps leaves much to be desired.
Bradham and Preston Brown markedly dropped off from 2014, leaving 10-year veteran Manny Lawson as the Bills' top linebacker last season. Lawson will once again be a relied-on member of the Bills' defense in 2016, and the same is probably true in regards to Brown. The Bills will need aid at linebacker from outside the organization, though, and if they go shopping for it in free agency, the Jets' Demario Davis is a clear fit.
Davis played the first three seasons of his career under Ryan, saying in 2014, "I wouldn't want to play for any other head coach. He's a great defensive mind."
Ryan leaned heavily on Davis, who played 95 percent of the Jets' defensive snaps in 2013 and 99 percent in 2014. Davis looked lost last season without Ryan, meaning he isn't hitting the the market with the momentum of a strong contract year. That could be fortuitous timing for the Bills, who lack cap room, need linebackers, and must find players who can comprehend Ryan's defense.
Ex-Jet Quinton Coples is another free agent linebacker whose best years came under Ryan. The 2012 first-rounder combined for 16.5 sacks in Ryan's scheme during the first three years of his career and played 1,500-plus snaps at LB in their last two seasons together. Coples, like Davis, fell off last season in Ryan's absence, so the Jets waived him in November. Two teams placed claims on the 25-year-old. One was the Dolphins, who ultimately got him. The other? Ryan's Bills. The fact that the Bills lost out on Coples upset Ryan, per Mike Rodak of ESPN.com (Twitter link).
"I wanted him," Ryan said.
Coples was a non-factor in Miami, which released him earlier this month. He's now free to sign anywhere, and the Bills are ostensibly a more logical fit for him than any other team. As an edge-rushing linebacker with a knowledge of Ryan's defense, Coples is an alluring buy-low possibility for cap-strapped Buffalo.
The Bills could also buy high at LB in the form of a first-round pick. In his latest mock draft, Bleacher Report's Matt Miller has the club selecting Ohio State's Darron Lee in the opening round. Depending on whether they're still available, any of Notre Dame's Jaylon Smith, Alabama's Reggie Ragland and Georgia's Leonard Floyd might be on the Bills' radar. They could also address their D-line instead and choose from the likes of Robert Nkemdiche (Ole Miss), Sheldon Rankins (Louisville), A'Shawn Robinson (Alabama) and Emmanuel Ogbah (Oklahoma State), among others.
Extension Candidates/Contract Issues:
The Bills have decisions to make this offseason on both of their quarterbacks. One of those decisions, whether to exercise or decline EJ Manuel's fifth-year option for 2017, will be easy. They'll decline it, which means Manuel could be entering his final year with the team that drafted him. Manuel, whom the Bills took 16th overall in 2013, has appeared in 22 games, logged 16 starts and tossed 19 TDs against 15 INTs. He has been relegated to the bench since early 2014 as the backup, first to Kyle Orton and now to Taylor.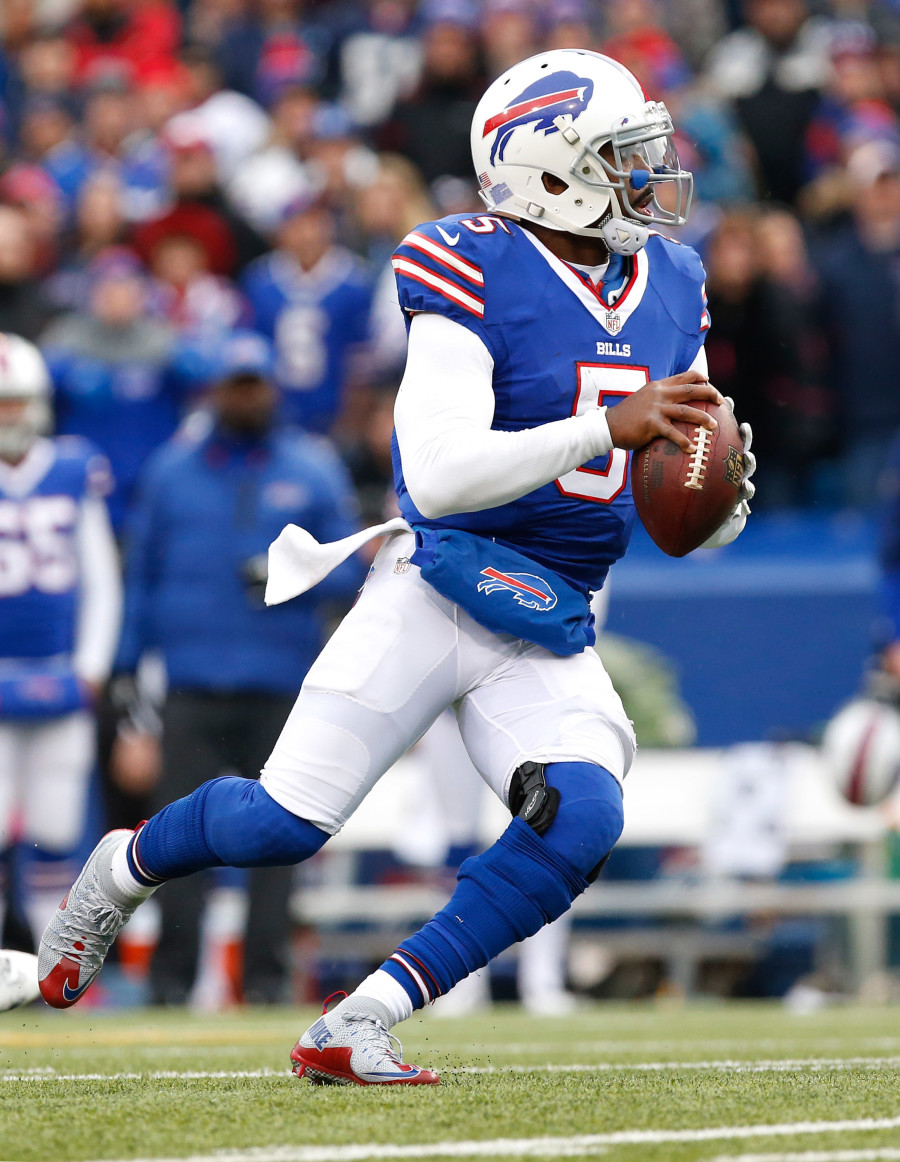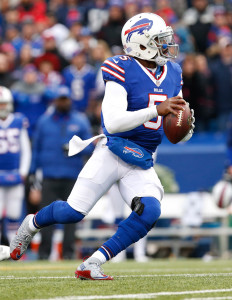 Whether to take a shot at extending Tyrod Taylor or simply let him play out his contract year is a much more difficult call for the Bills' front office. Taylor's pedigree hardly screams "franchise QB" — he's undersized (6-1, 205 pounds), didn't have a lights-out college career as a passer, went in the sixth round, and has spent the vast majority of his pro tenure as a backup.
That doesn't mean Taylor is incapable of serving as an adept starter for the long haul, but the Bills can't afford to make another mistake under center by once again investing heavily in someone who isn't the answer. They got into trouble a few years ago when they prematurely extended Ryan Fitzpatrick based on a small sample size of encouraging play, and that was wedged between two failed first-round picks (J.P. Losman and Manuel). With that in mind, they're unlikely to place their hand on the hot stove again, so to speak.
Although it'll cost the Bills more if they take a better-safe-than-sorry approach and Taylor builds on last season, that would be a good problem for a franchise that has been hopeless at QB since the mid-1990s.
While the Bills aren't yet sure of what they have in Taylor, they should know by now that cornerback Stephon Gilmore is worth a mega-extension. The 2012 first-rounder is going into his final season under team control and is coming off a year in which he tied a career high with three interceptions, ranked as a top-10 corner by PFF's standards, and formed a top-notch CB twosome with rookie Ronald Darby.
Gilmore is scheduled to rake in over $11MM in 2016, his fifth-year option season. If he were to ask for that long term, it would be a lofty request from a player who has missed 11 games over the last three years. Then again, the Eagles' Byron Maxwell has one of the richest contracts in the league for a corner – fourth in total value ($63MM), fifth in yearly worth ($10.5MM) and third in guarantees ($25MM) – and he got it last winter despite appearing in just 47 games in four seasons. At the time, Maxwell was a 27-year-old who had played second fiddle to Richard Sherman in Seattle. Conversely, Gilmore – who will turn 26 in September – has been the alpha dog in pass defenses that have mostly stifled enemy QBs (three straight top-10 finishes in both yards per attempt against and passer rating allowed). Add all of that up, and Gilmore has a case for Maxwell money – especially with the cap having risen $12MM during the last year.
Overall Outlook:
The Bills have little cap room to work with and obvious problems to address on both sides of the ball, so Whaley will have to pull a magic trick of sorts in order to build a playoff-caliber roster this offseason. Best-case scenario for Buffalo: Whaley will somehow re-sign both Glenn and Incognito, hit home runs with value pickups in free agency, and add multiple draft prospects who pay immediate dividends.
Information from Over The Cap was used in the creation of this post. Photos courtesy of USA Today Sports Images.
Follow @PFRumors