Pending free agents:
Top 15 cap hits for 2016:
Notable coaching/front office changes:
Draft:
Other:
Overview: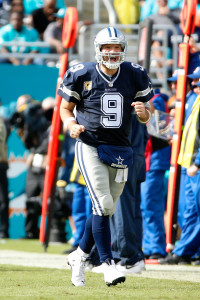 The Cowboys, fresh off an NFC East title and a trip to the Divisional Round of the playoffs, came into 2015 with high expectations. But when Dez Bryant broke his foot in the second half of the team's Week 1 contest against the Giants, and when Tony Romo fractured his collarbone in Week 2, Dallas' fate seemed all but sealed, even after the team managed to cobble together a 2-0 record to open the season. Romo would return to the field in Week 11, leading his struggling club to a victory over Miami, but he re-injured his collarbone in Dallas' Thanksgiving game a few days later, ending his season.
Bryant, meanwhile, returned to the field in Week 8, but the injury sapped some of his usual explosiveness and he was hampered by the mediocre play of the quarterbacks who filled in for Romo. After finishing 2014 among the league's five most efficient offenses, the Cowboys were the second-worst in 2015, per Football Outsiders' DVOA metric. They were, however, a slightly better defensive club in 2015 than they were in 2014, but they were still below league average, further proving that as the offense goes, so goes the team.
Nonetheless, the NFC East should again be a wide open division in 2016, and as long as the Cowboys can stay healthy, they should compete for the division crown.
Key Free Agents:
There aren't a ton of invaluable names on this list, which is good news for Cowboys fans. Morris Claiborne didn't escape the injury bug in 2015 — his entire career, in fact, has been beset by injury. He has not lived up to the promise that comes with a former sixth overall pick, and he finished last season ranked as the 106th-best corner out of 113 eligible players per Pro Football Focus' advanced metrics (subscription required).
However, there is still some upside there, and Claiborne is probably not as bad as his PFF rating would suggest. And considering the state of the Dallas secondary, "not bad" might be as good as the team can hope for. We heard in late November that the Cowboys planned to move Byron Jones to safety in 2016, which increases the likelihood that Claiborne will stay in Dallas. He would probably not command a great deal of money on the open market, so unless he wants a change of scenery, it seems like a reunion is in the cards.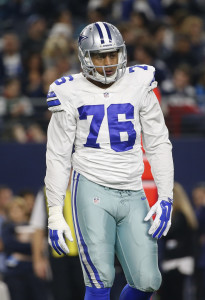 The same cannot be said for Greg Hardy, who continued to find his name in the headlines for the wrong reasons even as he was playing out his 2015 season under a fairly lucrative contract from a team willing to take a chance on him. Hardy was not the same player for Dallas that he was for Carolina, but he still had a strong season as a pass rusher, recording six sacks, a forced fumble, and an interception in 12 games and ranking as the league's 28th-best edge defender out of 110 qualified players, according to PFF. Dallas, whose defense is in desperate need of playmakers, would love to have that production back, but if recent reports are to be believed, the club will try to find that production elsewhere. Hardy, for his part, will probably have to settle for another short-term, incentive-laden contract.
Rolando McClain, on the other hand, could be back. Another player who has struggled to stay out of off-field trouble, McClain was a revelation for Dallas in 2014, but he was suspended for the first four games of 2015. When he returned to the field, McClain was noticeably rusty, but he seemed to get his legs back under him as the season rolled along and played some of his best football down the stretch. Given his history, McClain will not find a big-money deal in free agency, and he could probably be retained for a modest, one- or two-year contract. I would expect Dallas to do what it can to keep McClain in the fold.
Lance Dunbar, one of the candidates to help replace DeMarco Murray in 2015, was put on injured reserve on October 10, but he demonstrated skill as a pass-catcher out of the backfield, catching 21 passes for 215 yards in a little more than three games. If nothing else, Dunbar is a nice option as a change-of-pace back, and his receiving ability could make him a valuable part of the team's offense moving forward. The Cowboys, though, will certainly need to address their running back situation in some capacity, as the injury-prone and aging Darren McFadden probably can't be expected to replicate his 2015 performance in 2016. There are some intriguing names both in free agency (Lamar Miller, Matt Forte) and in the draft (Ezekiel Elliott, DeVontae Booker) that could interest the Cowboys.
The team will also look to address the backup quarterback situation, a position that let the Cowboys down in a big way in 2015. They may look to a mid-round QB prospect like Dak Prescott in this year's draft to serve as a backup and potential successor to Romo.
RFAs Ronald Leary and Jeff Heath will almost certainly receive tenders.
Possible Cap Casualties: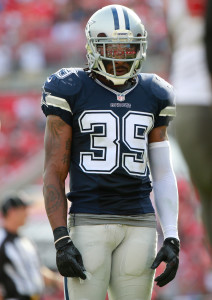 Brandon Carr is perhaps the biggest name on the roster that could find himself as a cap casualty this offseason. Luckily for him though, he also plays a premium position, one which happens to be among the Cowboys' bigger weaknesses. He remains, however, a prime restructure candidate, as we will discuss below.
Other potential cap casualties include Doug Free and Barry Church, but the problem is that they are both starters who are valued for their leadership (Church, in fact, is a team captain). Free is seen as the weakest link on an otherwise dominant offensive line, but that does not mean he is a bad player, and there is no way of knowing whether or not Chaz Green, who did not play a down in his rookie season, is a capable replacement.
On the other hand, if the Cowboys do, in fact, move Jones to safety, then they would have a replacement for Church, who performs well as an in-the-box safety but who tends to struggle in coverage. He has just one year remaining on his current contract, and if the team were to cut him, it would save $4.25MM in cap space.
Longtime stalwart Jason Witten could conceivably be a cap casualty, considering he will be 34 when the 2016 regular season opens and given that the Cowboys could create up to $6.5MM in cap space by cutting him. But again, there is no obvious replacement for Witten on the field or in the locker room. He remains one of the most durable players in the game, and despite playing most of the 2015 season with a parade of backup quarterbacks, he still managed to grab 77 passes for over 700 yards and three scores. Assuming Romo returns fully healthy, Witten may have another strong season or two left in him.
Positions Of Need:
As noted above, the Cowboys need to address their running back corps. They would presumably like to bring back Dunbar, and even if they don't add one of the bigger names in free agency – a luxury they probably would be unable to afford – a mid-round draft selection or second-tier free agent like Alfred Morris could put up good numbers behind Dallas' talented offensive front.
Dallas will also likely invest a draft pick on a quarterback, especially since the free agent class of quarterbacks as it currently stands will likely be devoid of any meaningful talent after some of the more intriguing names, such as Kirk Cousins, Ryan Fitzpatrick, and Brock Osweiler, re-sign with their current clubs. Johnny Manziel, of course, is believed to have interest in playing for the Cowboys, and so is Robert Griffin III (the assumption is that both players will be cut by their current teams). After Manziel's latest off-field incident, I would not expect him to wind up in Dallas, but Griffin might be a possibility. RGIII has significant starting experience, but is young enough to still have some upside.
All in all, though, the offense should be in pretty good shape, as long as Romo stays healthy. The bigger concerns will be the defensive side of the ball. The Cowboys need defensive playmakers, and although they are counting on the return of Orlando Scandrick from injury, the secondary remains suspect at best. First-tier free agents like Josh Norman may be out of Dallas' price range, but even a player like Phillip Adams or Tracy Porter would provide a nice boost.
If Dallas is to make a big splash in free agency, it is likely happen along the defensive line. Whether or not Hardy returns, the Cowboys would still like to fortify their defensive line the same way they strengthened their offensive line. Olivier Vernon, who could reach the open market, might be a realistic option, and the Cowboys will surely monitor whether longtime Dallas tormentor Jason Pierre-Paul re-ups with the Giants or tests the free agent waters. But the Cowboys could use some help at every position in the front seven, especially if McClain were to depart. Potential draft targets that could immediately impact the team in that regard include Alabama's A'Shawn Robinson and Notre Dame's Jaylon Smith.
Extension Candidates/Contract Issues:
The Cowboys have been in so-called salary cap hell in recent years, but as Todd Archer of ESPN.com points out,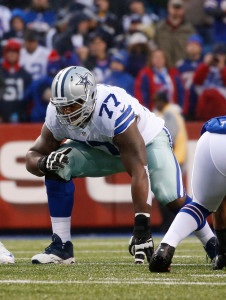 they should be in decent shape moving into 2016. They still, though, will need to create some cap room to sign their draft picks, retain their own free agents, and to add a couple of impact players from other clubs. Again, it is unlikely that the team will cut Carr, and as Archer observes, it would be problematic to restructure Romo's or Bryant's contracts, given Romo's age and both players' recent injuries.
That leaves Tyron Smith and Tyrone Crawford as the most likely restructure candidates. The Cowboys can create roughly $7MM in cap space by converting Smith's $10MM base salary to $1MM and turning the rest into a signing bonus, and when Crawford signed his deal last season, it was set up to be restructured to give the Cowboys more flexibility. The team could also give Carr a completely new deal, which would serve the same purpose. And again, Church is a candidate to be released. Any combination of those maneuvers, along with one or two less dramatic restructures, should give Dallas enough flexibility to accomplish its offseason goals.
Overall Outlook:
All in all, then, the Cowboys appear to be in pretty good shape, and they will enjoy some continuity in the coaching staff, as defensive backs coach Jerome Henderson is the only notable coach to be heading elsewhere (the team is reportedly considering Mike Nolan and Tim Lewis, among others, to replace Henderson).
Romo is not getting any younger, and although his recent injury history is a bit troubling, all signs point to his being ready to go well in advance of the 2016 regular season opener. Dallas will look to add depth behind him, as the team went 1-11 in Romo's absence in 2015, but it's not as though many other clubs in the league could lose a starting signal-caller of that caliber for over 12 games and stay afloat. I would expect the Cowboys to sign a veteran like Chad Henne or Matt Moore while adding a prospect like Prescott in the middle rounds of the draft.
Defense has been a problem the last several seasons, and unless the team hits big on a couple of draft picks, it will probably remain so. Any splash signings would certainly come on the defensive side of the ball, with Vernon representing perhaps the most realistic option. But a few lesser-profile acquisitions would make sense, particularly in the secondary. Given the potential value for money, the Cowboys may also want to revisit their stance on Hardy, assuming they can deal with the persistent off-field headache he creates.
If I had to bet on the 2016 NFC East champion today, I'd be very tempted to put my money on Dallas.
Information from Over The Cap was used in the creation of this post. Photo courtesy of USA Today Sports Images.
Follow @PFRumors