Pending free agents:
Top 15 cap hits for 2016:
Notable coaching/front office moves:
Draft:
Other:
Overview:
The Lions went into last season hoping to build on their 11-win 2014 campaign, but history was overwhelmingly against them from the start. The franchise entered 2015 having never amassed consecutive seasons of double-digit victories since its inception as the Portsmouth Spartans in 1930. That ignominious streak will live on for at least a bit longer, as the Lions endured the quintessential tale of two seasons en route to a 7-9 finish.
Thanks to an 0-5 start, the Lions were all but out of playoff contention by early October and ultimately reached their bye week with an NFL-worst 1-7 mark. Owner Martha Ford reacted by firing president Tom Lewand and general manager Martin Mayhew, both of whom had held their posts since 2008. Rod Wood, a Ford family confidant, took over for Lewand, admitting at the time that he "would probably not be directly involved in personnel decisions" (link via Dave Birkett of the Detroit Free Press). The GM role went to player personnel director Sheldon White, though only on an interim basis, as Wood and consultant Ernie Accorsi – previously a successful executive in Baltimore, Cleveland and New York – considered full-time options.
In the wake of both the Lions' front office shakeup and the late-October firing of offensive coordinator Joe Lombardi, whom they replaced with quarterbacks coach Jim Bob Cooter, the team looked more like its 2014 self during a 6-2 second half. Quarterback Matthew Stafford, with a video game-like TD:INT ratio of 19:2 over those eight games, was the driving force behind the Lions' end-of-season surge. The performances of Stafford and his teammates surely had a hand in saving the job of head coach Jim Caldwell, but the Lions parted with White after naming Bob Quinn their permanent GM.
Quinn came to Detroit from New England, where he had been part of arguably the league's preeminent organization since 2000. The 39-year-old earned several promotions during his long run with the Patriots, the last of which came in 2012 when he took the reins as their director of pro scouting. Quinn's first important act in Detroit was to retain Caldwell, a decision that came after much deliberation. He's now focused on bettering a roster that is in danger of losing possible six-time Pro Bowl receiver Calvin Johnson to retirement at just 30 years old.
Key Free Agents:
The Lions' notable pending unrestricted free agents all hail from a defense that was mediocre to subpar in DVOA, yardage and scoring last season. Linemen Haloti Ngata, Jason Jones and Tyrunn Walker, linebacker Tahir Whitehead and safeties Isa Abdul-Quddus and James Ihedigbo are unsigned and scheduled to hit the market on March 9.
Ngata has enjoyed the finest career of the group, having made five Pro Bowls and 147 starts since entering the league in 2006.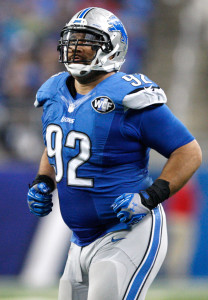 The 32-year-old joined the Lions last offseason after they obtained him from the Ravens for a fourth- and fifth-round draft pick, and he started in all 14 of his appearances and finished second among Lions defensive linemen in snap percentage (57.1). Ngata battled through various injuries to chip in 24 tackles, 2.5 sacks and rank as Pro Football Focus' 39th-best interior lineman (123 qualifiers), but the site (subscription required) didn't think much of his work against the run. That jibes with the Lions' fall from first in rushing yardage allowed and per-carry average in 2014 to 19th in the two categories last season.
The Lions acquired Ngata with the hope that he'd help fill the void of the departed Ndamukong Suh, which he wasn't able to do to a large enough extent. Ngata remains a solid defender, though, and wants to continue his career in the Motor City.
"I'd love to stay," he told Tim Twentyman of DetroitLions.com in January. "I love what coach (Jim) Caldwell has done here. I love playing under him and (defensive line) coach Kris (Kocurek). I feel like I got in a groove at the end of the season and hopefully I can play a full season understanding the system."
Ngata said Thursday that he'll soon talk to the Lions to see if the two sides can work out an agreement. The ex-Oregon Duck made $8.5MM last season, which was the final year of a mega-deal he signed with the Ravens in 2011. Ngata was a dominant force then, but that's no longer true. Jason Fitzgerald of Over the Cap concurs, writing last month that Ngata could have a hard time topping $4.5MM per year on his next contract.
As was the case with Ngata, the Lions' defense leaned on Jones to serve as an important contributor last season. The eight-year veteran started in each of his 15 appearances and ranked fourth among Lions D-linemen in snap percentage (51.7) and third among all defenders in sacks (4.5). Jones earned a positive assessment from PFF, which ranked him an above-average 43rd out of 110 qualifying edge defenders and gave him decent grades as both a run defender and pass rusher.
Jones inked a three-year, $9.5MM contract with the Lions as a 27-year-old in 2013, and his production during those three years was similar to what it was in his prior stops. It stands to reason that he'll get another short-term, reasonably priced deal as he enters his age-30 season. Considering his competent play, not to mention fellow veteran DE Darryl Tapp's free agent status, the Lions would be wise to bring Jones back (and Tapp, for that matter).
Walker, a former Saint, signed a one-year pact with the Lions last winter and played alongside Ngata as a D-tackle starter before a broken fibula ended his season in Week 4. The Lions weren't afraid to make use of the 25-year-old when healthy – he played anywhere from 54 to 74 percent of their defensive snaps in each of his appearances – so they might attempt to buy low on him again in the coming weeks and hope he stays healthy next season.
Whitehead went from starting 15 games in 2014 to nine last season, but he wowed PFF enough to receive a 14th-place ranking out of 97 qualifying linebackers. Whitehead started the Lions' last eight games, and it sounds as if the team will need to commit to giving the soon-to-be 26-year-old a No. 1 role going forward in order to keep him.
"You want to go somewhere where you're wanted, where you're needed and you're going to play. So I definitely want to be a starter. I think I've shown that I can be a starter in this league," he told Carlos Martinez of the Detroit Free Press after the season.
After mostly working as a special teamer and backup defender during the first four-plus years of his career, Abdul-Quddus dethroned Ihedigbo as Detroit's starting strong safety in November and made the most of his increased playing time. Given his range, the 26-year-old was a better fit than Ihedigbo in coordinator Teryl Austin's defense, and PFF agrees: The site ranked Abdul-Quddus 21st and Ihedigbo 64th, respectively, out of 88 qualifying safeties. Abdul-Quddus hopes to parlay his career-best defensive season into another deal with the Lions.
"I love it here," the 26-year-old told Kyle Meinke of MLive.com. "I love the coaching staff. I love Coach Caldwell. I love everything here man, and I'd love to come back."
Regardless of whether it's with the Lions or another team, Abdul-Quddus will surely end up with a more lucrative contract than the one-year, $1.5MM accord he signed in 2015. While Abdul-Quddus' stock is rising, Ihedigbo's is falling thanks to both his age (32) and his play last season. Not surprisingly, the Lions won't re-sign him, according to Ian Rapoport of NFL.com (on Twitter).
Possible Cap Casualties:
The Lions pinpointed their first cap casualty Tuesday when they cut running back Joique Bell, whose release saves them $1MM this year. Bell was a quality weapon with the Lions from 2012-14, but he was less involved in their offense last season and recorded career lows in yards per carry (3.5) and receptions (22). That dip in production, along with the respective presences of Ameer Abdullah and Theo Riddick, made Bell expendable.
The Lions also saved a valuable chunk of cap room ($2.3MM) by parting with defensive lineman C.J. Wilson, who made eight tackles in eight games after Detroit claimed him off waivers in November.
Linebacker Stephen Tulloch will follow Bell and Wilson out the door, as Pro Football Talk reported Thursday. Tulloch, 31, started in 66 of 67 appearances with the Lions, but his struggles against the pass helped seal his fate. Detroit will save $6MM on its cap this year when it officially releases Tulloch on March 9.
The status of tight end Brandon Pettigrew, the Lions' first-rounder in 2009, is up in the air. Pettigrew, a prolific pass-catcher during the first half-decade of his career, has hauled in a mere 17 receptions since the Lions used a top pick on TE Eric Ebron two years ago. Dropping Pettigrew would clear $2.65MM of space for Detroit.
Positions Of Need:
The Lions remain in the dark about Johnson's status, with Wood saying Thursday that the team is "staying in touch with him." The club will not rush Johnson into a decision, Wood added, but it would obviously benefit the franchise to know his fate sooner than later. In fact, the Lions will need an answer by March 9. Otherwise, Johnson's $15.95MM base salary and $24MM-plus cap number will be on their books in 2016.
If Megatron does elect to walk away, the Lions will increase their cap space by over $11MM this year. While that sounds nice,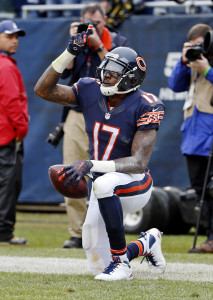 the downside to losing Johnson is that he's still a world-class wideout, having hauled in 88 catches for 1,200-plus yards and nine scores last season. His departure would leave a gaping hole in Detroit's offense, and the only receiver the team could realistically acquire this offseason and expect similar production from is Alshon Jeffery. The Lions are rather familiar with Jeffery, a free agent-to-be who has been a member of the NFC North rival Bears since his career began in 2012.
The 6-foot-3, 216-pound Jeffery doesn't quite possess Johnson's size (6-5, 239), but he has been similarly excellent in recent seasons. In his last two 16-game campaigns (2013-14), Jeffery has combined for 174 receptions, 2,300-plus yards, and 17 touchdowns. He was also outstanding last season, albeit in just nine games, grabbing 54 passes for 807 yards and four scores. Though not much has been reported about the Bears locking up Jeffery before free agency, he and the franchise tag are likely on a collision course prior to the March 1 deadline, as PFR's Luke Adams wrote earlier this week.
In the event Jeffery does reach the market, an all-out bidding war would undoubtedly ensue. That would enable Jeffery, who turned 26 less than a week ago, to net a contract not unlike the ones given to Julio Jones, Demaryius Thomas, Dez Bryant, T.Y. Hilton and A.J. Green last summer. Jones, Thomas, Bryant and Hilton all signed five-year deals ranging from $65MM to $71.25MM, while Green got a four-year, $60MM contract.
The Lions obviously can't count on Jeffery becoming a free agent, but the other pending UFA receivers are far less enticing. Michael Rothstein of ESPN.com has mentioned the Bengals' Marvin Jones and the Seahawks' Jermaine Kearse as prospective targets. Jones – coming off a career-best season in terms of catches (65), targets (103) and yards (816) – will seek $7MM annually, league sources told Jim Owczarski of the Cincinnati Enquirer earlier this month. Kearse also established personal highs in catches (49), targets (68) and yards (685) last season, though he won't garner as much money as Jones. The four-year veteran's career production should put him in line for an accord worth $3.25MM to $3.75MM annually, Fitzgerald tweeted in January.
While the Lions won't know which direction they'll go in at receiver until Johnson makes his intentions official, they are certain they'll address their offensive line this offseason.
"We need to keep our quarterback protected and not on the ground," Wood said Thursday, per Twentyman. "The offensive line is an area we're going to focus on."
As Wood implied, the Lions' O-line did struggle in pass protection last season, evidenced by a 23rd overall ranking in sacks allowed and a 22nd-place finish in Football Outsiders' adjusted sack rate metric. Even though he easily ranked as the Lions' best O-lineman by PFF's standards last season, Manny Ramirez won't be part of the group going forward, Birkett tweeted Thursday. Ramirez, who went from back-to-back 16-start campaigns with Denver to seven as a Lion last season, will sign with another club as a free agent.
The Lions are content with starting guards Larry Warford and Laken Tomlinson, per Justin Rogers of MLive.com, as well as Riley Reiff occupying one of the tackle spots. Thus, they could look to upgrade opposite Reiff and find a superior center to Travis Swanson.
The cream-of-the-crop pending free agents at tackle are, in some order, Cordy Glenn (Bills), Russell Okung (Seahawks), Donald Penn (Raiders), Kelvin Beachum (Steelers) and Mitchell Schwartz (Browns). Fitzgerald expects Glenn, Okung, Beachum and Schwartz to land five-year agreements worth anywhere from $6MM to $9MM annually. Penn, 33 in April, is much older than the others and won't receive the same caliber of contract in either length or total value. However, having started a whopping 128 games in a row since 2008, he'll command big money over the short term.
Should the Lions veer away from expensive veteran tackles and prioritize drafting one instead, local product Jack Conklin (Michigan State) and Ohio State's Taylor Decker could pique their interest in the first round (No. 16 overall).
The free agent center class currently features Stefen Wisniewski (Jaguars) and Ben Jones (Texans) as the standouts. Wisniewski has started in all 77 of his appearances since entering the league in 2011 and should do better than the one-year, $2.5MM deal he got from Jacksonville last offseason. Jones has fewer career starts (43 in 64 appearances), but he has made 32 in a row.
The Browns' Alex Mack, who's coming off his third Pro Bowl season, will hit the market if he goes the expected route and opts out of his contract. The 30-year-old's current deal places him sixth among centers in total value ($42MM), fifth in annual value ($8.4MM) and second in guarantees ($18MM). If Mack opts out, he could then become the the first center ever to eclipse $9MM annually, according to CBS Sports' Joel Corry (link via Mary Kay Cabot of Cleveland.com).
On the other side of the line, where Ngata and Walker are unsigned, the Lions are quite thin at defensive tackle. If they venture into free agency to address the position, potential choices include Damon Harrison (Jets), Ian Williams (49ers) and Terrance Knighton (Washington). Ex-Lion Nick Fairley is also without a deal as of now after spending 2015 with the Rams, but he's unlikely to have a second act in Detroit, according to Rothstein.
Unfortunately for the Lions (and other teams in search of a DT), Harrison said earlier this week that he and the Jets "are headed in the right direction with a deal getting done." If negotiations fall apart, the 27-year-old will garner plenty of interest from clubs that need to improve against opposing ground games. Harrison, who has started 48 straight contests, is a top-tier run stopper whom PFF ranked No. 1 in that category among interior D-linemen last season.
Another defender to keep an eye on as a possibility for Detroit is the Patriots' Akiem Hicks, whom Quinn was influential in acquiring from the Saints last fall, as Birkett detailed. Hicks finished with three sacks in 13 games with New England and was PFF's 42nd-best interior lineman, three spots behind Ngata. The four-year veteran has been a role player throughout his career (33 starts, 9.5 sacks in 61 games), so he shouldn't cost a bank-breaking amount to sign. When combining Quinn's affinity for Hicks with the Lions' issues up front, it'll be a surprise if they don't at least kick the tires on the 26-year-old when free agency begins.
If the Lions emerge from the open market dissatisfied with their D-line, they could try to beef up via the draft. In his latest mock draft, Matt Miller of Bleacher Report has the team selecting Louisville D-tackle Sheldon Rankins in the first round. Miller says Rankins is "going to draw some comparisons to Aaron Donald with his 6-foot-2, 304-pound frame," adding that he's "a perfect fit at three-technique in Detroit."
With Tulloch on the outs, bolstering their linebacking corps could be on the Lions' to-do list. However, they won't need to make any headline-grabbing pickups if Whitehead stays. Stalwart DeAndre Levy will return after missing almost all of 2015 with a hip injury – he's on track for training camp, according to Wood – and four-year veteran Josh Bynes is fresh off a breakout showing. Bynes thrived in a much bigger role than he had in 2014, leading Lions LBs in defensive snap percentage (78.0) and ranking as PFF's 13th-best 'backer last season.
If the Lions don't keep Whitehead, who will presumably man the middle in the event he re-ups, perhaps they'll join the Danny Trevathan sweepstakes. The 25-year-old was highly productive for the Broncos two of the last three years and helped their defense steamroll its way to a championship last season. Trevathan accrued 109 tackles, two picks and, in PFF's view, was the league's 10th-best LB. He'll next try to cash in as a free agent, and if he's out of the Lions' price range, they could use the draft as a means to replace Whitehead. Early round possibilities for the Lions include Reggie Ragland (Alabama), Jaylon Smith (Notre Dame) and Scooby Wright (Arizona State), as Rothstein wrote earlier this week.
Much like their linebacker situation, whether the Lions find noteworthy safety help from outside will depend on the fate of in-house talent. In this instance, it's the aforementioned Abdul-Quddus. Letting him go could lead the Lions in the direction of free agents like the Bengals' Reggie Nelson and George Iloka, Eric Weddle (Chargers) and Tashaun Gipson (Browns).
Extension Candidates/Contract Issues: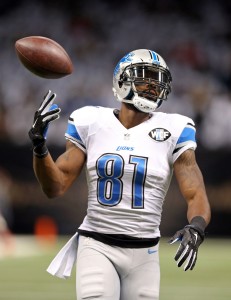 If Johnson continues playing, the Lions could ask him to restructure his contract. As mentioned above, he's due a $15.95MM salary next season and a cap hit in excess of $24MM.
When the Cardinals and receiver Larry Fitzgerald reworked his deal last offseason, they may have set an example for the Lions and Johnson to follow this year (that's the Lions' hope, anyway, as Rapoport tweeted earlier this month). Fitzgerald was scheduled to make $16MM and carry a $23.6MM cap figure last season, but the restructuring created $13MM in space for 2015 and guaranteed Fitzgerald $22MM over two years.
Though Johnson's future is in doubt, one cornerstone player the Lions won't lose anytime soon is defensive end Ezekial Ansah. The Lions have to decide this offseason whether to exercise or decline Ansah's fifth-year option for 2017. They're sure to pick it up, guaranteeing he'll remain under their control for at least two more seasons. Since the Lions took Ansah fifth overall in the 2013 draft, the former BYU star has totaled 30 sacks and nine forced fumbles. He piled up career bests (14.5 and four) in those categories last season.
While Ansah is the prime get from the Lions' 2013 rookie class, they found several more useful contributors that year in a tremendous draft for the franchise. Second-round cornerback Darius Slay leads a group that also features Warford (third round), defensive end Devin Taylor (fourth round), punter Sam Martin (fifth round) and Riddick (sixth round). The bad news for Detroit is that those five are just a year from free agency. The team could look to extend any or all of them this offseason, though.
Slay, 25, has done the most to earn an exorbitant contract. The 6-1, 192-pounder started 16 games for the second straight year and ranked as PFF's No. 2 overall corner (111 qualifiers) last season. Knowing he's in line for an appreciable raise, Slay hired Rosenhaus Sports to represent him in January and then approached the Lions about an extension earlier this month, Meinke reported. Rogers wrote earlier this week that Slay could end up with a five-year deal worth $50MM to $55MM, including $20MM in guarantees. Those totals would presently rank seventh and sixth, respectively, among corners.
Warford has started in all 42 of his career appearances, though PFF wasn't nearly as enamored with him as it was Slay last season. The site gave Warford a run-of-the-mill overall mark (39th out of 81 qualifying guards) and a particularly poor grade as a run blocker. If the Lions and Warford open extension talks, he could use the deal fellow right guard James Carpenter signed with the Jets last year as a comparable. Carpenter, who also wasn't a PFF darling, spun 39 starts in four seasons into a four-year, $19MM contract. Carpenter is now sixth among right guards in total value, seventh in yearly value ($4.75MM) and 12th in guaranteed money ($5.5MM).
Taylor took on a larger role than ever last season and impressed, playing over 52 percent of the Lions' defensive snaps (up from 21.5% in 2014) and collecting the second-most sacks on the team (seven). Taylor's current value isn't easy to pin down as far as a contract goes, but rushing the passer is a premium skill and he'll set himself up for a healthy payday with a repeat (or an improvement) in 2016.
Martin has ranked in the top 10 in the league in net punting average in all three of his seasons. He could therefore seek top 10 money at his position, which would mean upward of $2.8MM annually.
As for Riddick, he has never been much of a factor as a rusher (72 career attempts, 2.9 YPC), but he did lead all running backs with 80 receptions last season. If he and the Lions discuss an extension in the coming months, they could settle in the $1.5MM to $2.5MM yearly range. That's what pass-catching backs like Dion Lewis, Bilal Powell, Roy Helu and Reggie Bush have signed for over the past year. Given Riddick's limitations as a runner, he shouldn't warrant more than that.
Overall Outlook:
It's clear that Johnson's decision, whether it's to retire or stick around, will be the defining story of Detroit's offseason. His choice will carry heavy cap ramifications, and those consequences will help chart a course for Quinn as he tries to push the Lions from mediocrity to the postseason.
Quinn doesn't have to make an overwhelming amount of upgrades to get the Lions back into the hunt, but the roster's main weaknesses are glaring. If Johnson exits and isn't properly replaced and the defensive line isn't satisfactorily addressed, the Lions might require a sequel to Stafford's superhuman performance from late last season in order to contend for a playoff berth in 2016. Of course, that output will be all the more difficult for Stafford to replicate if his only proven wideout is Golden Tate.
Information from Over The Cap was used in the creation of this post. Photos courtesy of USA Today Sports Images.
Follow @PFRumors