Pending free agents:
Top 15 cap hits for 2016:
Notable coaching/front office moves:
Draft:
Other:
Overview:
After making it to the AFC Championship at the end of the 2014 season, the Colts entered 2015 as a trendy pick to represent the conference in Super Bowl 50. However, Indianapolis' veteran free agents, such as Andre Johnson, Trent Cole, and Todd Herremans, failed to have the impact the team had hoped for, and franchise quarterback Andrew Luck battled injuries for nearly the entire season, appearing in only seven games.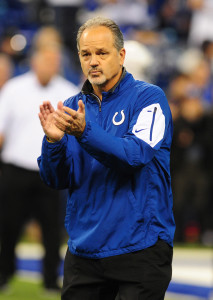 The AFC South was weak enough that the Colts remained in contention all year, but the club ultimately lost out to the Texans, finishing with an 8-8 record. For a franchise with Super Bowl aspirations, it was a hugely disappointing result, and head coach Chuck Pagano was widely considered a goner, with an outside possibility that GM Ryan Grigson would follow him out the door.
Instead, Colts owner Jim Irsay announced at season's end that he intended to move forward with Pagano and Grigson, extending the contracts of both men. Pagano, whose contract had been set to expire, received a new four-year deal, while Grigson's pact was extended by three years so that it runs through 2019, like Pagano's.
Despite maintaining continuity at head coach, the Colts made several changes to Pagano's staff in recent weeks, bringing in Georgia offensive coordinator Brian Schottenheimer to coach the quarterbacks, former Dolphins head coach Joe Philbin to lead the offensive line, and Ravens linebackers coach Ted Monachino to run the defense. The message was clear: Pagano wouldn't lose his job as a result of the Colts' 2015 struggles, but an overhaul of the staff was required, and going forward, similar results won't be acceptable.
For the Colts to turn things around and return to contention in 2016, it starts with Grigson, who has made some questionable free agent signings and draft choices since taking over as the club's GM. After last year's foray into veteran free agency backfired, the club figures to be a little more cautious on the open market this time around, but the real key to success will be a higher success rate on draft picks, since Indianapolis needs to add some talented, young players to its core.
Key Free Agents:
The two top tight ends on the Colts' depth chart are eligible for free agency this winter, with both Coby Fleener and Dwayne Allen just a few weeks away from hitting the market. Of the two, Fleener is clearly in line for the bigger deal — not only is he the more productive pass catcher, but Pro Football Focus graded him as a significantly better blocker than Allen in 2015, even though Allen has historically been solid in that regard.
While the Colts would probably like to lock up Fleener, they won't want to give him the sort of deal that young tight ends like Travis Kelce and Zach Ertz have signed so far this offseason. Both Kelce and Ertz signed contracts worth at least $8.5MM annually, placing them among the top five highest-paid tight ends in the NFL. But those players are coming off seasons in which they caught 70+ balls for 850+ yards. Fleener has never reached either of those benchmarks, which should make him a little more affordable. A deal in the neighborhood of $7.5MM per year might make sense, and it will be interesting to see if Indianapolis is willing to invest at that price.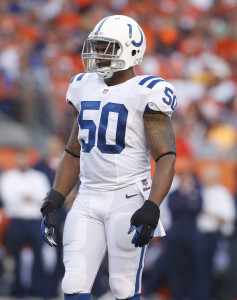 While Allen may not be as crucial to the Colts' offensive production as Fleener is, he's also not a lock to head elsewhere. Allen and free agent linebacker Jerrell Freeman recently turned to Rosenhaus Sports for representation, which could be a good sign for Indianapolis, since Drew Rosenhaus has a history of getting deals done with the club.
Locking up Freeman would be big for the Colts' defense — the 29-year-old is coming off a season in which he ranked fourth overall among 97 linebackers, including first against the run, according to PFF's grades. Although that sort of performance as a run defender looks like something of an anomaly for Freeman, he has always been solid in coverage. If he can continue to play well against the run, it's even more essential that the Colts keep him under contract. Inside linebackers typically aren't huge earners, but Freeman could be in line for some nice offers if he reaches the open market, so if the Colts want to keep him, it wouldn't be a bad idea to try to get something done before March 9th.
Two of the league's oldest players will see their contracts with the Colts expire next month, but it sounds as if both veterans want to continue their careers in Indianapolis. There's mutual interest between the Colts and kicker Adam Vinatieri in a new deal, and it shouldn't be hard for the two sides to figure something out.
Vinatieri's previous contract averaged just $2.5MM per year, which is a very team-friendly price for a kicker who has been so reliable for so long. In 2015, Vinatieri made his final 25 field goal attempts, and if he sticks with the Colts for a couple more seasons, he has a chance to make a run at the NFL's all-time scoring record — he currently sits third, less than 300 points behind Morten Anderson, and less than 200 from Gary Anderson.
Meanwhile, longtime signal-caller Matt Hasselbeck took a beating on the field in relief of Luck in 2015, but it didn't discourage him from wanting to continue his career into his early 40s. Hasselbeck announced this week that he'd like to play in 2016, and the Colts seem like a good fit for him going forward.
While the team is currently carrying Josh Freeman and Stephen Morris on its roster, it's not clear if either of those QBs will be ready to step in as the No. 2 behind Luck, so Hasselbeck would provide some veteran stability. He didn't play badly when forced into action this past season, leading Indianapolis to a 5-3 record in his starts. If Hasselbeck re-signs with the Colts, the team probably doesn't need to bring back Charlie Whitehurst, who is also a free agent.
Elsewhere in the offensive backfield, Ahmad Bradshaw and Boom Herron (restricted) are free agents, though it would be a bit surprising if the Colts bring both players back. Having struggled to find consistent production at the running back spot during Luck's time with the team, it might make sense for the team to use a mid-round pick on a back to pair with Frank Gore, re-signing Herron for primarily special teams work. If the club doesn't want to use a pick on the position this year, perhaps Bradshaw returns for one more season, but the Colts need to start getting younger here at some point.
Finally, the backfield on the other side of the ball is also a cause for concern this winter, with two starters – cornerback Greg Toler and safety Dwight Lowery – facing unrestricted free agency. If the Colts just bring back one of those two players, which I expect, they'll almost certainly prioritize Lowery, whose first season in Indianapolis (76 tackles, four interceptions) was impressive. Lowery isn't a star, but penciling him in at free safety and counting on him to be solid allows the club to focus on other areas. Toler, on the other hand, gets beaten by wideouts too frequently to be relied upon — if the Colts keep him around, it should be as a depth piece, not as a starter.
Possible Cap Casualties:
The Colts' list of potential cap casualties this offseason is practically a who's-who of the team's most noteworthy March signings over the last two years. The most obvious candidates on the list are wide receiver Andre Johnson and outside linebacker Trent Cole, who joined the team a year ago.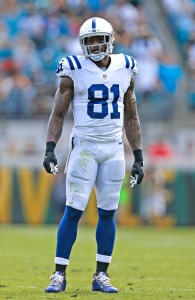 Having played with 13 different starting quarterbacks during his 12 years in Houston, Johnson was viewed as an ideal match for Andrew Luck, but the veteran wideout caught only 41 passes for 503 yards in 2015, his worst ever full-season totals. Unless the Colts are banking on a significant bounce-back season from Johnson, it probably makes sense to cut him before his $2.5MM roster bonus is due on March 13th, since the team could trim his cap charge from $7.5MM to just $2.5MM. Because that dead money comes in the form of a partially guaranteed 2016 base salary, Indianapolis wouldn't make that move until the start of the new league year.
Like Johnson, Cole was expected to be somewhat rejuvenated by joining a Super Bowl contender. Instead, he appeared in fewer than half of the Colts' defensive snaps, matching a career low with just three sacks. Cole has just one year remaining on his contract, and Indianapolis could create $6.125MM in cap savings by releasing him, so that looks like the logical move.
While 2015's free agent class perhaps features the most obvious release candidates, there are a handful of 2014 signees in danger of losing their roster spots in Indianapolis as well. Defensive lineman Arthur Jones has been unable to stay healthy since inking a five-year, $33MM pact with the Colts, a deal which no longer includes any guaranteed base salary. Indianapolis would only reduce Jones' 2016 cap hit from $5.6MM to $3.3MM by cutting him, so if the team is holding out hope that he can make an impact, he may survive one more season.
Inside linebacker D'Qwell Jackson and outside linebacker Erik Walden, on the other hand, have both stayed healthy, but have less dead money remaining on their deals. Jackson and Walden probably aren't difference-making defenders going forward, and the Colts could clear more than $9MM in 2016 cap room by cutting both of them, so those are moves that should be considered if the team has potential replacements in mind.
Finally, the cap savings for cutting two more linebackers, Bjoern Werner and Sio Moore, wouldn't be huge (in the ballpark of $1.5MM apiece), but the Colts could consider parting ways with both players this offseason. Werner has never been the player Indianapolis hoped he would be after selecting him in the first round of the 2013 draft, while Moore reportedly fell out of favor in Oakland partially due to questions about his attitude, and was arrested last month.
Positions Of Need:
As long as Andrew Luck enters the 2016 season healthy, the Colts have no uncertainty at the quarterback position, but the team faces questions at virtually every other offensive position this offseason. Will a 33-year-old Frank Gore be capable of continuing to lead the Colts' rushing attack? If Andre Johnson isn't back, will the team need to add another veteran wideout to complement T.Y. Hilton, Donte Moncrief, and Phillip Dorsett? Will Coby Fleener and Dwayne Allen be re-signed, or will the Colts need to pursue tight end help?
Still, the Colts' top priority on offense this offseason should be on the offensive line, which will need to do a better job in 2016 of keeping Luck upright and creating holes for Gore and the rest of the club's ball-carriers. Anthony Castonzo should enter the season as the team's left tackle, and Jack Mewhort and Joe Reitz showed enough last season that they can probably be counted on to start as well, whether at guard or at right tackle.
That still leaves two openings on the offensive line, and while there are a few in-house options the Colts could turn to, the team should make every effort to upgrade those spots. There will be no shortage of free agent options, including a handful that the team's coaching staff is familiar with — offensive coordinator Rob Chudzinski coached tackle Mitchell Schwartz and center Alex Mack, who is likely to opt out, in Cleveland during his brief stint as the Browns' head coach, and new OL coach Joe Philbin had guard Richie Incognito on his roster in Miami, though that relationship became rocky.
With the flexibility to move Retiz and/or Mewhort around a little, if needed, the Colts could target centers, guards, or tackles this winter, opening up a ton of options for the team as it tries to determine the best possible fits on its line. Centers Manny Ramirez, Ben Jones, and Stefen Wisniewski, guards Brandon Brooks, Evan Mathis, and Geoff Schwartz, and tackles Jake Long, Andre Smith, and Joe Barksdale are among the other veteran free agents the Colts could kick the tires on. Targeting offensive linemen in the draft is also a viable strategy. In their most recent mock drafts, ESPN's Mel Kiper and Todd McShay have the Colts using their 18th overall pick on Alabama center Ryan Kelly and Ohio State tackle Taylor Decker, respectively.
Using that first-round pick to fortify Indianapolis' offensive line is a defensible approach, but it might make more sense for Ryan Grigson and the Colts to use that selection – along with a few other draft picks – to address the defense, where their are several holes to be filled.
Along the defensive front, the Colts have some solid pieces in the mix, with Henry Anderson, Kendall Langford, and Zach Kerr expected to be part of the interior defensive line rotation. If Arthur Jones is retained, the Colts may not prioritize the defensive line as one of their top positions of need, but the team could use a more reliable option in the middle. ESPN's Bill Barnwell recently suggested targeting Jets free agent Damon Harrison, and while he may be a little too expensive for the Colts' liking, the team probably shouldn't rely on David Parry as its primary nose tackle going forward, and a player like Harrison would certainly be a nice fit.
Assuming Jerrell Freeman can be re-signed, the Colts' real area of concern in the front seven is on the outside, where the team needs to do a much better job of addressing the pass rush. New defensive coordinator Ted Monachino called improving the pass rush "priority No. 1" for the Colts this offseason, expressing the desire for an "attacking" defensive unit that does a better job of getting after the quarterback — Indianapolis ranked 22nd in 2015 with 35 sacks, and nearly half of those came during a hot streak against primarily non-playoff teams in the season's final four weeks.
Robert Mathis, who tied for the club lead with seven sacks last season, will be back, but he'll turn 35 next week, and he needs some help. Outside of Von Miller, who won't reach the open market, the free agent options are limited, unless the Colts want to roll the dice on an off-field risk (Aldon Smith, Junior Galette) or another 30-something veteran (Tamba Hali, Calvin Pace). Adding a younger player to the mix with an eye toward fixing the problem long-term probably makes more sense, which is why the Colts figure to use an early-round pick on a pass rusher. In a recent mock draft, Matt Miller of Bleacher Report suggested Clemson edge defender Shaq Lawson for Indianapolis.
In the secondary, safeties Mike Adams and Dwight Lowery – if he's re-signed – are a respectable duo, but the Colts will need to address the cornerback position. While Darius Butler figures to enter the season as the slot corner and Vontae Davis is a reliable option on the outside, that leaves an opening across from Davis, where the Colts could consider a veteran.
This year's free agent market for cornerbacks features a handful of appealing options who could reach the open market, including Sean Smith, Trumaine Johnson, Janoris Jenkins, and Prince Amukamara. If the Colts aim a little lower, a couple coaching connections are worth keeping in mind — Monachino saw Ravens free agent Shareece Wright first-hand last year, while defensive backs coach Greg Williams worked with Chargers free agent Patrick Robinson in San Diego.
Extension Candidates/Contract Issues:
The long-term extensions for Anthony Castonzo and T.Y. Hilton each features sizable roster bonuses early in the new league year, and both players' 2016 salaries will become guaranteed at that point as well. If the Colts want to free up a little extra cap room, the team could opt to restructure one or both of those deals, converting the roster bonuses and/or some salary into signing bonuses, prorating that cap hit over several years.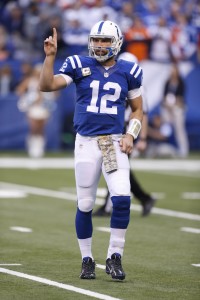 That's a minor contract issue though compared to the big one looming over the Colts this offseason: the Andrew Luck extension. There's no real drama here when it comes to whether or not it will get done — it will. The only drama will involve the total value of the extension, since it could very well be a record-breaker.
Colts owner Jim Irsay recently suggested Luck's new deal will be "eye-popping," adding that it'll be worth nine figures, and well over $20MM per year. Those numbers aren't particularly staggering, since we've seen deals exceed $120MM in total value, and $22MM in per-year salary. Will Luck be able to blow away those benchmarks, perhaps reaching $150MM in total value or $25MM in annual salary? Maybe, but I'd be more confident in his chances if he were coming off the MVP-type season everyone was expecting in 2015.
Obviously, Luck's injury-plagued '15 campaign won't force him to accept a discount from the Colts, but his résumé to date still doesn't include the kind of jaw-dropping single season that would clearly put him in line to become the league's highest-paid quarterback. The Colts and Luck's camp still recognize his value, and know that he definitely has the potential to become the NFL's No. 1 QB within the next couple years, but we'll have to wait to see how much the Colts are willing to pay for that potential.
I think Luck will ultimately exceed Aaron Rodgers' $22MM annual salary, but perhaps not by as significant a margin as I might have anticipated a year ago. No matter how the negotiations go, it will be one of the most fascinating storylines to watch this offseason.
Overall Outlook:
Between having Luck to lead their offense and playing in a weak AFC South division, the Colts have managed to mask many of their flaws in recent years, but their performance in 2015 – with and without their franchise quarterback – showed that there's still plenty of work to be done on this roster. It's possible that the return of a healthy Luck will allow the Colts to take back the AFC South in 2016. However, the division-champion Texans are a quarterback away from becoming very dangerous, and the Jaguars and Titans could be on the rise now that they've found their long-term answers at the QB position, so the Colts can't take anything for granted going forward.
With new contract extensions in hand, GM Ryan Grigson and head coach Chuck Pagano will be eager to make up for 2015's mistakes this year, and they have a daunting to-do list on tap: find a pass rush, fortify the offensive line, solidify the secondary, and make sure Luck has plenty of weapons at his disposal. If the Colts can check off a few of those boxes this offseason, they'll be well on their way to reclaiming their status as the team to beat in the AFC South.
Information from Over The Cap was used in the creation of this post. Photos courtesy of USA Today Sports Images.
Follow @PFRumors