Pending free agents:
Top 15 cap hits for 2016:
Notable coaching/front office moves:
Offensive coordinator: Retained Rob Boras, who took over job during 2015 season.
Offensive staff: Hired Bears WRs coach Mike Groh as WRs coach/passing game coordinator.
Draft:
No. 15 overall pick
Acquired second-round pick from Eagles in deal for QB Sam Bradford.
Lost fifth-round pick after using it in 2015 supplemental draft on T Isaiah Battle.
Owe seventh-round pick to Texans in deal for QB Case Keenum.
Other:
Overview:
Last season, for the first time since 2009, the NFC West was not won by the Seahawks or 49ers. Unfortunately for the Rams, however, it was the Cardinals that broke the trend. The Rams finished out the year 7-9 and even though they didn't reach the postseason, there were some distinct bright spots.
The big story of the year, of course, was the emergence of running back Todd Gurley. Gurley, the No. 10 overall pick in the 2015 draft, had to be eased into live action due to the ACL tear he suffered in his final collegiate season. Slowly but surely, Gurley was given more and more of the workload and, by the end of the year, Gurley looked like one of the game's brightest young talents. In total, Gurley rushed for 1,106 yards, becoming the third rookie in team history to rush for 1,000+ yards in a season, putting him in the same company as Jerome Bettis and Eric Dickerson.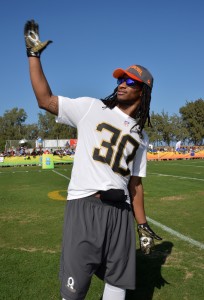 Of course, it wasn't all roses. The Rams didn't have a strong passing game to keep teams honest against Gurley, and the Rams' star running back was seeing stacked boxes for much of the year. The Rams' passing game suffered, in part, because of Nick Foles' struggles under center. Case Keenum took over the starting job later in the season – and is expected to keep it in 2016 – but he was also limited by the team's porous offensive line. With an offense that couldn't control the clock, the Rams' injury-battered defense didn't fare much better.
We're still weeks away from the start of free agency but the Rams have already undergone plenty of change this offseason. Now that they'll be making their home in Los Angeles, can the Rams win right off the bat and energize their new fan base?
Key Free Agents:
The Rams' list of free agents is headlined by cornerback Janoris Jenkins. Jenkins, regarded by some as the second-best UFA cornerback this offseason, figures to draw a ton of interest if he hits the open market. In July, the Rams tried to talk extension with the cornerback, but he chose instead to bet on himself and it appears that gamble is about to pay off. In 2015, Jenkins played (and started) in 15 games, racking up 64 tackles, a career-high 15 pass deflections, and three interceptions.
Despite his impressive counting stats, Jenkins ranked as just the 26th-best cornerback in the NFL last year based on Pro Football Focus' metrics, putting him behind fellow UFAs Josh Norman, Sean Smith, Adam Jones, Casey Hayward, and teammate Trumaine Johnson. Then again, PFF has never been a big fan of Jenkins. In 2014, the advanced metrics cast Jenkins as a slightly below average cornerback with an overall score of -1.5 that placed him 50th out of 108 eligible cornerbacks. PFF had Jenkins at No. 61 among qualified corners in 2013 and No. 101 in his rookie year. Regardless of how the advanced stats view Jenkins, he appears to be in line for a big pay day at an average annual value of $7-8MM.
With Johnson also set to hit the open market, one has to wonder if the Rams are willing to invest significant money into both of their free agent cornerbacks. Right now, most onlookers expect the team to let one of the two talented corners go. Johnson earned an 82.2 overall grade from Pro Football Focus, placing him 19th among all corners in the NFL last season. Even though the advanced numbers have Johnson ranked ahead of Jenkins, conventional thinking hold Jenkins in higher esteem.
In December, Jason Fitzgerald of Over The Cap predicted that Johnson will command a deal with a $6MM AAV, roughly $2MM less per season than Jenkins. The Rams have the cap space to bring back both players, but if they'd rather not devote big money to the position, they may be more likely to keep Johnson than Jenkins. With Lamarcus Joyner and E.J. Gaines in the fold, the Rams can afford to let one of the two go elsewhere.
On top of Jenkins and Johnson, the Rams have a third starter in the secondary due for free agency. Safety Rodney McLeod entered the league as a UDFA in 2012 and over the last couple of years, the Rams have watched him blossom into one of the NFL's better safeties. Last year, the Rams assigned McLeod a second-rounder RFA tender, giving him a 2015 salary of $2.356MM. This time around, it'll cost significantly more to retain him. The 25-year-old (26 in June) started all 16 games in 2015, totaling 81 tackles, 5 pass deflections, three forced fumbles, and one interception.
Nick Fairley was expected to secure a hefty contract last offseason after a solid contract year with the Lions, but ultimately inked a one-year pact to join the Rams. The 28-year-old played in 15 games last season before being shut down, seeing time as a rotational lineman and playing slightly less than 40% of the club's defensive snaps. The Rams are expected to discuss a new deal with Fairley, who is still reasonably young and productive (he graded as the league's No. 24 interior lineman, per Pro Football Focus).
Rams kicker Greg Zuerlein – a.k.a. Young GZ – is on an expiring deal. Will he be retained? After a year in which he made just 20 of 30 field goals, it's far from a certainty.
It will also be interesting to see what the Rams do with veteran wide receiver Wes Welker. Welker didn't make a huge impact during his time in St. Louis but he says that he intends to continue his career in 2016 "as long as I feel good and am having fun." With a move to Los Angeles coming up, Welker's name value could have some extra importance to team ownership.
Speaking of wide receivers, Brian Quick is set to reach free agency for the first time in his career. The former second-round pick has yet to live up to the hype, but the Rams could hold on to the 26-year-old (27 in June) in hopes that he'll blossom in gold and blue.
Finally, Case Keenum is a restricted free agent and Rams GM Les Snead has already stated that he won't be going anywhere. Still, the team has a big decision to make this spring. The Rams could use a second-round tender to hold Keenum, but with a number of teams looking for a QB, Los Angeles might want to give itself a bit of extra insurance. The Rams could hit Keenum with a first-round tender, which would almost certainly discourage any rival suitors from making a run at him, and wouldn't cost much more. In 2015, the first-round tender was worth $3.35MM, versus the ~$2.36MM second-round tender.
Possible Cap Casualties:
With a team-high cap number of $14.25MM, defensive end Chris Long appears to be a very likely cap casualty for the Rams. Long, 31 in March, has appeared in only 18 games over the last two seasons, putting up a grand total of 4.0 sacks and 24 tackles. The Rams will save $11.75MM if they cut Long with only $2.5MM in dead money against the cap. Still, Long does seem open to the possibility of a pay cut to remain with the franchise as it moves to Los Angeles.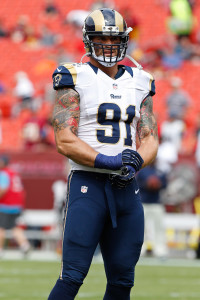 "Of course I'm open to doing something like that," Long said in January. "It's not about the money at this point for me."
Nick Foles lost his starting job in 2015, and while he may ultimately have a chance to win it back, head coach Jeff Fisher has anointed Keenum as his projected starting quarterback for 2016. With an $8.75MM cap number for the upcoming year, Foles' roster spot now doesn't look entirely safe.
After acquiring the veteran quarterback from the Eagles last offseason, the Rams signed him to an extension in August, locking him up through 2017. That deal calls for a guaranteed $6MM roster bonus, to be paid on the third day of the 2016 league year, which falls on March 11. If the Rams are confident that Foles will not be in their plans going forward, it would behoove them to either cut bait or trade him before 3/11. His trade value is not terribly high right now, but depending on who you ask, the Eagles might be interested.
Tight end Jared Cook has yet to live up to his monster contract and with a cap number of $8.3MM looming, it might make sense for the Rams to bail out on his deal. Luckily for L.A., all of Cook's guaranteed money has been paid, so he could be released with minimal salary cap ramifications. Over the last three seasons, Cook has hauled in 142 receptions for 1,786 yards and eight touchdowns, but he does not offer elite production to match his high-end pay.
Cook has the fourth-highest cap number on the Rams this year and just behind him at No. 5 is linebacker James Laurinaitis. Laurinaitis isn't necessarily pricey with a cap number of $6.4MM, but he does seem overpaid. Oft-injured offensive lineman Rodger Saffold carries a cap number of ~$5.65MM and could be on the chopping block. Dropping wide receiver Kenny Britt could alleviate the Rams of a $4.85MM commitment, but that would leave the team with even more question marks at the position.
Positions Of Need:
The Rams are saying that Keenum will be the main guy under center, but that's probably not their ideal plan for 2016. Even if they roll with the soon-to-be 28-year-old, the Rams will have to figure out a better long-term solution at QB. Thanks to their middle-of-the-pack finish in 2015, the Rams likely won't be in the mix for the likes of Jared Goff or Carson Wentz without a trade that moves them up significant from the No. 15 pick.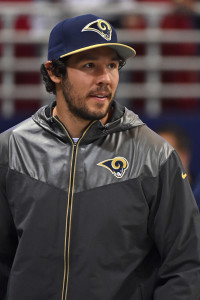 The free agent market at QB could be headlined by Sam Bradford, who is unlikely to receive the franchise tag from the Eagles. Bradford, who came to the Eagles in the trade that sent Foles to the Rams, struggled out of the gate in his first season in Philly, though he did play much better in the second half of the year as he grew more comfortable in Chip Kelly's offense. A reunion between the Rams and Bradford would make some sense, particularly because the veteran is already familiar with Fisher's offense.
The open market could also feature the likes of Ryan Fitzpatrick, Kirk Cousins, and Brock Osweiler. All three quarterbacks are worth consideration for a team in need of a signal-caller, but they are not especially glamorous options for the L.A. market. Could the Rams instead make a play for one of the greatest QBs in the history of the game? Peyton Manning is, obviously, not what he once was, but he would represent a major splash for the Rams as they enter the nation's No. 2 media market. Prior to the Super Bowl, it was reported that the Rams have discussed Manning internally. A few weeks after the big game, however, it sounds like Manning is more likely to retire than take the field again.
Aside from quarterback, the Rams will have to address the wide receiver position, especially since things will be fluid heading into the offseason. As mentioned earlier, Brian Quick is due to hit the open market and Kenny Britt could be cut loose without any real financial penalty. Even if one or both players return to the Rams, it's clear that the team will have to add another receiver alongside the speedy Tavon Austin. Unfortunately for L.A., however, the wide receiver market isn't very strong outside of Alshon Jeffery, and the Bears might lock him down in the next couple of weeks. Other free agent options include Mohamed Sanu and Marvin Jones of the Bengals and Jermaine Kearse of the Seahawks. If the Rams want to make a low-risk, high-reward type of addition, they could target Giants receiver Rueben Randle.
The Rams' pass rush was weak in 2015 and they'll have to address the front seven. That need only increases when considering that both Long and Laurinaitis are potential cap casualties. The Rams specifically need to address the linebacker position and it's not clear if they'll have the financial flexibility to land someone like Seahawks linebacker Bruce Irvin.
Gurley was deadly, at times, in 2015 , but he was bottled up in some games thanks to a mediocre offensive line. Starting interior linemen Rodger Saffold and Jamon Brown had to be placed on IR and left tackle Greg Robinson has been shaky. The Rams can be expected to target a guard this spring, but the club's whole offensive line should be closely examined. If Rodney McLeod goes, the Rams will also have to figure out an alternative at safety.
Extension Candidates/Contract Issues:
The Rams picked up Michael Brockers' option for 2016, worth $6.146MM. The Rams could seek to hammer out an extension with him that will keep him in Los Angeles in 2017 and beyond. As the Rams learned prior to the 2015 season when teams were buzzing with trade interest, Brockers will draw several eager suitors if he hits the open market.
Brockers, 25, has been a staple of the Rams' defensive line since being taken with the No. 14 pick in the 2012 draft. The defensive tackle totaled just 32 tackles and 2.0 sacks in 2014 but he saw an uptick in 2015 with 3.0 sacks and 45 total tackles. For what it's worth, however, the advanced metrics at PFF (sub. req'd) rated him as the 28th-best DT in the league last season. That put him in a virtual tie with 49ers lineman Arik Armstead who, by most evaluations, was underwhelming in his rookie season.
Overall Outlook:
The Rams love L.A. like Randy Newman, but will the city of Los Angeles love them back? The Rams will get lots of love upon making their L.A. return, but the honeymoon won't last long if they can't win.
Information from Over The Cap was used in the creation of this post. Photos courtesy of USA Today Sports Images.
Follow @PFRumors