Pending free agents:
Top 15 cap hits for 2016:
Notable coaching/front office changes:
Draft:
Other:
Overview:
In his first two seasons with the Eagles, Chip Kelly contradicted the notion that an innovative college coach can't take his act to the NFL and succeed. While the Eagles only appeared in one playoff game during those years – a 26-24 loss to New Orleans in January 2014 – they went 20-13 overall and were one of just seven teams that amassed double-digit victories in both seasons. Kelly then made the mistake of taking control of the Eagles' roster last offseason and his tenure in Philadelphia began its swift descent off the proverbial cliff.
Critics spent months deriding the out-of-the-box moves made by Kelly, who was either going to prove his detractors right or cement himself as a genius during the 2015-16 campaign. Unfortunately for Kelly, his methods backfired and, after he guided the Eagles to a 6-9 record as part of the subpar NFC East, the team canned the mad scientist with one game left in the season.
Thanks to Kelly's departure, the Eagles' front office is back in the hands of executive vice president of football operations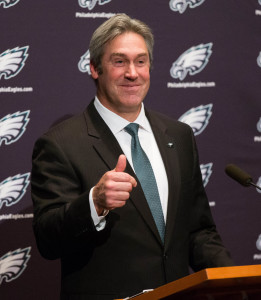 Howie Roseman, with whom Kelly had an adversarial relationship. Roseman and the rest of Eagles brass embarked on a multi-week search for Kelly's replacement and chose Doug Pederson after failing to reel in either Ben McAdoo or Tom Coughlin.
Pederson, previously the Chiefs' offensive coordinator, played and coached in Philly in the past, and his third stint with the Eagles got off to a positive start with the hiring of two accomplished coordinators in Jim Schwartz and Frank Reich.
Schwartz last coached in 2014, when he coordinated the Bills' defense to a fourth-place finish and a league-high 54 sacks. It's worth noting that, despite having mostly the same personnel, Buffalo's defense disintegrated sans Schwartz last season, finishing 19th overall and plummeting to 31st in sacks. The Eagles have some enviable pieces on defense and Schwartz figures to get the most out of them as he transitions the unit from the 3-4 base used under predecessor Billy Davis to a 4-3.
One of the Eagles' defensive stalwarts, edge rusher Vinny Curry, signed a five-year, $47.25MM on Feb. 2 and implied afterward he'd have tested the free agent market in March if not for the change from Davis' scheme to Schwartz's (Twitter link via Zach Berman of the Philadelphia Inquirer). Curry also expressed confidence that a long-term deal is coming for fellow lineman Fletcher Cox, who has one year left on his contract. Pro Football Focus (subscription required) ranked Cox as a top-10 interior defender last season, and he's primed to become even more monstrous in Schwartz's defense.
In addition to trading up from Davis to Schwartz, it should benefit Curry, Cox and their defensive cohorts that they presumably won't be on the field nearly as much as they were during the era of Kelly's fast-paced offense. Exhibit A: Thanks in part to an offense that was worst in the NFL in time of possession, the Eagles accumulated the most defensive plays in the league last season (1,148). That contributed to their horrid rankings in yardage (30th) and points (28th) allowed.
Speaking of offense, while Reich hasn't had Schwartz-like success as a coordinator, he's still a solid pickup for Pederson's staff. The Chargers' offense was above average – 10th and 15th, respectively – in Football Outsiders' DVOA during Reich's two seasons running it. Reich won't call the plays with the Eagles, however. That responsibility will instead lie with Pederson, who will take on a role that belonged almost exclusively to Andy Reid when Pederson was in Kansas City. Still, Pederson had a hand in the success of a Chiefs offense that ended last season sixth in both DVOA and rushing, despite losing elite running back Jamaal Charles to injury in the early going.
Since late December, Philadelphia has turned over its coaching staff and awarded contract extensions that could be worth upward of $160MM to Curry, tight ends Zach Ertz and Brent Celek, and offensive tackle Lane Johnson. If things go according to plan for the Eagles during the next several months, they'll lock up Cox, strengthen the remainder of their roster, and find a personnel chief to join their Roseman-led front office.
Key Free Agents:
Five players who started at least 11 games for the Eagles last season are currently without contracts. The most prominent of the bunch is easily quarterback Sam Bradford, whom Kelly acquired from the Rams last winter in a deal that sent QB Nick Foles and a second-round pick to St. Louis.
In his first (and only?) season with the Eagles, Bradford started 14 games – his most since 2012 – and established new career highs in completion percentage (65.0), yards (3,725) and yards per attempt (7.00). He also tossed 19 touchdowns against 14 interceptions. Bradford was particularly effective from November onward, connecting on better than 68 percent of attempts while totaling 10 TDs and four picks.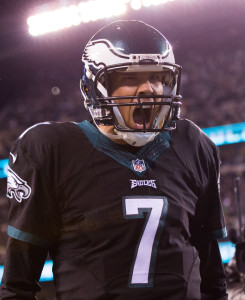 The question now is whether the Eagles want to continue with Bradford, who is a good bet to get a raise over the ~$13MM he made last season. For his part, Roseman said earlier this month that "everything is positive about Sam" (link via Berman). Before that, Pederson stated at his introductory press conference that Bradford is "a top-notch quarterback" who "would fit perfectly" in his offense (link via Dave Zangaro of CSNPhilly.com). All of that could be lip service, of course, and it's no sure thing that Bradford even wants to go forth as an Eagle.
Peter King of TheMMQB.com reported in January that Bradford "isn't crazy about Philadelphia" as a city, which could lead him to test the market. That won't be an option if the Eagles apply the estimated $20MM franchise tag to Bradford, a possibility that ESPN's Adam Schefter has shot down (Twitter link). Both Jeff McLane of the Philadelphia Inquirer and Les Bowen of the Philadelphia Daily News have since contradicted Schefter, tweeting (links: 1, 2) that the Eagles haven't ruled out tagging Bradford.
If the two sides wish to stay together, a short-term contract would clearly be the best route for the Eagles to take. Bradford hasn't shown he's worth big money over the long haul, as inconsistency and various injuries have beset his career since he went No. 1 in the 2010 draft. CBS Sports' Joel Corry told PhillyMag.com last month that Bradford could be amenable to a one-year deal, while Jason Fitzgerald of Over the Cap wrote in November that a two-year accord worth nearly $30MM might be enough. More realistic, perhaps, is Spotrac's projection of three years in the $56MM range. In terms of annual value, that would put Bradford in company with Ryan Tannehill, Colin Kaepernick and Jay Cutler. Like Bradford, those three have been much closer to average than great during their careers.
The remainder of the Eagles' priority free agents are on defense: Lineman Cedric Thornton, cornerback Nolan Carroll and safety Walter Thurmond all scheduled to hit the market next month.
Thornton, who has started in all 45 of his appearances with the Eagles the past three years, will probably have to shift from 3-4 end to 4-3 tackle if he wants to remain with the team. That isn't necessarily a deal-breaker, though, as the 27-year-old began his career with the Eagles in ex-coordinator Jim Washburn's 4-3 in 2012. Moreover, the Washburn-led Eagles lined up in a "wide nine," which Schwartz has also utilized.
When the Eagles hired Schwartz, he praised their front seven personnel and mentioned Thornton (link via Bowen), so the change in scheme shouldn't rule out his return. However, the Eagles could have a difficult time keeping Thornton because of the expected position switch. There's a chance Thornton will get more money elsewhere to serve as a starting end in a 3-4 than as a presumed reserve tackle in the Eagles' 4-3.
Carroll's future in Philadelphia is in jeopardy because of the presence of Eric Rowe, whom the club could promote to full-time starter opposite Byron Maxwell. Rowe, a second-round pick last spring, took the reins from Carroll in November after the latter broke his leg. If the Eagles liked what they saw and think Rowe deserves to continue as a starter, that might seal Carroll's fate. Carroll, who made $2.9MM in 2015-16, started in all 11 of his appearances, picked off two passes and ranked as PFF's 53rd-best corner (111 qualifiers).
Arguably of greater importance than both Thornton and Carroll is Thurmond, who proved to be an excellent buy-low investment by the Eagles. After signing a one-year deal, Thurmond moved from corner – where he spent the first five seasons of his career – to safety and proceeded to start all 16 of the Eagles' games while playing just under 99 percent of their defensive snaps. The 28-year-old also intercepted a career-high three passes and finished as PFF's 26th-best safety (88 qualifiers). As a result, odds are Thurmond won't have to settle for a third straight single-year contract (he previously signed one in 2014 with the Giants). With a raise on the way, Thurmond expects to be one and done in Philly.
"They only have $17MM in cap space. Economically it doesn't make sense for them. I would love to be here. I love playing here. But that's the way it is," he told Bob Grotz of the Delaware County Daily Times in January.
While Thurmond isn't hopeful about continuing with the Eagles, the team will try to re-sign him, according to Geoff Mosher of 97.5 The Fanatic (Twitter link).
Possible Cap Casualties:
The Eagles racked up their first cap casualty of 2016 with the recent pink slip given to receiver Riley Cooper, whose exit saves them $2.9MM this year.
The team could also conceivably cut running back DeMarco Murray, Ian Rapoport of NFL.com reported earlier this month.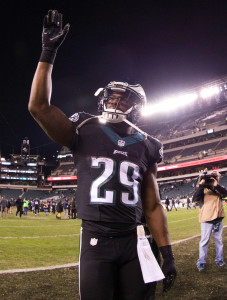 That wouldn't benefit the Eagles financially, however, as releasing Murray prior to June 1 would leave them with $13MM of dead cap this year. If they designate him a post-June 1 cut, he'd still eat up $8MM of their cap.
In response to Rapoport's notion that Murray and the Eagles "are headed toward a stare-down," Murray expressed his commitment to the club. After signing a five-year, $42MM deal last winter to leave the Cowboys for the Eagles, Murray failed to fit into Kelly's offense. Compared to Murray's final year in Dallas, his carries dropped by 199, his yardage fell by 1,100-plus, and he averaged 1.1 fewer yards per rush and scored six fewer touchdowns.
Given that Kelly is gone and Murray's contract is an anvil, it would seemingly make sense for the Eagles to let him have another shot next season and hope he can regain something resembling his prior form. Murray, 28, is only one season removed from earning AP Offensive Player of the Year honors.
With Murray in the fold, the Eagles are on their way to dedicating an excessive amount of cap next season – $16.5MM, to be exact – to their top three running backs. They'd be able to recoup $3.5MM of that total by sending Darren Sproles packing. That could be a long shot, though, given that Sproles is a dual threat on offense and has made back-to-back Pro Bowls as a returner. Still, Sproles will soon turn 33 and saw most of his numbers decline from the previous year.
An even bigger long shot is releasing longtime left tackle Jason Peters, who currently has the largest cap hit on the team. While the Eagles stand to save a significant amount by moving on from the eight-time Pro Bowler (over $6.7MM pre-June 1 or $8.7MM+ after), it's doubtful they will. The 33-year-old is out of his prime, but he's still a terrific player. Pederson agrees, having spoken highly of Peters last month.
"I think J.P.'s got several good years left in him," he told Reuben Frank of CSNPhilly.com. "I think that he does the right things in the offseason to get himself ready to go for another year."
It's safe to say linebacker DeMeco Ryans is at greater risk of losing his roster spot than anyone listed above. The soon-to-be 32-year-old is valued in Philly for his veteran leadership, but his play has tailed off and cutting him would save the Eagles $3.5MM.
Giving the ax to Mark Sanchez, who's the best QB the Eagles have under contract, would also open up $3.5MM of room. The only way that will happen is if the club find two other viable signal-callers this offseason.
Positions Of Need:
Quarterback is obviously the Eagles' primary concern. If Bradford isn't in their plans, one player who has come up lately as a potential replacement is the aforementioned Foles, who was among the league's worst QBs in 2015. Prior to last season, Foles had an up-and-down three years in Philly – including a stellar 2013 highlighted by 27 TDs against two INTs – and Schefter recently tweeted that the Eagles are interested in bringing him back. McLane and Bowen once again rebutted Schefter's report, however.
Other than Foles, whom the Rams must trade prior to March 11 if they want to avoid taking on his $6MM bonus for 2016, veteran options include Kirk Cousins, Brock Osweiler, Ryan Fitzpatrick and Chase Daniel – all of whom are unsigned. The chances of Cousins actually reaching the market are close to nonexistent, while Osweiler and Fitzpatrick are expected to re-sign with the Broncos and Jets, respectively. Daniel spent the last three years as Alex Smith's backup in Kansas City and worked under Pederson, but the 6-footer lacks height and has thrown a meager 77 passes in the pros since going undrafted in 2009.
Robert Griffin III and Kaepernick are still signed in Washington and San Francisco, respectively, but it surely won't be for much longer in RGIII's case. Based on the trajectory of Griffin's career in recent years, it would be foolhardy for any team to count on him as a starter. However, Kaepernick isn't a lock to stay with the Niners, and he might be worth a look for the Eagles if he's cut. The 28-year-old was an above-average starter from 2012-14 and continues to possess world-class mobility. That could appeal to Pederson, who comes from coaching an offense that took advantage of Smith's fleetness.
Without signing Bradford or acquiring any of the other vets, the Eagles would almost have to gamble on a QB in the first round of the draft. In his most recent mock draft, Matt Miller of Bleacher Report has 6-foot-7 Paxton Lynch (Memphis) going to the Eagles with the 13th pick.
Should the Eagles eschew the QB position in the opening round, they could address their offensive line instead. Aside from their starting tackles (Johnson and the aging Peters) and center Jason Kelce, the Eagles' line is bereft of dependable blockers. Part of that stems from not having drafted an O-lineman since 2013, when Johnson went fourth overall.
That will change this year, potentially in the first round. The Eagles don't have a second-rounder, so they might have to use their top pick to add big-time young talent to their line. It's a safe assumption that the first- and second-ranked tackles, Laremy Tunsil (Ole Miss) and Ronnie Stanley (Notre Dame), will be gone by No. 13. Taylor Decker (Ohio State) and Jack Conklin (Michigan State) should be on the board, however. As for guard, the Eagles have been connected to Kansas State's Cody Whitehair.
Of course, there will also be free agents available with the ability to improve the Eagles' line. Pederson happens to be familiar with Jeff Allen, one of the foremost guards scheduled to reach the market. Allen joined the Chiefs as a second-rounder in 2012, the year before the club hired Pederson. Given their less-than-ideal guard situation and Pederson's connection to Allen, it'll be a surprise if the Eagles don't pursue the 26-year-old.
The Eagles also need to bolster their receiving corps, having gotten minimal production from 2015 first-rounder Nelson Agholor and 2014 third-rounder Josh Huff. It's too early to write off either player, especially Agholor, but the fact is that that the club's only proven wideout is Jordan Matthews. Assuming the Eagles don't join the Alshon Jeffery sweepstakes or splurge on the position in the form of another first-rounder, free agents-to-be like Rishard Matthews (Dolphins), Rueben Randle (Giants) and Mohamed Sanu (Bengals), to name a few, could be on their radar.
Even after signing Maxwell to a mammoth deal and using a high pick on Rowe a year ago, the Eagles' secondary continues to stand out as a problem. Maxwell and Rowe didn't exactly dominate last season, and even if they had, the Eagles would still need more help behind them. That's especially true in light of Carroll's status as a pending free agent. With Thurmond a candidate to bolt this year and Malcolm Jenkins possibly on his way to doing the same in 2017, safety is even more of a worry for both next season and the long term.
Elsewhere on defense, the Eagles' front four is in outstanding shape on paper. Connor Barwin, who is moving from linebacker to defensive end (link via Matt Lombardo of NJ.com), joins a line that will also heavily feature Cox, Curry, Brandon Graham and Bennie Logan.
At linebacker, Jordan Hicks, Mychal Kendricks and Kiko Alonso figure to get the lion's share of playing time. Kendricks and Alonso both struggled last season, but the hope is their play will recover under Schwartz. Regardless, the Eagles could use more linebacker depth, especially with Ryans' future in question.
Extension Candidates/Contract Issues:
As mentioned, the Eagles have made sizable financial commitments to Curry, Johnson, Ertz and Celek in recent weeks. Next on their agenda is Fletcher Cox, who will be more expensive than everyone in that group.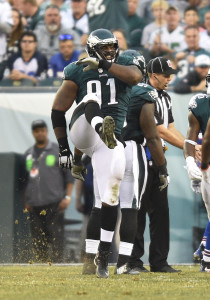 The 25-year-old is poised to become one of the league's richest defenders, in fact, with Eliot Shorr-Parks of NJ.com forecasting $50MM+ in guaranteed money and Jason Fitzgerald adding (via Twitter) that Cox has a chance to surpass the deal Marcell Dareus signed with the Bills last year. Dareus averages $15.85MM per year, with $60MM in total guarantees ($42.9MM fully guaranteed), as the league's second-highest-paid DT. Earlier this week, Shorr-Parks reported that the Eagles are getting close to an extension with Cox, which the player seemed to deny (on Twitter).
A first-rounder in 2012, Cox is entering his fifth-year option season and is scheduled to make $7.799MM. The former Mississippi State standout earned his first Pro Bowl nod last season after tallying career highs in tackles (71), sacks (9.5) and forced fumbles (three).
Like Cox, Malcolm Jenkins is coming off a wildly successful campaign and is going into a contract year. Jenkins started all of the Eagles' games, finished tops among NFL defensive backs in snap percentage (99.8), made 109 tackles, created five turnovers (three INTs, two fumbles), and ranked as PFF's second-best safety. The seven-year veteran is now eagerly anticipating his next contract, which he hopes comes from the Eagles.
"Believe me, I'm waiting. I'm trying to get in line just like everybody else," he told SiriusXM Radio this month (via McLane). "That's something I can't control. But I'm definitely interested in staying. I want to be in Philly long-term."
Jenkins, who signed with the Eagles for three years and $16.25MM in 2014, is slated to rake in $5MM next season. Considering his track record, Jenkins' next contract should put him in the top tier of safeties. One fairly comparable player is Devin McCourty, whom the Patriots signed to a five-year, $47.5MM deal last offseason. McCourty was entering his age-28 season then and had one Pro Bowl and a pair of second-team All-Pro honors to his name. He now ranks in the top three among safeties in contract value, guarantees ($22MM) and annual amount ($9.5MM). Jenkins, with one Pro Bowl bid and a second-team All-Pro selection on his resume, is in line to become a free agent at 29.
The Eagles are also at risk of losing Bennie Logan in a year. The 2013 third-rounder has missed only two games in three seasons and is fresh off a year in which PFF rated him as the league's 13th-best interior defender against the run, but there hasn't been reported talk of an extension for him. Logan is set to cap off his rookie contract with a base salary worth around $1.64MM next season. While the value of his next deal is hard to gauge, it'll be worth appreciably more than his current salary. An accord in the range of $4MM to $5MM per annum would place Logan among the league's 15 highest-paid 4-3 DTs in yearly value.
Overall Outlook:
Evidenced by the contract extensions they've doled out since their season ended, the Eagles are clearly making a concerted effort to retain their homegrown core. But deciding whether to keep Bradford, an outside acquisition, could be their most agonizing and important choice in the coming months. The Eagles certainly aren't devoid of talent, so they'll be prime bounce-back candidates in 2016 if they make the right move under center.
Information from Over The Cap was used in the creation of this post. Photos courtesy of USA Today Sports Images.
Follow @PFRumors