Pending free agents:
Top 15 cap hits for 2016:
Notable coaching/front office changes:
Draft:
Other:
Overview:
After reportedly turning down multiple offers from the Eagles in exchange for the No. 2 overall pick in last year's draft, the Titans had to be happy they did so, as they player selected at that slot, quarterback Marcus Mariota, looks like the club's franchise signal-caller. But Mariota's play wasn't enough to save the job of head coach Ken Whisenhunt, who was fired after less than two years with the team.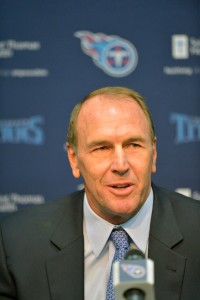 Tennessee posted a 2-7 record under interim head coach Mike Mularkey, and its 3-13 overall mark means it owns the No. 1 overall pick in this year's draft. The man making the decision on draft day will be new general manager Jon Robinson, hired away from the Patriots after a long search process. His first move as GM was to install Mularkey as the full-time head coach, inking him to a three-year deal.
The Titans opted for continuity on their coaching staff, but for a club that's finished a combined 5-27 over the past two seasons, settling for more of the same isn't going to be an option going forward, at least from a roster standpoint. Some observers have argued that Tennessee possesses the worst 53-man roster in the league, so Robinson, Mularkey, & Co. will have their work cut out for them as they aim to overhaul the club's personnel in the coming months.
Key Free Agents:
Unsurprisingly, for a club that finished 3-13, there aren't a ton of impending free agents on the Titans' roster who must be retained. In fact, it could be argued that none of the free agents listed above are locks to be re-signed, at least based on their 2015 performance.
Among the Titans' offensive free agents, right tackle Byron Bell was the most oft-used contributor, as he played on 99% of Tennessee's offensive snaps. Bell, 27, isn't a star by any means, and his (below-average) time spent protecting Cam Newton's blindside in Carolina might affect his value around the NFL. But the Titans' offensive line was one of the worst in 2015 (No. 32 in pass protection per Football Outsiders' metrics), so the club can use any modicum of talent it can get. Bell has the ability to play both tackle and guard, and isn't expected to cost much, so he could be brought back on short-term deal.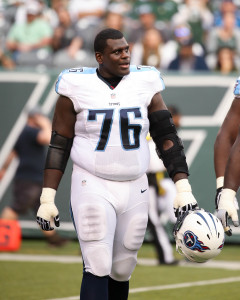 29-year-old Jamon Meredith is very similar to Bell in that he can play tackle and guard, but simply put, he's just not as talented as Bell. Tennessee needs to get younger up front, and if they do decide to keep a veteran swing tackle/guard, they should probably opt for Bell, making Meredith redundant. The Titans were Meredith's ninth NFL stop, and could be his last.
Guard/center Joe Looney does have youth on his side — the former 49er is just 25 years old — but he probably doesn't have a role on the Titans going forward. Although he started six games last season, Chance Warmack and Quinton Spain figure to open the 2016 season at guard, with Jeremiah Poutasi backing up both spots. At best, Looney would be the club's fourth option.
On the defensive side of the ball, cornerback Coty Sensabaugh saw the most action of any Tennessee free agent, playing on 95% of the team's defensive snaps. Miscast as a No. 1 corner in the absence of Jason McCourty, Sensabaugh struggled mightily, grading as league's No. 89 corner, among 113 qualifiers, per Pro Football Focus. The 27-year-old has experience, to be sure, but at this point, the Titans can only be comfortable retaining Sensabaugh as a depth piece.
Elsewhere on defense, linebacker Zach Brown probably has the strongest argument of any Titans free agent to be re-signed. A former second-round pick, Brown missed the entire 2014 season after tearing his pectoral muscle in Week 1, but rebounded in 2015, staying healthy for the duration of the year, starting five games, and playing on nearly half of the team's snaps. Still, with Avery Williamson and Wesley Woodyard manning the middle in Dick LeBeau's 3-4 defense, Brown can probably find a larger role elsewhere.
Along the defensive line, the Titans have two veterans — Al Woods and Sammie Lee Hill — heading for free agency. Both contributed last season (34% snap percentage for Woods, 18% for Hill), but both are also closing in on 30 years old. On a team that needs an infusion of youth, defensive line is a solid place to start, because the club can set up a rotation of young talent. Neither Woods nor Hill figure to be retained.
Possible Cap Casualties:
Michael Griffin has been a solid force in the Titans' secondary for a long time, but at 31 years old, it's probably time for the club to move on. Griffin finished as just the 60th-best safety in the league last season, among 88 qualifiers, per Pro Football Focus, and he's set to count $8.3MM against the cap in the final year of his deal. Cutting him would save Tennessee $6.5MM.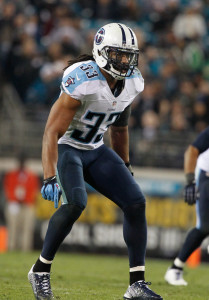 Elsewhere in the defensive backfield, Jason McCourty is also a candidate for release, as the Titans could save $7MM by releasing the 28-year-old. Underrated for much of his career, McCourty played in just four games in 2015 as he dealt with injury. The team could ask him to rework his contract and lower his cap charge, but if he balks, they might have no other option but to keep him. As noted below, the Titans' secondary is so porous that hoping for a rebound season from McCourty might be worth the (expensive) risk. If he is cut, the Patriots might have interest, as they reportedly considered dealing for him near the trade deadline.
Defensive lineman Ropati Pitoitua played only 31 defensive snaps during the entirety of last season, so as outside observers, we can take that as a clear indication of how Tennessee's coaching staff feels about him. Despite the Titans' need for depth along their defensive line, there's no way the 30-year-old Pitoitua is coming back with his 2016 cap charge of about $3.1MM.
On offense, wide receiver Harry Douglas and tight end Anthony Fasano both look like potential cap casualties, but I'd argue that neither is a foregone conclusion. Douglas knows new offensive coordinator Terry Robiskie from their Atlanta days, so while Douglas is due a a $4.48MM cap charge, he might stick around due to his knowledge of the offensive system. Fasano isn't quite as expensive (about $3.2MM), and he's an excellent run blocker. Tennessee needs to establish the run in order to help quarterback Marcus Mariota, so I could see Fasano being retained.
Running back Dexter McCluster had a nice season in 2016, but a third-down back isn't worth $3.65MM. I expect the Titans to either try to lower his base salary or release him.
Positions Of Need:
The most pressing area of need on the Titans' roster is offensive line, as the front five gave up a league-leading 54 sacks and finished last in adjusted sack rate. Outside of left tackle Taylor Lewan, Tennessee could arguably seek upgrades at every other position along the line, but since that that's unlikely, we'll start with the most urgent area: right tackle.
As noted above, Byron Bell isn't the answer as a starting right tackle, but luckily, the upcoming free agent market is flush with tackles. Mitchell Schwartz, Andre Smith, Bobby Massie, and Joe Barksdale top the available right tackles, while Russell Okung, Cordy Glenn, and Kelechi Osemele (who could help at a number of positions) are left tackle options. (If the Titans did sign an Okung or Glenn, for example, I'd guess that they'd shift Lewan to the right side.) Via the draft, the club could also pick up Ole Miss' Laremy Tunsil with the No. 1 pick, or if they trade down, someone like Notre Dame's Ronnie Stanley.
The Titans could use an upgrade at center, but there aren't many free agent options (unless Alex Mack opts out of his Browns contract), so the team will probably stick with some combination of Brian Schwenke and Andy Gallik for the time being. At guard, former first round pick Chance Warmack will likely get another chance to start on the right side, but left guard could be an area where improvement is needed. Alex Boone, Amini Silatolu, and Jeff Allen are a few impending free agents that could make sense for the Titans.
If Tennessee is able to bring in some talent to better protect Marcus Mariota, the club might also find him more weapons at the skill positions. The Titans' No. 1 receiver in 2015 was tight end Delanie Walker, so it's clear that the Titans need other options besides Kendall Wright, Dorial Green-Beckham, and Justin Hunter.
Again, youth should be a primary consideration for the Titans, so pass-catchers like Marvin Jones, Rueben Randle, or Brian Quick could be of interest. The Dolphins' Rishard Matthews might also make sense, but I wonder if he's too similar to Wright, as both are possession-type receivers. While he's not certainly not young, Roddy White would be a candidate to follow offensive coordinator Terry Robiskie to Tennessee if he's cut by the Falcons.
The Titans' running game was putrid last season — 32nd in DVOA — but I'm not sure I'd invest any money (or draft capital) on a running back if I were Tennessee. Improving the offensive line should help matters immensely, so the club could probably just use a rotation of Antonio Andrews and David Cobb — and take a final look at former second-rounder Bishop Sankey — instead of bringing in new blood.
On defense, Tennessee can afford to revamp much of its secondary, and the first step might be spending big on a No. 1 corner. The Titans did give a large contract to Perrish Cox last offseason, and given how that's worked out so far, they might be reticent to do so again. Nonetheless, there are so many high-quality options available that I think the club needs to bite the bullet and use some its $40MM+ in cap space on a new cornerback. I'd target one of Sean Smith, Janoris Jenkins, and Trumaine Johnson, each of whom finished inside the top 30 of Pro Football Focus' CB rankings. If none of those three bite (or even if one does), the Titans should also take a long look at Casey Hayward, who would shut down opposing teams' slot receiver. At the lower end of the market, Prince Amukamara might have to take a discounted deal given that he missed a significant portion of the season with injury.
Safety could also be an area of need, especially if the Titans release Michael Griffin. Like cornerback, safety has a number of intriguing free agent options available. George Iloka makes a lot of sense, as he's a young, ball-hawking safety capable of manning center field while Da'Norris Searcy plays closer to the action. Rodney McLeod would be my second choice, but if Tennessee wants a veteran in the back end, Eric Weddle and Reggie Nelson are also on the market.
The Titans could add depth to both their defensive line and their linebacking unit, but those are positions they can target in the draft, rather than exhausting their cap space on high-end deals.
Extension Candidates/Contract Issues:
Delanie Walker turned into the Titans' No. 1 receiving threat last season, and his contract expires after the 2016 season. The club would obviously like to keep him around, but with his recent track record, he's going to ask for $7MM+ per season. Walker is already 31 years old, so Tennessee might be better off playing out the string.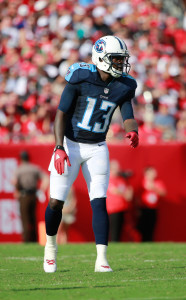 On the other hand, receiver Kendall Wright is the type of player the Titans should look into extending right now. He's still only 26, and coming off a down season riddled with injuries, meaning he shouldn't break the bank — and he's probably not the type of pass-catcher who would secure a large deal even if he does hit the open market. Tennessee would be smart to lock up Wright now, and hope for a big season between him and Marcus Mariota in 2016.
While Wright will play under a fifth-year option in 2016, the Titans have to make a fifth-year option decision on guard Chance Warmack for 2017. Warmack has been thoroughly uninspiring to this point in his career, but because he was a top-10 pick, his fifth-year option is likely to going be worth $11MM+. The Titans are unlikely to risk that type of money on Warmack, even though it's guaranteed for injury only.
Overall Outlook:
The AFC South is a perennially winnable division, but with the Texans looking like they're just a quarterback away from being solid contenders, Andrew Luck returning to help the Colts, and the Jaguars expected to take another leap, the Titans might be stuck in fourth place again in 2016. There's no question that Tennessee is in the middle of a rebuild, but a smart offseason will help ensure that it's not a perpetual remaking.
Information from Over The Cap was used in the creation of this post. Photos courtesy of USA Today Sports Images.
Follow @PFRumors