After telling Patriots coach Bill Belichick that this postseason run might be his "last rodeo," we now have another strong indication that Peyton Manning is leaning towards retirement. The Broncos quarterback told close friends that he expects to retire after the Super Bowl, according to Ian Rapoport of NFL.com.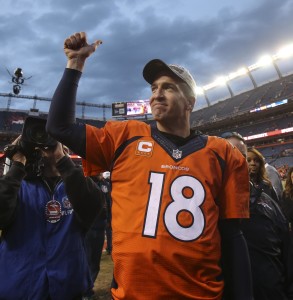 "The reality is he let the cat out of the bag a little bit," Rapoport said. "I also know he has told close friends that he expects this to be his last game as well."
Manning is entering the final year of his contract with the Broncos and many have speculated that he will not be back with Denver in 2016. Manning's understudy, Brock Osweiler, showed promise in his second-half stint as the team's starter and he is due to hit the open market this spring. If Manning were to be brought back as the starter for 2016, Osweiler would almost certainly choose to go elsewhere as he would have numerous starting opportunities around the league. Recently, Mike Klis of 9NEWS wrote that even if Manning were to be named MVP of Super Bowl 50, he would be unlikely to be wearing orange next season. Now, it seems like Manning is intent on retiring altogether.
Of course, this has not been Manning's easiest season. The veteran QB got off to an atrocious start in Denver, though his struggles were largely masked by the team's 8-0 record through the first half. In the second half, the injury bug ultimately put Manning on the bench and allowed Osweiler to take control under center. In December, a documentary by Al-Jazeera America led to allegations of HGH use by the quarterback, though Manning vehemently denies such claims.
Photo courtesy of USA Today Sports Images.
Follow @PFRumors