Pending free agents:
Top 15 cap hits for 2016:
Notable coaching/front office moves:
Draft:
Other:
Overview:
Widely projected to finish third or fourth in the NFC East in 2015, Washington entered the season as underdogs and finished it as division champions, ranking comfortably ahead of the presumed favorites in Philadelphia and Dallas. It wasn't a particular strong year for the NFC East, and Washington didn't last long in the postseason, but it was still a surprisingly successful season for Jay Gruden's club.
A crucial factor in Washington's success was the emergency of Kirk Cousins, who took over as the full-time starting quarterback while former No. 2 overall pick Robert Griffin III spent the season watching from the sidelines.
Having entered the season with just nine NFL starts on his résumé, Cousins started all 16 of Washington's regular season games, leading the NFL with a 69.8% completion percentage, racking up 4,166 yards through the air, and throwing 29 touchdowns to just 11 interceptions. Cousins' career year, which happened to come in a contract year, puts Washington in a tough spot this winter, but the club certainly "liked that" during the season.
Although Cousins' play on offense, combined with an effective running game and a steadily improving defense, didn't make Washington a Super Bowl contender, the franchise is taking steps in the right direction under new general manager Scot McCloughan. Now, it'll be up to McCloughan to make a few tough roster decisions to ensure that the team keeps trending upwards in 2016.
Key Free Agents: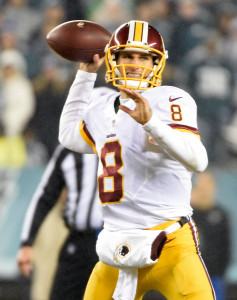 Washington's top two quarterbacks are both eligible for free agency this offseason, and while the club would like to re-sign Colt McCoy, Cousins is clearly priority number one. His breakout season potentially provided Washington some certainty at a position that looked awfully uncertain 12 months ago, but the fact that Cousins has only excelled for a single full season has to make McCloughan and his staff a little wary about committing to a lucrative, long-term deal.
With negotiations between the two sides ongoing, Cousins clearly has the upper hand. The franchise-tag deadline of March 1st is looming, and if Washington opts to use its tag on its quarterback, it will mean paying him in the ballpark of $20MM or more for the 2016 season, and Cousins' reps will likely use that figure as his salary floor in negotiations for a longer-term agreement. On the other hand, if Cousins isn't franchised, he would have the opportunity to reach the open market a week later, where quarterback-needy teams would likely be salivating at the opportunity to make an offer to the most promising signal-caller to hit unrestricted free agency in years.
It's a tough situation for Washington, but one that probably has a simple answer: McCloughan can't let Cousins get away for nothing. If that means franchising him, so be it. Using the tag on Cousins would give the team until July 15th to work out a multiyear extension. If the quarterback ends up playing out the 2016 season on a one-year franchise salary, Washington will have a much better sense by next winter of whether or not it can commit to him for the long term.
With Washington currently ranking among the bottom 10 teams in the NFL in terms of projected cap room, and Cousins requiring a significant chunk of space, the club is fortunate that it doesn't have many other free agents that must be retained.
It would be nice to have running back Alfred Morris return in 2016, but it would be a luxury. Matt Jones significantly cut into Morris' workload in 2015, and adding a cheaper back to the mix to complement to Jones probably makes the most sense. Fullback Darrel Young is also expendable — he saw his role diminish in 2015, appearing in only about 10% of Washington's offensive snaps.
Elsewhere on offense, offensive lineman Josh LeRibeus is the most notable free agent, and while he may not be a top priority for Washington, it might make sense to bring him back. After seeing very limited action in his first three NFL seasons, the former third-round pick made seven starts in 2015 and held his own. He's probably not a player the team wants to rely on as a full-time starter, but as a depth piece who is familiar with the system, LeRibeus is a candidate for a new deal.
On defense, Washington's most important free agent might be one that didn't play a single snap for the club in 2015. Edge defender Junior Galette tore his Achilles during the preseason, which kept him from making his regular-season debut in D.C., but he said at season's end that he expects to re-sign with the club. If Washington is confident that Galette's off-field issues are behind him, he'd certainly be a nice on-field addition if he's healthy — he had double-digit sacks in 2013 and 2014 for New Orleans before the Saints grew tired of his rule violations.
Cornerbacks Will Blackmon and Cary Williams don't necessarily need to be dismissed, but neither player should be relied upon to play a major role on the Washington defense in 2016. The same is probably true for inside linebackers Keenan Robinson and Mason Foster. Foster was a little more solid than Robinson, but inside linebacker is a position Washington ought to focus on upgrading, so Foster shouldn't be more than a rotational piece if he returns.
Finally, nose tackles Terrance Knighton and Kedric Golston are both eligible for unrestricted free agency in March, and it might behoove the club to keep at least one of the two. Knighton didn't have quite the same impact as he did in previous years with the Broncos, but he was solid in part-time action in D.C. – particularly against the run – and is more reliable than Golston. If his price tag in free agency is reasonable, Washington should strongly consider re-signing him.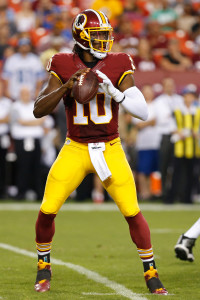 Possible Cap Casualties:
Washington currently doesn't have enough cap space to use its franchise tag on Cousins, so there will be cap casualties here, and the most obvious one is the player that Cousins replaced — Robert Griffin III. Last spring, the team exercised RGIII's fifth-year option, worth $16.155MM, but that salary remains guaranteed for injury only, and since Griffin is healthy, Washington should have no problem cutting him before March 9th and clearing that entire $16MM+ cap charge from its books.
Releasing – or trading – Griffin frees up the cap room necessary to tag Cousins, but with plenty of other offseason business to take care of, Washington will need to address the contracts for a few more players, either in the form of pay cuts or outright cuts.
Wide receiver Andre Roberts will see his cap number increase to $5MM in 2016, and no longer has any guaranteed salary on his contract, so I'd be surprised to see him stick around, especially after a 2015 season in which he caught just 11 balls. Cutting Roberts would create $3MM in cap savings.
Like Roberts, offensive lineman Shawn Lauvao is on the books for cap charge of $5MM in 2016, and didn't play much last season, though in Lauvao's case, that was the result of an ankle injury that landed him on injured reserve after just three weeks. He was a full-time starter at guard for Washington in 2014, and it's possible the team still views him as a strong candidate to start going forward, but the opportunity to create $3MM in cap savings by cutting him will likely be considered.
On defense, Washington has several players that fall into the same boat as Lauvao — veterans like Jason Hatcher, Dashon Goldson, and Perry Riley were all starters for Washington in 2015, and may still be considered starters heading into 2016, but their cap hits will give the club pause.
Mike Jones of the Washington Post recently identified Hatcher and Goldson as players whose contracts Washington would like to rework — Goldson in particular has a cap number ($8MM, with no dead money) that likely outweighs his on-field contributions. But Washington likes his presence in the locker room and appears to want to keep him around. It'll be interesting to see whether these guys ultimately return at reduced rates. Releasing Hatcher, Goldson, and Riley would create $16MM+ in cap savings, but I expect at least one or two of them will be back.
Three of Washington's top five current cap hits belong to cornerback Chris Culliver and wide receivers DeSean Jackson and Pierre Garcon. By all accounts, the team wants to bring these players back for the 2016 season, but McCloughan and the front office could have a little leverage when it comes to reworking the contracts of Culliver and Garcon, whose respective salaries of $8MM and $7.6MM seem excessive, given their unspectacular 2015 performances.
Positions Of Need:
Washington's most pressing areas of need this offseason are on the defensive side of the ball, where the team has capable contributors at multiple positions, but potential holes in both the front seven and the secondary.
While outside linebacker could be a position of strength for the team, particularly if Junior Galette re-signs and stays healthy, moving Trent Murphy into more of a situational role, inside linebacker is a spot Washington must address. William Compton, Mason Foster, Perry Riley, and Keenan Robinson were among the players to see substantial playing time in the middle in 2015, and none of them definitively proved that they're capable of being a long-term starter.
With former Colts defensive coordinator Greg Manusky joining Washington's staff last month, one pending free agent to keep an eye on is Jerrell Freeman, who enjoyed his best year in 2015. The Colts will likely make a strong effort to lock up their standout inside linebacker, but if he reaches the open market, he's a player Washington should take a long, hard look at. If the club can't secure a top free agent at the position, such as Freeman or Danny Trevathan, prioritizing the position in the draft makes sense — this year's class is deep when it comes to front-seven players, and inside linebacker isn't a premium position, so Washington could potentially land a starter on day two or even three.
Although Washington will explore additions on the defensive line in an effort to add some youth, that group will look fairly solid if Terrance Knighton and Jason Hatcher return, so the secondary will be a more pressing issue. In Chris Culliver, Bashaud Breeland, DeAngelo Hall, and Dashon Goldson, Washington has four potential starters, but there are plenty of question marks — Culliver and Goldson are coming off down years, and Hall is still adjusting to the safety position after making the move from cornerback.
With Will Blackmon and Cary Williams set to reach the open market, cornerback is one position Washington could explore free agency, and while the team may not splurge for a player like Trumaine Johnson or Sean Smith, there are plenty of second- or third-tier options that could appeal to the team, including Casey Hayward, Jeremy Lane, Nolan Carroll, and Antonio Cromartie. The draft class isn't particularly overflowing with cornerback talent, but if Washington considers selecting one in the first round, Clemson's Mackensie Alexander and Ohio State's Eli Apple are among the possible options at No. 21.
At safety, perhaps defensive coordinator Joe Barry's time in San Diego could give Washington a leg up in the Eric Weddle sweepstakes. But if the club prefers to target a less expensive alternative, Isa Abdul-Quddus, Tyvon Branch, and Dwight Lowery – who has a Manusky connection – are a few of the many possibilities.
Many of Washington's other potential positions of need will be dependent on how the team approaches free agency. Kirk Cousins almost certainly isn't going anywhere, but if he does, quarterback shoots to the top of the team's list of needs. If Alfred Morris departs in free agency and Andre Roberts is cut, the team will also be in the market for a potential No. 2 back and perhaps a complementary wideout.
On the offensive line, Washington appears to have three solid starters in Trent Williams, Brandon Scherff, and Morgan Moses. However, that leaves center and one guard spot up for grabs. Kory Lichtensteiger, Spencer Long, Shawn Lauvao, and perhaps UFA Josh LeRibeus could end up vying for those two openings, but if the team goes out and seriously addresses the interior line by adding a solid free agent or a high draft pick, suddenly one or two of those incumbent veterans will become expendable.
Extension Candidates/Contract Issues:
With Zach Ertz and Travis Kelce having signed new contract extensions already this offseason, 2013 third-rounder Jordan Reed now has a blueprint for the sort of deal he can expect when his rookie contract expires. Reed racked up an impressive 87 receptions for 952 yards and 11 touchdowns in just 14 games in 2015, outperforming both Ertz and Kelce across the board.
Since Reed's stock is soaring as he comes off a career year, Washington may be reluctant to engage its tight end in contract talks immediately, since there's no reason he won't view Ertz's and Kelce's deals as a baseline for his own extension. That could mean a deal approaching $10MM per year and $50MM in total value. Reed is certainly talented, but the club may want to see him stay healthy for another season before investing heavily in him.
Another pass-catcher, DeSean Jackson, is entering the final year of his current contract, but Jackson will be 30 when his deal expires. He also missed time in 2015 with injuries, and averaged a career-low 52.8 receiving yards per game when he did play, so Washington won't be rushing to offer him a mega-deal. But a short-term extension could reduce Jackson's 2016 cap hit, which is currently $9.25MM, and could keep the veteran wideout happy going forward. It's something worth exploring if the price is right.
Washington may also want to consider extending defensive end Chris Baker, who had a career year in 2015. Pro Football Focus ranked Baker 22nd out of 123 interior defenders, and the 28-year-old earned impressive grades against the run and as a pass rusher. No defensive lineman saw more playing time for Washington in '15 than Baker, who set a new career-high with six sacks. The team will want to get younger on the defensive line eventually, but that will probably mean moving on from players like Jason Hatcher and Terrance Knighton — Baker should still have a few more productive seasons in him.
Meanwhile, if Washington wants to restructure some contracts in order to create some extra cap flexibility for 2016, the team should avoid adjusting Trent Williams' or Ryan Kerrigan's deals. Both players will see their cap hits rise significantly after the 2016 season, so bumping this year's number down and increasing those future-year hits will only create further problems down the line. Chris Culliver's contract is a more appealing candidate for a restructure.
Overall Outlook:
Washington spent several years as an NFL punchline, based on the team's poor free agent and roster decisions, but new GM Scot McCloughan made some savvy moves without breaking the bank a year ago, and head coach Jay Gruden's decision to stick with Kirk Cousins over ownership favorite Robert Griffin III paid major dividends.
With a healthy Tony Romo expected in their lineup for 2016, the Cowboys will be poised to bounce back and make a run at Washington's division crown, and the Giants – armed with a ton of cap space – and the Eagles – led by new head coach Doug Pederson – can't be ruled out either in the NFC East. Still, Washington's 2015 success doesn't look like an anomaly. If Cousins returns for 2016 and doesn't regress significantly, Washington should be prepared to contend again. Another series of smart personnel additions from McCloughan will be crucial as the franchise attempts to continue filling the holes on its roster.
Information from Over The Cap was used in the creation of this post. Photos courtesy of USA Today Sports Images.
Follow @PFRumors