The Rams officially left St. Louis last month, but it appears the other two teams involved in Los Angeles talks will stay put for at least one more season. In the wake of the Chargers' announcement that they'll spend the 2016 season in San Diego, Raiders owner Mark Davis said he expects his club to remain in Oakland for 2016.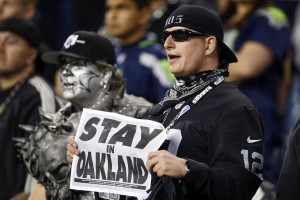 Barring a "dramatic breakdown" in negotiations with government officials, the Raiders will play the 2016 season in O.Co Coliseum, writes Tim Kawakami of the San Jose Mercury News. The franchise doesn't currently have a lease to play in the Coliseum, but Davis expects to get a short-term solution worked out sometime soon, as he said on Kawakami's podcast.
"As of today, right now, we are in the process of trying to negotiate a one-year extension at the Oakland Coliseum to play the 2016 season there," Davis said. "After we get that done, we'll sit down and try to figure out where the future of the Raiders lies."
When the Chargers decided to try to make things work in San Diego, it likely shut the door on the Raiders' only other potentially viable 2016 home. Although Davis and the Raiders have engaged in discussions with city leaders and potential investors in San Antonio and Las Vegas, those cities are considered potential long-term options for the Raiders, and were always unlikely to be ready immediately.
Ultimately, the Raiders' most plausible long-term landing spots are probably in California, which means the franchise is unlikely to make any major decisions on its future until the Chargers make their decision. If Chargers owner Dean Spanos decides to keep his team in San Diego, there's a very real chance Davis and the Raiders would join the Rams in Los Angeles. If Spanos heads to L.A., Davis would likely to take a long look at San Diego, as he confirmed to Kawakami.
"I think San Diego's a phenomenal place," Davis said. "For the Raiders, it would be great because we have a very large Hispanic market; we think that's something we could tap into down there…. That's just looking at it from a bird's eye view. I don't have any idea of what kind of negotiations Dean has going on there. I'm hoping he gets something done because I know that the fans there would love to keep them."
Of course, Oakland is still a possibility for the Raiders, and Mayor Libby Schaaf has recently made comments about wanting to move forward on negotiations for a new stadium solution in the city. Bringing the team back to O.co Coliseum for 2016 is a good first step in the interim, but for the Raiders to have a realistic shot at remaining in Oakland for the long term, the team and the city will have to make significant progress in stadium talks, after the NFL ruled that the most recent proposal was not viable.
Photo courtesy of USA Today Sports Images.
Follow @PFRumors