Veteran NFL running back Joseph Randle was released last fall in part because the Cowboys learned that he had been betting on sports, four sources told Brandon George of the Dallas Morning News. According to George, a combination of issues led to the Cowboys' release of Randle, who showed signs of mental instability and allegedly wagered on sporting events during the 2015 season.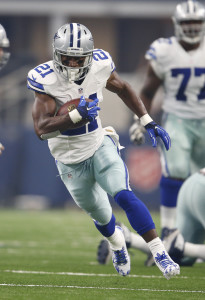 "All of that became apparent to us right during the season," Cowboys owner Jerry Jones said last week at the Senior Bowl. "Not before the season. It became real acute, a combination of things. Some issues … became more apparent."
While Jones acknowledged that the team had concerns about Randle's gambling – the running back was gambling at a Kansas City casino when he was arrested in November – the Cowboys owner suggested there's no evidence that Randle bet on NFL games, or any games involving the Cowboys: "There are certain types of gambling that you can't do as a player. Obviously you can't be involved in … anything that we're competing in, and I've never heard of anything like that."
For his part, Randle is denying the allegations that he was involved in gambling on sports, telling Drew Davison of the Fort Worth Star-Telegram in a text message that there's "no truth at all" to the accusations. The NFL has a strict gambling policy in place prohibiting players and league personnel from sports betting.
Whether or not the latest allegations against Randle are true, he continues to have a hard time staying out of trouble off the field. As we noted yesterday, the free agent running back was arrested early Monday morning in Irving and booked on a speeding charge.
A source tells George that the Cowboys "remain concerned for Randle's well-being and believe he needs serious help." The Cowboys, the NFL, and the NFL Players Association have all reached out to the 24-year-old to offer help on several occasions, but he has turned down those offers, according to George.
For now, Randle remains available to sign with any team, but given these latest allegations, along with the potential discipline he'll be facing for his most recent arrest, it seems unlikely that suitors will be lining up to roll the dice on him this offseason.
Photo courtesy of USA Today Sports Images.
Follow @PFRumors