Flush with nearly $60MM in cap space heading into the 2016 league year, the Rams will seek to extend one exciting young player on each side of the ball, as Vincent Bonsignore of the Los Angeles Daily News reports (Twitter link) that the club is likely to open negotiations later this offseason on long-term deals for linebacker Alec Ogletree and receiver Tavon Austin.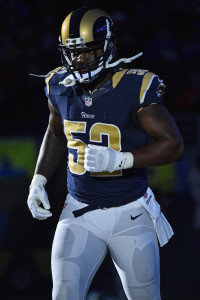 [RELATED: Rams leaning towards using franchise tag on CB Trumaine Johnson]
This isn't the first report to indicate that an Ogletree extension could be forthcoming, as Jim Thomas of the St. Louis Post-Dispatch reported earlier this month that the Rams would meet with Ogletree's representatives at the combine. General manager Les Snead has also indicated that coming to an agreement with Ogletree would be a priority this offseason.
The 24-year-old Ogletree had an injury-plagued season in 2015, as he played in only four games before being placed on injured reserve/designated to return after undergoing ankle surgery. Due to the designation, he wasn't eligible to return to game action until Week 16, and due to either his condition or the inconsequential nature of the Rams' final two contests, Ogletree never got back on the field. A career weakside linebacker, Ogletree is expected to move to the middle in 2016 to replace James Laurinaitis, especially if Los Angeles is able to re-sign Mark Barron to play the WILL.
Austin, like Ogletree a member of the Rams' 2013 draft class, had a breakout campaign in 2015, posting career highs in starts, receptions, yards, and touchdowns, and was also a factor in the ground game, rushing for more than 400 yards and scoring 4 times. Austin, who will turn 25 next month, also averaged 7.8 yards per punt return and brought one back for a touchdown. Former offensive coordinator Frank Cignetti, for all his faults, helped Austin to the best season of his career, and it's open question as to whether new play-caller Rob Boras can continue to aid Austin's development.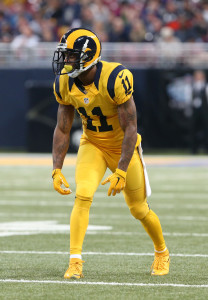 The Rams can control Ogletree and Austin through the 2017 season via the fifth-year option — given that the club is intent on extending both players, exercising the options should be a foregone conclusion. Because he as a top-10 selection, Austin would be entitled to the value of the 2017 wide receiver transition tag value, which should be worth around $13MM. Ogletree's salary would be a bit more complicated, as it would be determined by the average of the third through 25th top salaries among linebackers.
Photos courtesy of USA Today Sports Images.
Follow @PFRumors