1:12pm: The deal is official, per the Bills (on Twitter). The three-year pact is worth $15.75MM, according to Tyler Dunne of The Buffalo News (on Twitter).
12:56pm: The Bills have reached agreement on a deal that will bring Richie Incognito back to Buffalo. The guard took to Twitter to tell fans that he has a new three-year pact with the club:
"Who's ready for 3 more years of DOMINATION in Buffalo!!!!," Incognito tweeted.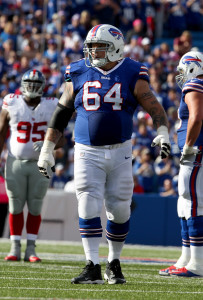 The three-year deal is expected to fall in the range of $5MM per season, according to Mike Rodak of ESPN.com (on Twitter). Incognito, who earned a Pro Bowl nod for his strong comeback season in 2015, will turn 33 this July. With a three-year, $15MM deal, it seems as though he has scored a nice payday on what could be the last lucrative free agent contract of his career.
Just days ago, a new deal between Incognito and Buffalo didn't sound all that likely. The cap-strapped Bills wanted Incognito to give the team something of a hometown discount, since Buffalo was the club willing to give the veteran lineman a second chance last year after the Dolphins' bullying scandal left him without a job for the entire 2014 season. However, Incognito apparently didn't see it that way, and his reluctance to take what the Bills were offering was reportedly causing friction between the player and the team. Now, it seems as though the two sides found enough middle ground to get a deal done.
Photo courtesy of USA Today Sports Images.
Follow @PFRumors