Lions wide receiver Calvin Johnson has officially retired from the NFL, the team announced today in a press release. According to the Lions, Megatron filed his retirement papers with the NFL. The team added that, with respect to Johnson's contract, those "matters were settled to the satisfaction of the parties."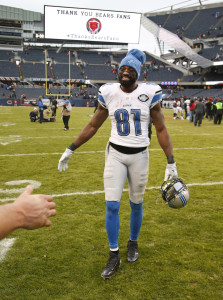 In addition to the team's press release, the Lions have also issued a statement from Johnson, who indicated that he will not have a press conference to discuss his decision.
"Let me assure you that this was not an easy or hasty decision," Johnson said within his statement. "I, along with those closest to me, have put a lot of time, deliberation and prayer into this decision and I truly am at peace with it."
Johnson will retire as the Lions' all-time leader in receptions (731) receiving yards (11,619) and receiving touchdowns (83). Since leading the NFL with 122 receptions and 1,964 yards in 2012, he had seen his production decline a little. Still, Megatron continued to be one of the league's more productive pass catchers in 2015, with 88 catches, 1,214 yards, and nine touchdowns, making his retirement announcement somewhat unexpected.
Just days after the regular season, the first reports surfaced suggesting that Johnson was considering retirement. The idea that the 30-year-old would walk away from the NFL after such a productive season was surprising, but all the wear and tear he had endured over his career appeared to play a role in the decision. The longtime Lions wideout had been plagued by ankle and finger issues in recent years.
Had he continued his career, Johnson would have counted for more than $24MM against the Lions' cap in 2016. Now that the six-time Pro Bowler has retired, the team will no longer be on the hook for his base salary of $15.95MM. The Lions' reference today to settling Johnson's contract situation likely refers to the two sides coming to some sort of agreement on whether or not Megatron will return a portion of his signing bonus. Details on that agreement aren't yet known.
With Johnson no longer in the mix, wide receiver figures to be a priority for the Lions in both free agency and the draft. Golden Tate has been an excellent complement to Johnson since signing with Detroit in 2014, but the club doesn't have a ton of depth behind him, and it remains to be seen whether Tate's production will slip if receives extra attention as the No. 1 target in Detroit.
Photo courtesy of USA Today Sports Images.
Follow @PFRumors