MARCH 14, 9:20am: Tolzien's two-year deal is worth $3.5MM, with a $500K signing bonus, tweets Tom Pelissero of USA Today.
MARCH 11, 5:39pm: Tom Silverstein of the Milwaukee Journal Sentinel reports (on Twitter) that Tolzien's deal is for two years, and Silverstein writes that he doesn't expect Tolzien to have to fend off a prospective rookie for the Colts' No. 2 job.
5:17pm: The Colts and Scott Tolzien have agreed to a deal, owner Jim Irsay tweets. It looks like Andrew Luck's backup quarterback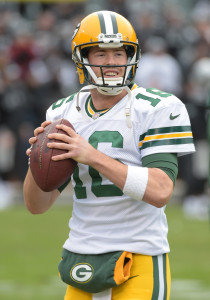 will indeed be much younger, and Tolzien jumps from sitting behind Aaron Rodgers to a role as Luck's understudy.
The Colts had a visit with former Dolphins backup Matt Moore scheduled for Monday, according to ESPN.com's Adam Schefter (on Twitter). It's not known at this time whether they'll keep that appointment. Former Dolphins coach Joe Philbin now resides on the Colts' staff, but Indianapolis may already have Matt Hasselbeck's successor in mind.
Originally a 2011 UDFA of the 49ers', Tolzien served as Rodgers' backup for the past three seasons, going 0-1-1 as a starter. However, when Rodgers missed several games due to injury in 2013, Tolzien was replaced by Matt Flynn and hasn't started a game since. The 28-year-old career reserve threw one touchdown pass and five interceptions in relief of Rodgers in 2013.
Tolzien threw one pass in the past two seasons for the Packers. Luck's backups needed to do a lot more than that during a disappointing Colts season. Hasselbeck served as Luck's backup for the past three seasons but retired this week to accept and ESPN analyst position.
Luck's injury resulted in five different quarterbacks throwing at least 10 passes for the Colts last season, with late-season addition Josh Freeman starting Indianapolis' Week 17 contest after Hasselbeck's slew of injuries caught up with him.
Photo courtesy USA Today Sports Images
Follow @PFRumors