7:51pm: Cruz's new base salary will be $1.3MM, according to Art Stapleton of the Bergen Record (via Twitter). This is a drastic drop from the $7.9MM the 6-foot target was set to earn under his previous deal. But Cruz can recoup a sizable amount of this through playing-time incentives ($5.5MM) and production incentives, Bergen reports.
7:40pm: The Giants and Victor Cruz at long last appear to have agreed on a restructured deal that will keep the slot receiver in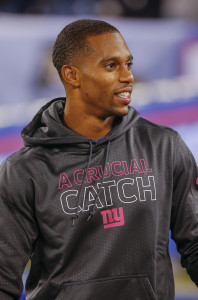 New York this season, Rand Getlin of NFL.com reports (on Twitter).
Previously set to count $9.9MM against the Giants' cap in 2016, Cruz's new number will reduce to a not-yet-released amount. Some of Cruz's money will be shifted to incentives, Getlin reports. This new arrangement will allow the seventh-year wideout the chance to earn all of the money back that was originally on his contract, per Getlin (on Twitter).
Cruz signed a $45.88MM contract extension prior to the 2013 season, but much has changed since he last played. The star of Kevin Gilbride's offenses of the early part of this decade, Cruz will now attempt to fully assimilate into Ben McAdoo's attack in which he operated briefly before suffering a season-ending knee injury against the Eagles in October 2014.
Last season, a persistent calf injury kept the 29-year-old target off the field. Set to turn 30 in November, Cruz has three seasons left on his deal.
So, should Cruz be healthy after missing the past 22 regular-season games, Giants fans may finally get a chance to see the team's best receiver of the early 2010s and its current No. 1 receiver share the field. That's only happened in two games, with Cruz and Odell Beckham starting just once together.
Although Cruz arrived emphatically onto the scene with his dominant 2011 slate — 1,536 yards, 18.7 yards per reception, nine TDs — his receiving yardage figures have gone down in each subsequent season. Cruz earned a Pro Bowl nod for his 2012 work (1,092 yards, 10 TDs), it was quite a bit off his torrid pace. Cruz gained 998 air yards in 2013 and scored four touchdowns in Gilbride's final season as OC.
But should Cruz return to form, Eli Manning, who quietly threw for a career-high 35 touchdown passes last season as he began to thrive in McAdoo's offense, could have a receiving crew with a higher ceiling than any at his disposal in his 13 seasons. The Giants, who have Rueben Randle remaining as a UFA, have boasted deeper receiving corps but none quite on the level of what Beckham and the version of Cruz that surfaced in the early part of this decade could be capable of reaching.
Photo courtesy USA Today Sports Images
Follow @PFRumors