9:07pm: Albert Breer of NFL.com tweets the yearly breakdown of the contract: in addition to the $40MM signing bonus, Flacco will earn base salaries of $4MM, $6MM, $12MM, $18.5MM, $20.25MM, and $24.25MM.
12:05pm: Flacco gets $66.4MM in new money on his three-year extension, according to La Canfora, who notes (via Twitter) that the $22.1MM+ new-money average is a record. For his entire contract, the Ravens quarterback will average just under $21MM per year, says La Canfora, adding (via Twitter) that Flacco's cap hits will be reduced to about $22.5MM in 2016 and $24MM in 2017.
ESPN's Adam Caplan reports that $44MM of Flacco's new deal is fully guaranteed, including the $40MM signing bonus and his $4MM base salary for 2016.
10:47am: Flacco has officially signed his three-year extension, the Ravens announced (via Twitter).
10:27am: With the Ravens set to hold a press conference at 2:00pm eastern today to announce Flacco's new deal, Ian Rapoport of NFL.com tweets that the new contract features a $40MM signing bonus, which would be the largest in NFL history, as Joel Corry of CBSSports.com tweets. Jason La Canfora of CBSSports.com adds (via Twitter) that the extension will free up about $6MM in cap space for Baltimore in 2016, and a total of about $13MM for the next two years.
9:55am: The Ravens and quarterback Joe Flacco have agreed to terms on a new contract, a source tells Pro Football Talk (Twitter link). According to Adam Caplan of ESPN.com (via Twitter), the agreement will add three more years to Flacco's current contract, locking him up through the 2021 season.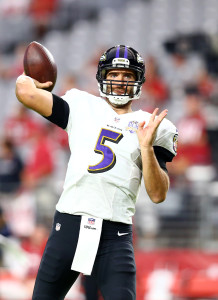 Flacco, who signed a six-year deal with the Ravens three years ago, had been projected for a cap hit of $28.55MM in 2016, and that number was set increase to $31MM+ in 2017. General manager Ozzie Newsome insisted at the start of the Ravens' offseason – and recently reiterated – that the team has a plan to work around Flacco's massive cap hit, but it always seemed likely that the two sides would rework the contract this offseason. The new deal should lessen Flacco's impact on Baltimore's 2016 cap.
Since winning the Super Bowl three years ago and signing his new mega-deal, Flacco has been up and down. After throwing more interceptions (22) than touchdowns (19) in 2013, he was excellent in 2014, setting new career highs in passing yards (3,986) and touchdowns (27).
In 2015, for the first time in his eight-year NFL career, the extremely durable signal-caller failed to start all 16 games for the Ravens, having sustained a torn ACL in November. In 10 games, Flacco completed a career-best 64.4% of his passes, but threw just 14 TDs to 12 INTs, and Baltimore was 3-7 in those games — it was the first time since Flacco became the Ravens' starter that the team finished below .500.
Still, while his performance in recent years has perhaps not been elite, the terms of Flacco's contract dictated that something had to give this offseason. Since he and agent Joe Linta held the majority of the leverage in negotiations with the Ravens, it will be interesting to see what kind of terms they secured on the new extension. Heading into the offseason, Flacco's $20.1MM per-year salary ranked eighth among all quarterbacks, per Over The Cap. The new deal will likely elevate him back into the top five.
Photo courtesy of USA Today Sports Images.
Follow @PFRumors